What is future of Network Engineers?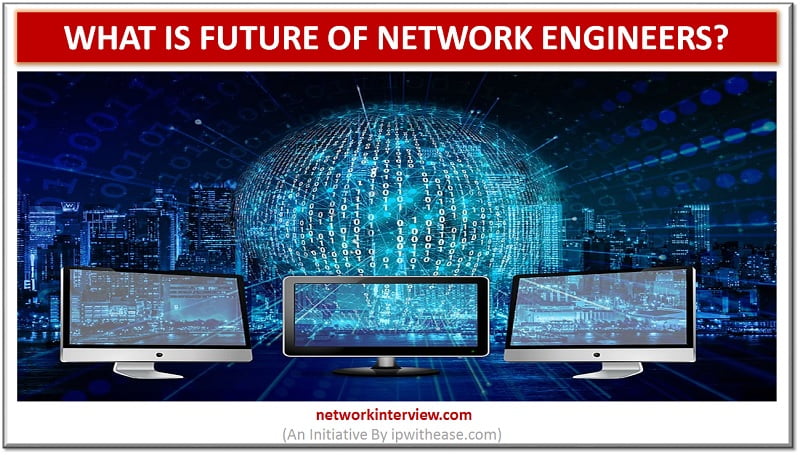 In the information technology (IT) industry, including the network engineers is in demand for the employment purpose but the supply of candidates is decreasing. In accordance with this, in 2015, job posting had increased with 74% from the past years and almost 200,000 is vacant till date. In fact, according to the Labour Statistics, over three quarters of those vacancies of job is for the network engineer.
At present, the average wage of network engineers is $85,000 per year. With the demanding jobs that pay them well and for that they are continually extending their comprehension of platforms, networks, software applications, and different features of their professions. Moreover, there can be more factors that can affect the salary of the network engineer that includes:
Location: the geographical location of an organization can plays a big role in a salary, depending on the local economy.
Employer: the size of the organization, whether they are in the private or public sector, etc.
Education: the more certifications and education that you have, the higher your salary is likely to be
Experience: whether you are an entry-level network engineer or have been in the role previously
Regardless of those factors, a good salary is offered to the network engineer. Various organisations also offer complete packages of benefits for full time employment that further enhances the value of the position.
As the advancement with the technology, systems and networks are also becoming complex thus increasing the demand of the network engineers. On the basis of company and specific position, the work for a network engineer can be defined as:
Maintenance of computer network: The purpose of network engineers is to certify that the resource sharing and communication is operational or not, among all devices (printers, computers, servers, etc.) within the network. It also certifies whether the internet connection is working or not, limited disruptions, fast connections, and minimal downtime. They also have to do the interaction between users as well as outside vendors for maintaining the network.
Staying up to date with new technologies: For the protection and maintaining their network of organisations. Network engineers have to stay tuned with the new and latest technologies. With the advent of new Software defined technologies like SDN and SDWAN, a paradigm shift has arisen – Software Defined Solutions. Network Engineers now need to relook at how network designing and configuration needs to be performed especially with new Overlay technologies like VxLAN being used in new technology Data Centers. Infact network configuration concept has shifted from CLI based commands to GUI based (Controller based) provisioning where orchestrators push the configuration to client network equipments. Nexus ACI is one such prominent name.
Managing of implementation: For the IT projects, network engineers can also work as the role for manager. Overall implementation and management of the projects is done by these engineers.
Designing of system: The responsibility of network engineers is to create the network design with the reference to the budget and the physical layout of the building. For the multiple buildings, network engineers must create the wide area network (WAN).
REQUIREMENT OF NETWORK ENGINEERS FOR BUSINESSES
People claims that the department of automation will occupy the jobs of network engineers but as per data it is a false statement. The facts demonstrate that automation will turn into an increasingly overwhelming piece of this industry, however network designers will essentially move their way to deal with their work and they may need to gain proficiency with a couple of new abilities.
NEED TO LEARN NEW ABILITIES
One of the system virtualization engineers said that he is now building up his software abilities to fulfil industry need. As an ever-increasing number of systems become robotized, his activity has moved from physical work into progressively inventive work. Rather than making endless supply of systems networking code, he's working in dialects like Java, Python, devops and instructing himself to program and code so he can stay aware of the most recent applications.
The IT business has always included of extraordinary change. For example, Tech engineers perform just as quality and safety affirmation experts, investigating products and methodology to check their legitimacy. Presently they are provided with the work of documentation and system organization support. So also, network engineers would not leave — they will just adjust to an ever-advancing scene.
Monitoring your profession's future can assist you with making arrangements for it. Consider taking extra certifications and training courses so you can satisfy tomorrow's needs. If you remain on the ball, you will increase extra professional stability and become more popular.
Related – New Cisco Certifications in 2020