What is Cryptojacking? How does it work?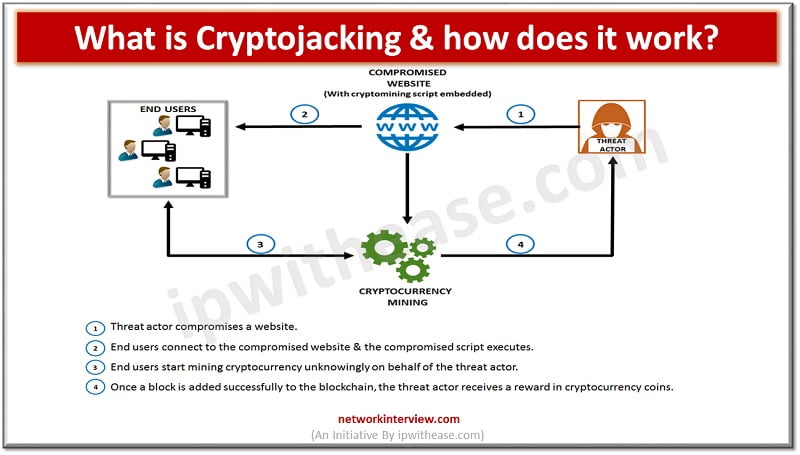 The modern technologically advanced world not only opens the gate for new opportunities but also for new threats. One of them is Cryptojacking, a cybercrime that became more active in the past two decades.
Is this your first time hearing the word Cryptojacking? Do you want to know how to protect your computer against Cryptojacking? Don't worry, in this article, you will get a clear understanding of Cryptojacking and how it works.
Okay without further ado, let's get started.
What is Cryptojacking?
Cryptojacking is a type of Cybercrime where the criminal uses the resources and computing power of the victim's computer or system to generate, in other words, mine Cryptocurrency.
To understand better you should first learn what Cryptocurrency is and how it is generated.
Cryptocurrency and Crypto mining
Cryptocurrency is a digital currency that is secured by Cryptography and decentralized by blockchain technology by a disparate network of computers. They are not issued by any centralized authority and are not under anyone's control or manipulation.
As they are decentralized each transaction will be updated in different locations, a complex mathematical equation should be solved to make each transaction. This needs more computing and processing power, once a person solves the equation he will be rewarded with a bitcoin.
This process is called Crypto mining and the person who does this is called a miner. The Cryptocurrencies mined in the personal computer are called Monero.
Cryptojacking shares the common characteristics of Cyberattacks like staying hidden, profit motive but it is also different from other Cybercrimes. Here the hacker doesn't exploit the information or Money of the Victim but the resources and performance of their Computers.
Thus the victim will not be aware of this condition and will be affected indirectly.
How Cryptojacking works?
No cyberattacks can be executed without your permission. Usually, when the victim clicks an unauthorized or malicious link or installs an unsecured script or program, or visits an infected website he opens his computer for Cyber penetration.
This allows the attackers to install a program called 'coin miners' which gives access to your computer resources and Internet Connection to mine cryptocurrency for them.
Why is this a concern?
You may think it is a harmless crime as you don't lose anything (data or money) but this is why the cybercriminals consider this as a lucrative crime. The larger the number of infected computers, the bigger their mining profit.
If you're an individual, then you may find your system quite slower than usual and your electricity bill may rise a bit. But in the longer run, it may affect your device performance and durability.
However, for businesses or large servers the risk is high, it will increase your working cost and may also affect your response time. And it can affect your site's performance and lead to business downfall.
How to protect yourself from Cryptojacking?
The first step is to identify whether your system is infected or not, here are the symptoms to find it –
Decreased Performance
Overheating
Increase in CPU usage in idle time
Devices shutting down due to lack of processing power
Sudden rise in electricity costs
If you experience the above-said things, then it is more likely that your system has fallen victim to a Cryptojacking attack. Here are certain tips to prevent your computer from Cryptojacking.
Continuously monitor the resources of your computer(Processing speed, Power Usage, and temperature)
Use browser extension that blocks coin mining
Update your software and system with the latest update and patches
Block or avoid using websites or pages that deliver Cryptojacking scripts.
Conclusion
Detection of Cryptojacking is a hard job as it is well hidden and looks like your computer's benevolent activity. There is always whether Cryptojacking is rising or declining. And tracking the Monero is also very hard. However, the recent shutdown of the "Coinhive" a site dealing with crypto-miners has widely reduced the infection rate.
It is better to use trusted cyber security or internet security on all your devices and constantly aware of the security updates. If you have any more questions relating to Cryptojacking or any other form of Cybercrime please leave them in the comment section below.
Continue Reading:
What is Blockchain technology? The Bitcoin Cryptocurrency Technology
What is Cryptography? Detailed Explanation