TCP 3-Way Handshake (SYN, SYN + ACK, ACK)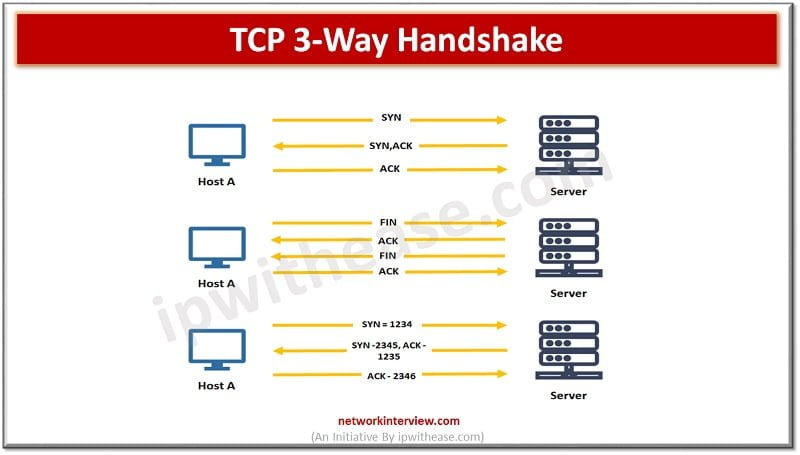 The TCP/IP model helps to determine how one computing device would connect to the internet and how data transmission happens between them. It helps to create a virtual network while several computing devices are connected to each other. TCP/IP stands for Transmission control protocol and Internet protocol and it is specifically designed to offer highly reliable , end to end byte stream over an unreliable internetwork.
Today we look more in detail about how TCP/IP offers reliable transmission using 3-way handshake, how TCP 3-way handshake works, its features etc.
What is TCP 3-Way Handshake?
TCP/IP protocol operates at the network layer in OSI stack. TCP/IP model which is derived before OSI model dictates how TCP/IP communication works.
TCP/IP has several characteristics as under:
It supports flexible TCP/IP architecture

It is easy to add more systems to network 

The network remains intact until source and destination machines are working in proper manner

TCP is a connection-oriented protocol

It offers reliability and ensure that data which arrives out of sequence should be put back to order

TCP allows to implement flow control to ensure sender never overloads receiver with data 
TCP/IP provides reliable communication with Positive Acknowledgement and Retransmission (PAR). The Protocol data unit (PDU) of transport layer also known as segment. A device using PAR resends the data until it is acknowledged. If a data unit is found damaged at the receiver end, then the segment is discarded. Sender has to resend the data unit for positive acknowledgement 
How does TCP 3-way handshake (SYN, SYN + ACK, ACK) work?
Since TCP is a connection-oriented protocol a connection is mandate to be established before two devices start communication. TCP uses a process of three-way handshake to negotiate the sequence and acknowledgement fields to initiate a session. The graphical representation of process is as under:

The three-way handshake starts with Host A initiates connection by sending the TCP SYN packet to the destination host. The packet contains a random sequence number (e.g., 1234) which indicates the beginning of the sequence number of data that host A will be transmitting.

The server receives the packet and responds with his own sequence number. This response also includes the acknowledgement number which is increment of host A sequence number by '1' 

Host A acknowledges the server response by sending acknowledgement number which is server sequence number incremented by '1'. Once they establish a reliable connection, actual data transfer start.

Once the data transmission process is completed. TCP will terminate the connection between two devices. This is a four-step process as outlined below.

The client application who wants to close connection send a TCP segment with the FIN flag set as '1'

The server receives the TCP segment and acknowledge it will ACK

Server sends its own TCP segment with FIN flag set to '1' to client to terminate connection

The client acknowledges the server FIN segment and connection is closed.
Continue Reading:
11 States of TCP Transition Explained
HTTP vs TCP : Detailed Comparison