Top 10 wireless technology trends for 2022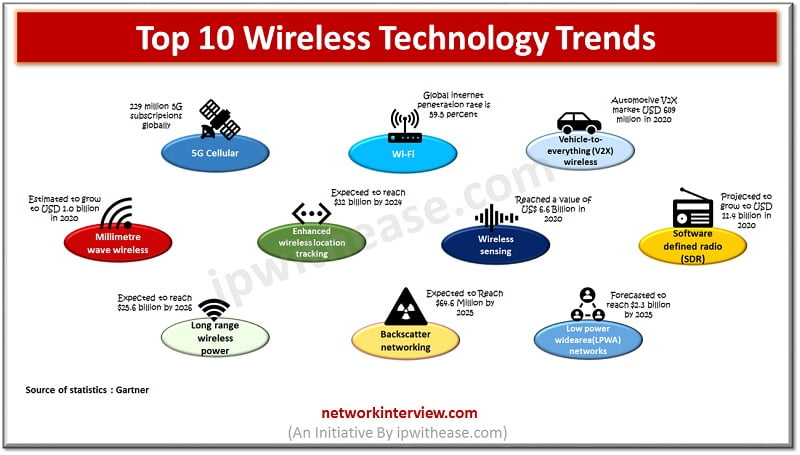 Introduction to Wireless Technology
Wireless technology has grown tremendously over the years. New and emerging technologies such as robots, drones, self-driven vehicles, new medical devices are coming into existence which is the need of Internet of Things (IOT) which will be cornerstone for the development of these technologies.
In this article we will look at some Wireless technology trends which made their place in top 10 and changed the way people and organizations communicate in future.  These trends may raise from organizations need to be more agile to market and customer demands, data security concerns , Internet of things and so on.
Top 10 Wireless Technology Trends 
1. Wi-Fi
Wi-Fi continued to stay for long time and will remain primary choice in high performance network technology for homes as well as offices. Wi Fi will have new domains to support such as radar systems, means for two factor authentications etc.
2. 5G
5G Cellular had acted as a supplement to Wi Fi technology as more cost effective and high-speed data networking in larger sites such as ports, airports, and factories.  However , 5G is still in development stage and full deployment would take five to eight years as of now most of the providers focused on selling 5G as high speed broadband only but eventually 5G will bring in improved in the areas of Internet of Things (IOT) or in case of low latency applications.
3. Vehicle-to-everything (V2X) wireless
Conventional car driving and self-driving cars both need to communicate with each other and with road infrastructure. This integration will be enabled by V2X wireless systems. V2X wireless systems will provide an additional band of other services such as safety capabilities, navigation support and infotainment.
V2X wireless systems would eventually be the legal requirements for automobile industry however to V2X systems would need 5G network to get best out of it.
4. Long range wireless power
The limitations in terms of distance still exists slightly better than cable connectivity for devices in wireless but the new technologies can charge devices at ranges up to one meter or over a table or a desk area. Long range wireless would eventually eliminate the need of power cables from laptops, display monitors, kitchen appliances, home utility systems such as vacuum cleaners and so on.
5. Low power wide-area (LPWA) networks
For low bandwidth connectivity for IoT applications in more power efficient mode to support a longer battery life. The Low power wide area networks such as Narrowband IoT (NB-IoT), long term evolution for machines (LTE-M), LoRa and Sigfox cover large areas such as big cities or even countries. Relatively inexpensive modules let IoT manufacturers enable small, low cost, battery powered devices like sensors and trackers.
6. Wireless sensing
The purpose of sensing is absorption and reflection of wireless signals. This sensing technology can be used such as indoor radar systems for robots and drones. Virtual assistants can use radar tracking system to improve their performance when several people are, they're in one room and talking. Data from sensor is fuel for IoT systems and used in several applications such as medical diagnostics, object recognition and smart home interactions.
7. Enhanced wireless location tracking
High precision tracking of devices in wireless arena is enabled by IEEE 802.11az standard a feature of 5G networks. Location is key data point required in several business areas such as consumer marketing, supply chains, and IoT applications.
8. Millimetre wave wireless
They operate at frequencies ranging from 30 to 300 gigahertz with wavelengths in the range of 1 to 10 millimetres. This technology will be used by wireless systems such as Wi Fi, short range 5G, high bandwidth communications such as 4K and 8K video streaming.
9. Backscatter networking
Data can be sent at very lower power consumption technology in Backscatter networking.  This is ideal for small networking devices, and especially important for applications where already wireless signals are in saturated state and there is a need for simple IoT devices such as sensors and trackers in small offices and smart homes.
10. Software defined radio (SDR)
Majority of signal processing in radio systems would shift from chips into software using SDR technology. SDR technology enables radio to support wider range of frequencies and protocols. This technology is not new and available for quite some time but never taken off as it is expensive in comparison to using chips. SDR will enable support for legacy protocols and new protocols will be enabled via software upgrades.
Continue Reading:
Top 10 Networking technology trends