What is VPLS? And how is it different from MPLS?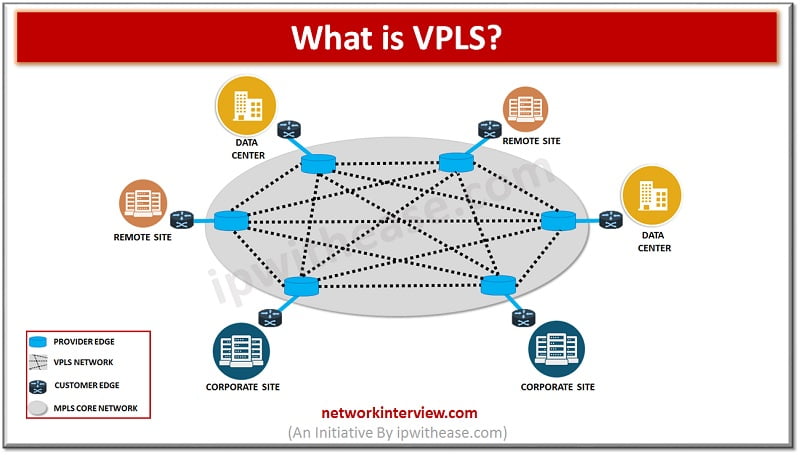 Introduction to VPLS
As we have already discussed MPLS in detail in our previous article, so here I will focus on VPLS first and then the differences between the two.
VPLS i.e. Virtual Private LAN Service. It is a service that uses MPLS and Virtual Private Networking in order to connect multiple LANs over the internet, thereby creating a logical LAN between geographically dispersed sites. It provides a secure and seamless connection. 
So basically VPLS uses MPLS as a shared core network infrastructure enabling a service provider to extend a Layer 2 network across geographically separate/remote sites. It creates a virtual Ethernet switch at the provider's edge to link remote sites.
VPLS is a mesh network topology, which means each network device  is connected to every other device  through a dedicated link and there is no concept of a central hub which acts as a central point of communication.
How does VPLS work?
The data first travels to a customer edge router /switch, which sends it to a provider edge/router. Then the data is immediately sent to another router within the VPLS network using MPLS core infrastructure. The paths that carry VPLS network traffic are also called pseudowires, as they provide a fast and direct connection similar to physical layer connections. Once the data packet reaches its destination router, it can be immediately directed through the local network.
MPLS vs VPLS
Now, as we have the basic idea of these two terms, let's discuss their differences.
In MPLS, service provider participates in the routing of customer sites. However, in VPLS service provider does not necessarily participate in the routing of customer sites. Thus the customer gets the option of doing routing on their own based on their needs.
VPLS also provides a more secure service because the service provider stays out of the customer routing scope.
Unlike MPLS, which is based on IP supported traffic, VPLS can also support non IP-traffic.
As far as network scalability, VPLS is less scalable than MPLS.
MPLS is label switching and thus uses labels to locate the endpoint. However, VPLS uses mac address to locate the other end point.
Comparison Table : MPLS vs VPLS
Below table describes the difference between MPLS and VPLS (Credit:ipwithease.com):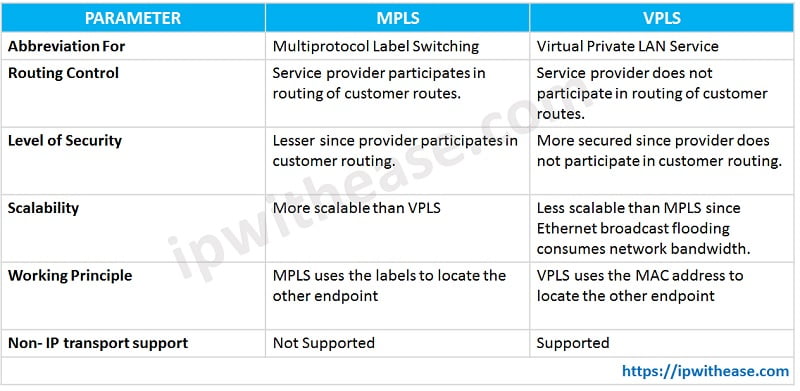 Conclusion
Both MPLS and VPLS have their own set of features and advantages, but VPLS can not be regarded independent of MPLS, as it actually uses MPLS as core infrastructure. VPLS do provide advantages like increased level of security and complete control over routing and data, MPLS would still be the choice, if the consideration is scalability.
Continue Reading:
What is MPLS and how is it different from IP Routing?
In case you are preparing for your next interview, then our cheatsheet on MPLS would be really helpful for you as a ready reckoner. Please download MPLS CHEATSHEET FREE PDF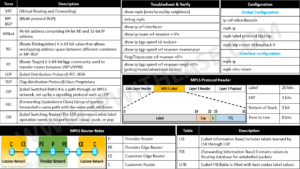 If you want to learn more about MPLS, then check our e-book on MPLS Interview Questions and Answers in easy to understand PDF Format explained with relevant Diagrams (where required) for better ease of understanding.