7 Most Employee Friendly IT Companies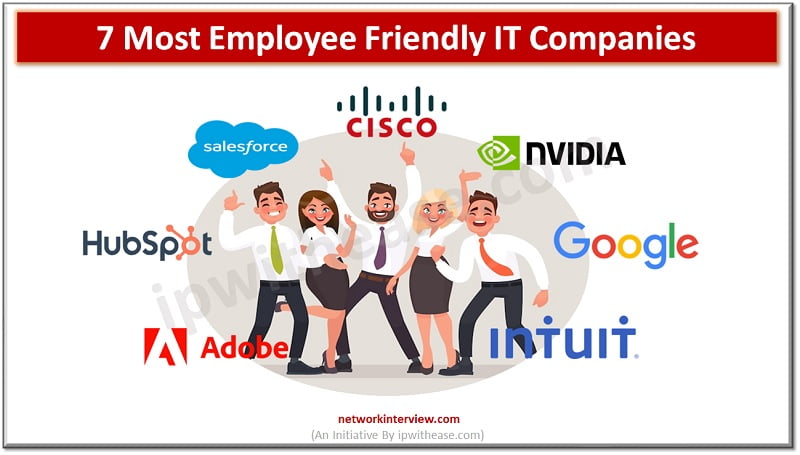 In today's competitive job market, finding an employer who values their staff is crucial. Luckily, the IT industry has some great options for employee friendly companies. IT Companies are also focused on providing an employee friendly environment. There are global workforce management platforms available in the market that help organizations manage their employee data and engagements. The companies can also use Workhuman's list of questions for employee surveys to understand the needs of employees.
From flexible work arrangements to generous benefits packages, these seven companies prioritize their workforce and have made it onto our list of the best employee friendly IT companies. Keep reading to find out which ones made the cut!
List of Most Employee Friendly IT Companies
Cisco
This company has been recognized for its employee-friendly policies, which include flexible work arrangements and comprehensive benefits packages. And one of the most notable aspects of their culture is their commitment to work-life balance. Employees are encouraged to take time off when needed, and the company offers various wellness programs to help them maintain their physical and mental health.
Cisco fosters an inclusive workplace environment that values diversity in all forms. The company has established several employee resource groups (ERGs) that focus on supporting underrepresented communities within the organization.
Salesforce
Salesforce has been recognized as one of the best employee-friendly IT companies in recent years. This cloud-based software company offers a range of products and services that help businesses manage their customer relationships, marketing campaigns, and sales processes seamlessly.
They believe in creating a work culture where employees are motivated to excel and grow both professionally and personally. Salesforce encourages its employees to take up new challenges by providing them with opportunities for learning, development, and growth. Not to mention, they provide flexible working hours, remote working options, wellness programs, etc. The company's "Ohana" culture promotes inclusivity and diversity within the workplace. Employees feel valued at Salesforce due to the open communication channels between management and staff.
NVIDIA
When it comes to employee-friendly IT companies, NVIDIA is definitely up there. This tech giant is known for its innovative graphics processing units and artificial intelligence solutions, but it's also recognized for how well it treats its employees.
Similarly to Salesforce, even NVIDIA offers flexible scheduling options and allows employees to work from home if needed. This shows that NVIDIA values their employees' personal lives just as much as their professional contributions.
NVIDIA also places a strong emphasis on career development opportunities. From mentorship programs to internal training sessions, they encourage continuous learning and growth within the organization.
HubSpot
Founded in 2006, HubSpot has been on top of the list for its innovative approach toward employee satisfaction. The company offers flexible work hours and remote working options to improve the work-life balance of employees.
One unique feature of HubSpot's culture is the "Culture Code." It outlines the values and principles followed by all employees while working at HubSpot, including autonomy, transparency, empathy, and humility which are embodied in everyday operations.
The company also hosts numerous events throughout the year to promote team building and encourage employee engagement. Mostly, they include an annual INBOUND conference with renowned speakers from various industries as well as smaller-scale events such as wellness retreats or charity drives.
Moreover, HubSpot offers unlimited vacation time to its employees in order to foster trust-based relationships between management teams and their subordinates. By showing confidence in their workers' abilities to manage themselves responsibly outside of work boundaries, they build more loyal personnel who feel respected by their employers.
Google
Google has consistently been recognized as one of the top employers globally, known for its innovative work environment and employee-centric policies. Google is known for providing a positive and inclusive work environment that encourages creativity, collaboration, and innovation. 
Google offers a wide range of benefits to its employees. These include comprehensive healthcare coverage, retirement plans, and generous parental leave. Employees also have access to free meals, on-site wellness programs, and recreational activities. Additionally, Google provides various employee assistance programs, including mental health support.
The company provides numerous opportunities for skill development, including training programs, workshops, and conferences. Google values its employees' opinions and actively involves them in decision-making processes. The company holds regular town hall meetings, surveys, and feedback sessions to ensure that employees have a voice and can contribute to the company's direction.
Adobe Systems Incorporated
Adobe Systems Incorporated has always been focused on providing a great work culture for its employees, which is why it has consistently ranked as one of the best places to work according to Glassdoor. One of its standout features is its flexible working hours policy. This enables their employees to easily manage their personal commitments while also fulfilling their job responsibilities without feeling overworked or stressed out.
Another noteworthy aspect of Adobe is how much they value diversity and inclusion within the workplace — they understand that having a diverse team adds immense value to the company's overall performance by bringing in different perspectives that help drive innovation.
Intuit Inc.
Intuit Inc. is a software company that provides financial and tax preparation software for individuals, small businesses, and accounting professionals. The company has been around since 1983 and has built a reputation as one of the most employee-friendly IT companies in the world.
One of the reasons why Intuit Inc. is known for being an excellent place to work is its commitment to diversity and inclusion. The company actively seeks out employees from all backgrounds and cultures, which helps to create a collaborative environment that fosters creativity and innovation.
In addition to fostering diversity within its workforce, Intuit also offers numerous perks designed to keep its employees happy and engaged. For example, the company offers flexible work schedules, generous vacation time, comprehensive health benefits packages, wellness programs, and employee discounts on products and services offered by Intuit partners.
Final words
After analyzing the best employee friendly IT companies, it's clear that these organizations understand the significance of maintaining a positive work culture. By providing their employees with opportunities for growth and development, flexible schedules, competitive salaries, and generous benefits packages, they have created an environment where individuals can not only succeed but also thrive.
From Cisco's emphasis on diversity to Intuit Inc.'s commitment to innovation and collaboration, each company has its unique strengths. However, what sets them apart is their unwavering dedication to building a supportive community.
Today, where job satisfaction is becoming increasingly important for both employers and employees alike, creating such a nurturing work environment should be at the forefront of every organization's mind if it wants to remain competitive in attracting top talent.
Continue Reading:
Top 10 highest paying IT companies in the World
Top 10 Highest Paying IT Companies in India