A Deep Guide How to Prepare for Azure AZ 500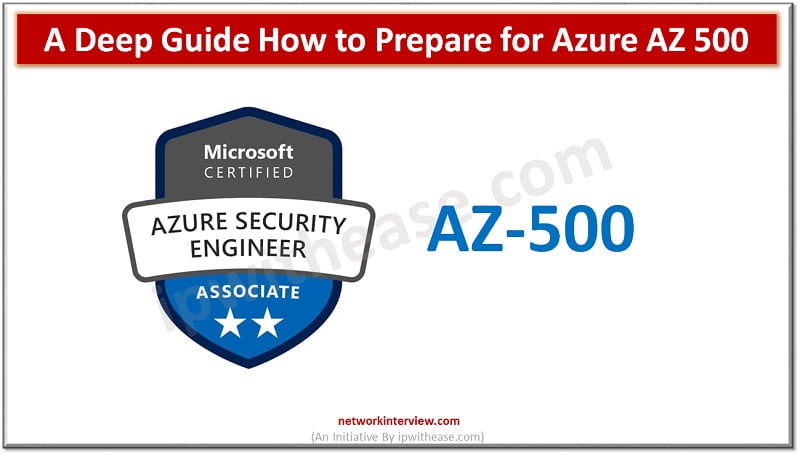 If you want to earn a certificate in cloud computing, there's no doubt that Microsoft is the most popular organisation among others. Azure AZ 500 is one such certified exam that perfectly fits those looking for a career in this field.
The AZ 500 exam appraises your ability to fulfil technical assignments. These assignments include enforcing platform productions, accessing and managing identity, securing data applications, and managing security operations.
The best approach to start preparation for Azure training is to get an overview of AZ 500 first. This blog will help you out with all preparations.
Overview of Azure AZ 500 certification
It is a Microsoft-certified associate-level exam. Passing this exam is equivalent to becoming a subject matter expert in the field of Azure cloud. The certification of AZ 500 confirms your skills and expertise work in the Azure cloud with identity control and security.
The AZ 500 exam aims to prove that the applicant understands the process of identity control and security. It validates your skills and abilities in the field of cloud computing.
If you have an understanding or experience of Microsoft Azure fundamentals or if you have some prior knowledge of advanced security, you can attempt this certification exam.
AZ 500 Exam Details
This Microsoft-certified exam comprises 40-60 questions. You will have 150 minutes of duration to answer all the questions in the exam. The total score of this exam is 1500, i.e., you will get scores out of 1500 points.
In the end, candidates achieving a 70% score in the exam will get AZ 500 certification. It means you need to score more than 700 to get this certification. The Azure AZ 500 certification exam cost is $165 US dollars.
Apart from English, this exam is also available in Chinese, Japanese, and Korean languages.
Domains Covered Under AZ 500 Exam
Having an exam blueprint will solve your many problems. Blueprints will help you understand the topics with their scores most important for the exam.
The domains covered under the AZ 500 exam are given below:
Domain 1: Security management operation
Around 15-20% of the AZ 500 exam questions are included in this domain.
Domain 2: Identity and access management
This domain includes 20-25% of questions.
Domain 3: Secure data and applications
Azure AZ 500 exam comprises 25-30% of questions from this domain alone.
Domain 4: Implementing platform protection
This domain comprises 30-35% of the questions in the exam. It proves that it is the most important section of the exam. It includes questions related to enforcing platform protection.
The Difficulty Level of the AZ 500 Exam
This exam is not so easy to crack. If you want to earn this certification, you need to prepare for it diligently. Only your unique abilities and perception will let you earn this certification.
Although it is hard to earn, it is not impossible to get this certificate. All you have to do is invest your time and effort and make strategies that cover the course in the shortest duration.
Your devotion and confidence can aid you in your preparations. So, be focused if you have set your AZ 500 certification exam target.
Resources to Prepare Azure AZ 500 Certification Exam
Study material affects the nature of your exam preparation. Having good and solid resources can strengthen your fundamentals, ultimately affecting your exam outcomes.
Some resources that can help you with your Azure AZ 500 exam preparations are
Microsoft Azure AZ 500 Training platform

Teacher-led AZ 500 Training

AZ 500 Books

AZ 500 Practice Exams
Tips to Prepare AZ 500 Certification Exam
As it is a very typical exam, it will feel more difficult to prepare for it without some tricks. Here are some tips and tricks to prepare AZ 500 exam that can help you out:
Go through the official Microsoft website and collect all the fundamental information about this exam.

Review the AZ 500 exam blueprint carefully. It will let you understand the topics and the number of questions involved.

Select the best resources to prepare for the exam. There are various online platforms and e-learning programs that can assist you.

You can join the student community, study groups, or various online forums to gain more information and discuss your queries.

Take as many practice papers as possible. It will let you evaluate your preparations.
Conclusion
Whether attempting the Azure AZ 500 certification exam is worthy or not depends upon your goal and dedication. Taking this Azure training is undoubtedly worth taking if you have a passion for cybersecurity, IT technology, and Azure programs. Otherwise, it is equal to waste for you.
However, this field is progressing rapidly, and IT security is becoming critical daily. With AZ 500 certification, it provides you with a guarantee that an expert is handling your security system.
Continue Reading:
Top 10 Cloud Computing Certifications
Career in Cyber Security or Cloud Computing: Which is better?