Career in Cyber Security or Cloud Computing: Which is better?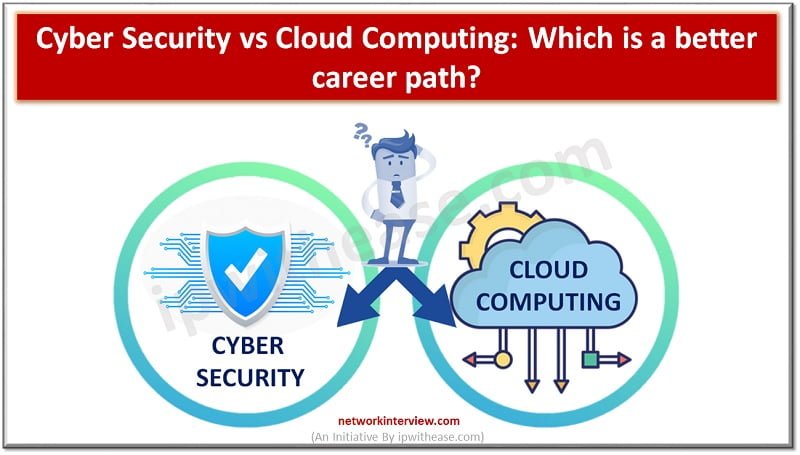 Every person will stand at the cross-road where they need to decide between two career paths. So are you one of them, standing at the crossroads at choosing between a career in Cyber Security or Cloud Computing? 
Most computer major students find it difficult to decide between cyber security and cloud computing. So here in this article, you will get to know about the important things about both the careers to make the right choice. 
So without further ado, let's see about your two options – 
What is Cyber Security? 
Cyber security deals with the security of all the things connected to the internet. It deals with the protection of data and has a promising career path in a large organization. 
The US Department of Homeland Security defines cyber security as " the art of protecting networks, devices, and data from unauthorized access or criminal use and the practice of ensuring confidentiality, integrity, and availability of information" 
Skill Requirement for career in Cyber Security
To make the right comparison first you should know what are the skills and qualifications to get into any cyber security role –
It is very challenging and he/she needs to be kept updated on the recent developments.

You should have extensive knowledge of Web App Security, Network security, etc…He should have familiarity with various domains to deal with new types of threats. 

As said in the definition, cyber security is an art. Like any other art stream, you can achieve perfection through practice. But it is hard to find opportunities to practice as you cannot hack all the websites you see. 
Now let's see what are the career opportunities available for you in the cyber security domain – 
Roles & Career Opportunities under Cyber Security
i) Security Analyst: 
A security analyst is a technical person who analyzes the threats and risks of a particular business or industry and provides them with security advice. They also design solutions or software to protect the interest of the companies. Security Analysts can also form a private security company or work for the government. 
ii) Network Security Specialist: 
These people check the quality of the network and prevent insertions of the virus through the network and they also check the network devices and fix if there are any bugs under them. 
iii) Cloud Security 
And now after the development of Cloud technology, there is a new career opportunity as a Cloud security analyst, which is a security analyst with cloud computing knowledge. 
What is Cloud Computing? 
Cloud computing refers to storing and analyzing the data in the cloud servers instead of local servers thus they can be accessed from anywhere. 
Cloud computing Services can be divided into three types Software as a Service (SaaS), Platform as a Service ( PaaS), and Infrastructure as a Service (IaaS). They offer respective services in their name through the internet. 
Skill Requirement for career in Cloud Computing
The skills required are – 
Deep knowledge development streams like database, software programming, and infrastructure or network management

You should be familiar with different platforms like AWS, Azure and GCS, etc… 

You should have creative and problem solving characteristics. 
Roles & Career Opportunities under Cloud Computing
i) Cloud Engineer 
This engineer works with companies that use cloud computing services, he deals with the storage, backup, and other services of the company. He creates solutions and software according to the needs of the business. 
ii) Cloud Architect
The cloud Architect is responsible for creating a perfect cloud infrastructure design according to the needs of the business. He should consider the technical resource availability and cost while preparing this design. 
iii) Cloud Developer 
The cloud developer brings the cloud architect plans into action, he should have deep knowledge of several programming knowledge. He creates Software that is provided as a Product (SAP) to meet today's IT environment. 
Career in Cyber Security or Cloud Computing: Which is better? 
Both fields have nearly equal opportunities, Cyber security needs the person to be more knowledgeable in Computer Science (Software and Hardware) and mathematics. Cloud computing requests the person to have deep programming knowledge and development skills. 
You need to get an OSCP (Offensive Security Certified Professional) certificate to practice as a Cyber Security personnel. Whereas you should get cloud certifications to make a career in Cloud computing. 
And when it comes to salary, the average starting salary of a Cyber Security expert is 6 Lakhs per Annum. Though the salary of a Cloud Engineer or professional varies from organization there are many opportunities for you. 
So if you are okay with working alone and interested in hacking and bug fixing then cyber security is for you. If you rather work as a team and are creative enough to develop new software or cloud infrastructure then Cloud Computing is the best one for you. 
If you have any further doubts please leave them in the comment section below. 
Continue Reading:
Cyber Security vs Network Security: Know the difference
Top 10 Cloud Computing Certifications