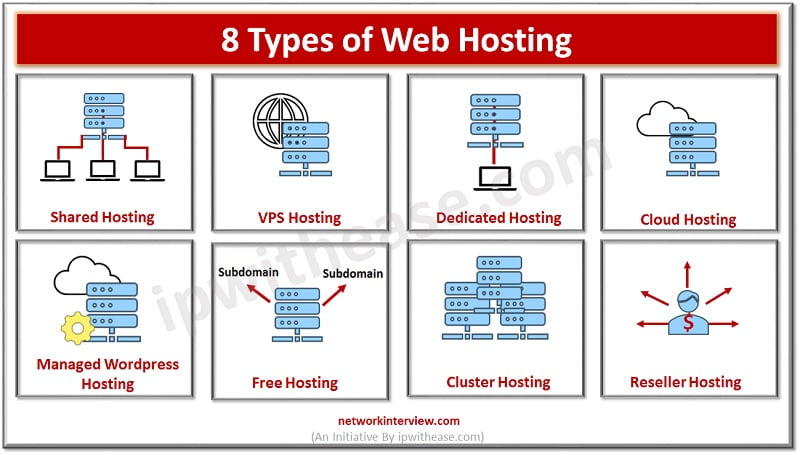 What is Web Hosting?
Web hosting services let organizations and persons publish on the Internet or Internet page and plays a critical role in online presence. These websites are stored on systems hosted over the web or Internet. There are several web hosting providers which let you publish content on the Internet. Web hosting lets organizations and people make their content available on the Internet and many additional services are also offered such as FTP (File transfer protocol) service to upload files from the system. 
In today's article we would look more in detail about different types of web hosting services provided by hosting providers, what is the difference among them, pros and cons of each type of hosting service and so on.
Types of Web Hosting 
1. Shared Hosting 
It is an entry level hosting service. Websites are stored with many other websites on shared servers. When initially people begin online businesses they can opt for a shared hosting scheme as it is cheaper as the same server would service multiple websites and CPU and memory is used by all hosted domains. Ideal for small start-up businesses 
Pros 
Sharing servers cost with larger number of consumers so operating costs are spread among all users of the services.
Cons
Resources limitation as CPU, memory and disk space of hosting system is shared among all domains using it also referred as 'Poor neighbour effect'.
2. VPS hosting
VPS hosting or virtual private server is one of its kind of internet hosting accounts. Your database and files will be on a webserver to have a website on the Internet. The physical servers are split into various other shared VPS servers. 
Pros 
Less costly compared to dedicated servers.
Hosting environment is more controlled.
Provides more flexibility and customization within a virtual machine.
Has supporting staff to help customers in their technical issues.
Cons
Price is on bit higher side.
3. Cloud hosting
Cloud hosting is the most popular hosting service. Cloud hosting providers provide within its infrastructure services hosting organization computing and storage resources. There is no physical entity in the cloud which you label as cloud it is all virtual. 
Pros 
Scalability is uttermost benefit.
Increased data delivery speeds.
Reduction in delays and page load times as it works on principle of identifying server closest to customer to deliver services.
Cons
Risk exposure is high as files and data is stored on external supplier infrastructure.
Costs cannot be fully estimated.
4. Dedicated web hosting 
Dedicated web hosting is where you pay for a server and it is dedicated to you. It has your full control as site owner; including root access. High traffic scenarios demand this kind of web hosting environment. Managed and unmanaged servers both types of offerings are available in a dedicated hosting model.
Pros 
Dedicated server can be used as you want to.
Very secure as it is not shared among others.
Freedom to choose most suitable server according to your requirements.
Cons
Most expensive type of hosting model.
Hard to manage if required technical skills are in paucity.
Software installation, day to day maintenance and daily operations could be an overhead.
5. Managed WordPress Web Hosting 
Managed WordPress Web Hosting is used only for WordPress. The host handles everything instead of using ePanel, Plesk etc. This plan is ideally suitable where the client is not keen to manage technical aspects of hosting.
Pros 
Quick availability.
Continuously optimized to maintain speed.
Cons
Costlier as compared to shared hosting as WordPress handles technical issues.
Such sites do get hacked via a backend or using defensive plugins or topics.
Web designers and website owners with technical interests might not be very happy about particular plugins they don't have access and also advanced server functionality access as well.
6. Free web hosting
It is a free service. Many Internet service providers give subdomains to make websites. Blogger and WordPress are quite popular among them. Sites can be named as your.blogspot.com and you.wordpress.com when you create free website with them.
Pros 
It is free of charge.
Your website is used to create an ad, banner, and other advertising media to get profit when free website is created.
Cons
Ad income is sometimes not shared with website holder.
No domain name is provided in free hosting plans only subdomain name is provided to owner.
No customer support provided to resolve technical issues.
7. Cluster web hosting 
Clustered web hosting increases hosting reliability and performance on servers. Websites are hosted on many clustered sites, which enhances traffic handling performance of website.
Pros 
High processing capacity is achieved.
Multiple servers connect to front end server providing more capacity to consumers when needed.
Cons
Costs are very high.
Requires perfect hardware and design.
8. Reseller web hosting 
This allows selling various shared plans. Control panel on seller plans helps to control shared accounts for billing, storage, memory etc. Many web designers use reseller hosting model to track their customers.
Pros 
More flexible model.
Saves money.
At low price can earn more income.
Cons
Require lot of knowledge.
Build a trust level through branding.
Limited access to servers and primarily dependent on hosting company.
Continue Reading:
What Is The Difference Between Cloud and VPS Hosting?