How to Make a Website? 4 Important Steps to be Followed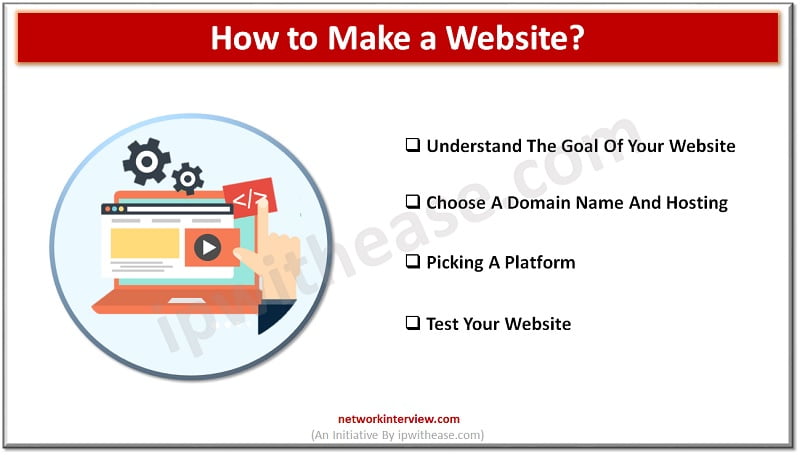 Nowadays, websites enable you to connect with people around the world, promote businesses, raise awareness, develop a brand, process payments from clients, and much more. For these reasons, it is important to have a website of your own.
In this article, we will give you a brief guide on how to make a website and all the things you need to consider. 
Steps you need to take when creating your website
Below steps will give you the answer to the question. "How to make a website?"
Understand the goal of your website 
You must be aware of the purpose and build a strategy for your website. The more clearly you understand why you are creating your website, the simpler it will be to fit the pieces together and create a successful website. For example, if you are creating an online store, your approach to building your site will be different compared to a personal blog. 
Choose a domain name and hosting
After you have planned out how to achieve your website goal, the next step is to choose a domain name and purchase hosting. We suggest you get managed WordPress hosting from good hosting service providers like Verpex which provide everything you need.
When it comes to a domain, keep in mind that it is hard to change once you have picked one. So, before you choose a domain name, make sure you take these things into consideration : 
Easy to find –

Choosing a domain name that includes the keywords visitors would enter in a search to locate a website similar to yours will ensure that internet users will find your site. This is an excellent SEO technique that will help you rank higher in search results.  

Select the appropriate extension –

Be aware that each extension has a different purpose and meaning. For instance, ".edu" is definitely preferable to a ".com" if you're creating a website for a college or institution. Additionally, a ".com" is typically preferred over an odd extension like a ".brb," so try to pick an extension that suits your website's purpose. In most cases, ".com" is the best option.
Picking a platform 
There are many options that you can choose from when it comes to building a website. One is to design the entire UI & UX and then write the code from scratch. This will be difficult for someone who is not tech-savvy.
Luckily there are many platforms that will enable any user to create a well-designed website. The most popular platform is WordPress. Keep in mind that if you plan on using WordPress, it will be best to have WordPress-optimized hosting. 
Now let's take a look at some reasons why you should choose WordPress as your building platform:
User-friendly –

This means the platform gives you a variety of templates to select from in order to create your website as user-intuitive as possible. WordPress makes it simple for you to add, remove, and change information from your website. 

Budget-friendly-

WordPress allows you to create a website without spending any money. You will never run out of free plug-ins because there are so many available.

Good for SEO – Creating a website that cannot be found online has no use at all. Luckily WordPress is compliant with Google's SEO rules and can work in your favor ho have a high rank.
Various plugins –

There are various plug-ins at your disposal that you can use to customize your website to your liking. Additionally, you will be able to add different functionalities such as payment methods and so on. 
Test Your Website
Once you have figured out your goal, picked a domain and platform, you can create and test your website. It is important to test your website each step of the way before you are fully ready to launch it. 
Here are some ways you can check if your site is functional: 
Make sure your website is mobile-friendly and readable for your users by viewing it through different browsers and devices. 

Check if your website's forms and pop-ups function as intended, and fill out the info they request.

Test the speed of your website. Users shouldn't have to wait an eternity for your website to load.
Conclusion
Hopefully, this article has given you a better idea of how to build your site. There are several steps that need to be taken in order to have a successful online presence. But most importantly, make sure that the design of your website is eye-catching because, after all, human beings are visual creatures. 
Continue Reading: