Crafting a Mobile App: From Idea to Creation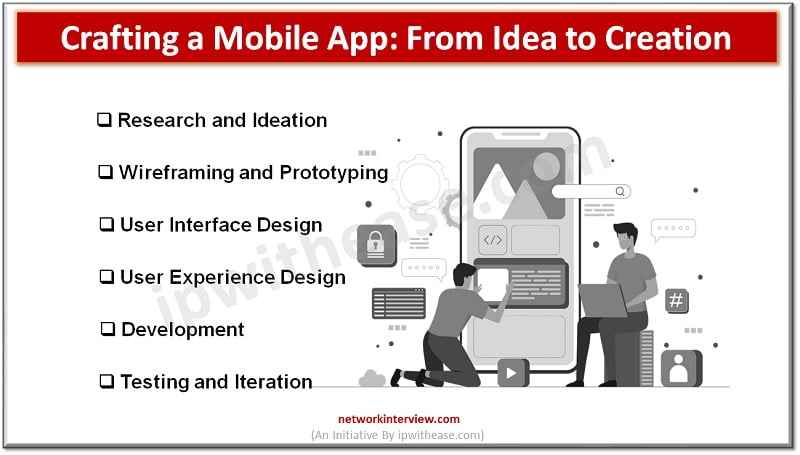 In today's digital era, mobile apps have become an integral part of our lives. From ordering grub, booking rides, to keeping up with friends, these apps have completely transformed our tech interactions. But have you ever pondered over the process behind designing and developing these apps? How does any user experience design agency do its magic?
In this article, we will delve into the captivating world of app's user experience design, exploring the entire journey from start to finish. We'll cover crucial aspects such as the significance of design thinking, the stages of development, the hunt for an app designer, the redesign process, and the holy grail of best practices for creating user-friendly mobile applications.
How to Design an App
Designing an app calls for a systematic approach, blending creativity with technical prowess. It all commences with the concept of design thinking, a user-centric approach that places the user's needs at the heart of the process. Design thinking compels designers to empathize with their target audience, grasp their challenges, and craft tailored solutions that meet their precise requirements.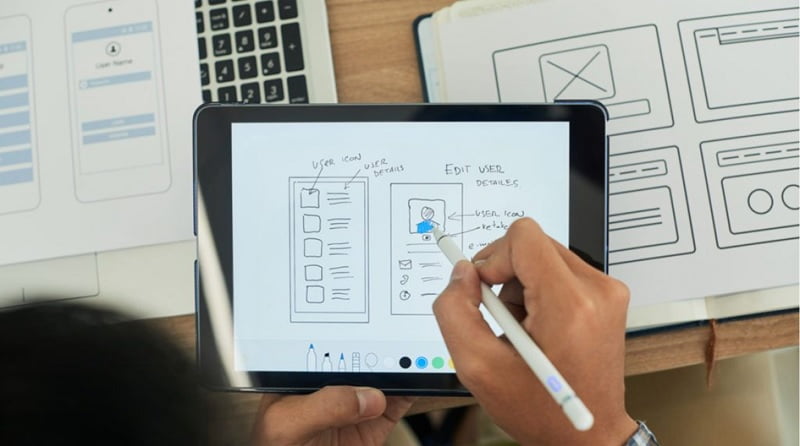 Design Thinking: What's the Scoop and Why's It Vital for Designers?
Design thinking serves as a problem-solving methodology, encompassing a deep understanding of the user's perspective, defining the problem, ideating solutions, prototyping, and iterating based on valuable feedback. This approach empowers designers to create interfaces that are both intuitive and user-friendly, catering effectively to the users' needs. By adopting a design thinking mindset, designers ensure that their app designs are not only visually captivating but also functionally sound.
How to Kickstart App Development from Scratch
Building an app from scratch involves several critical stages, each pivotal for the triumph of the final product. Let's break down the process into bite-sized nuggets:
Research and Ideation

: Embark on your journey by conducting meticulous market research, identifying the target audience, competition, and current market trends. Utilize this knowledge to generate ingenious ideas that solve specific problems or cater to unmet needs.

Wireframing and Prototyping: Visualize the app's structure and functionality by creating wireframes and prototypes. This step enables you to define the user interface flow and uncover potential usability hiccups in the early stages.
User Interface Design

: Give birth to the app's visual elements, encompassing a harmonious blend of colors, typography, and iconography. Focus on crafting an aesthetically pleasing and cohesive interface that resonates with the app's purpose and target audience.

User Experience Design

: Create an enriching user experience design by mapping out user journeys, defining interactions, and ensuring seamless navigation within the app. Pay close attention to usability, accessibility, and user feedback to enhance the overall experience.

Development

: Once the designs are finalized, the development phase takes center stage. Collaborate closely with developers to breathe life into the app, ensuring accurate and efficient implementation of the design.

Testing and Iteration

: Conduct thorough app testing to uncover bugs, glitches, and usability concerns. Gather feedback from users and iterate on the design based on their invaluable input. This iterative process refines the app and ensures a seamless user experience design.
Hunting for an Application Designer?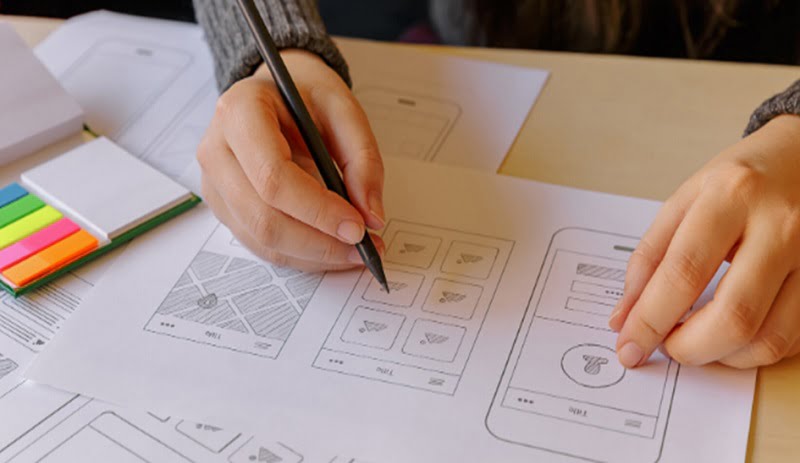 Finding the perfect app designer can make or break the success of your app. Here are some tips to help you in your quest:
Portfolio Power

: Examine the designer's previous work to assess their design style, creativity, and ability to create user-friendly interfaces.

Expertise Matters

: Ensure that the designer has specific experience in designing mobile applications. Mobile app user experience design demands a unique skill set compared to other design disciplines.

Word of Mouth

: Seek recommendations from colleagues, friends, or industry experts who have worked with app designers before. Personal referrals often lead to reliable and trustworthy designers.

Collaboration and Communication

: Consider the designer's ability to collaborate effectively and communicate their ideas. A skilled designer should grasp your vision and translate it into an aesthetically pleasing and functional app.
What's the Lowdown on the Redesign Process?
The redesign process kicks in when an existing app calls for improvements or changes. This can be triggered by user feedback, technological advancements, or evolving business requirements. The main objectives of a redesign are to enhance the user experience design, improve functionality, and align the app with current design trends and standards.
When's the Right Time for a Redesign?
Redesigning an app should be a strategic move, not driven solely by the need for change. Consider the following scenarios that warrant a redesign:
Usability Issues

: If users encounter difficulties while navigating or using the app, it's high time for a redesign to address those pain points.

Outdated Design

: If the app's appearance feels out of touch or fails to meet current design trends and standards, a redesign can breathe fresh life into it, giving it a modern edge.

Technological Advancements

: Keeping pace with evolving technology is essential. Redesigning the app enables the integration of the latest features and enhancements to boost its performance.
The Best Practices for Mobile App Design
Crafting a successful mobile app necessitates adherence to best practices. Here are some key recommendations to consider during the design process:
Simplicity and Intuitiveness

: Keep the app's interface simple, intuitive, and easy to navigate. Eliminate clutter and prioritize a seamless user experience.

Consistency is Key

: Maintain consistency in design elements such as color schemes, typography, and button styles. Consistency enables users to familiarize themselves with the app and enhances overall usability.

Responsive Design

: Optimize the app for various screen sizes and orientations. Responsive design guarantees smooth functionality across different devices, enhancing accessibility.

Performance Optimization

: Focus on optimizing loading times, minimizing crashes, and reducing battery consumption. A speedy and reliable app contributes to positive reactions from utilizing user experience design.

User Feedback

: Integrate user feedback throughout the design process. Conduct usability tests, gather insights, and iterate on the design based on user preferences and pain points.
In a Nutshell
Designing a mobile app is a multifaceted process that demands meticulous planning, creative thinking, and technical prowess. By embracing design thinking, following a systematic development approach, finding the perfect app designer, considering the redesign process when necessary, and adhering to best practices, you can create a mobile app that outshines the competition in the digital landscape. Remember, the success of your app hinges not only on its functionality but also on its ability to provide an exceptional user experience design. 
So go ahead, dive into the realm of user experience design, and transform your app idea into a stunning reality!
Continue Reading:
What are Progressive Web Apps (PWAs)? A Comprehensive Guide
Top 10 Application Monitoring Tools (APM)