Top 10 Application Monitoring Tools (APM)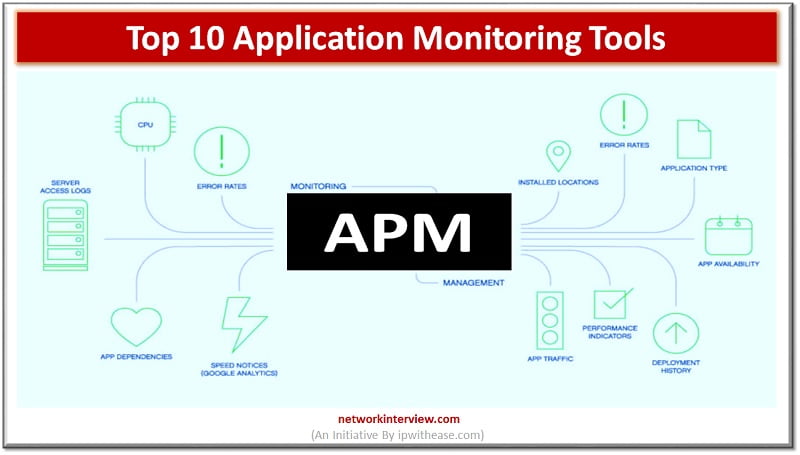 Importance of Application Monitoring
The day-to-day life of every person in this world depends on more than one application. This need led to the creation of different types of apps and thus creating the demand for Application Monitoring Tools. 
Every business or developer should have an Application Monitoring Tool to make his work easy and effective. But there are many APM Tools on the Internet. Which one should you go to? 
If you are asking this question to yourself, then you are in the right place. Here in this article, you will get to know about the top 10 application monitoring tools that every business should have. 
Okay without further ado let's start the articles. 
List of Top Application Monitoring Tools
1.DataDog Real -Time APM
Datadog is a SaaS monitoring solution for monitoring your cloud infrastructure, applications, and also serverless features. The major advantage of this platform is that it gives a full observability solution with metrics, logs, security, real user, etc…
It gives annual billing and demand billing options. You can also use it free for the first 14 days for an unlimited number of servers.
2.SolarWinds Server and Application Monitor
It is agent-less automatic server and application monitoring software. SolarWinds allows and monitors the server, and gives access to restart the server, kill the process and alter any issues.
SolarWinds has per-host, per-month pricing plans and provides a 30-day free trial.
3.ManageEngine Applications Manager
It covers the applications running directly on your production servers, over virtualizations, and on cloud servers. It covers more than 50,000 mostly used applications. 
It runs on Windows, Debian, Ubuntu, CentOS, Fedora, RHEL, and Oracle Enterprise Linux. It also has a 30- day free trial. 
4.AppDynamics 
It first started as an independent company owned by Cisco Systems. Most of the online businesses that provide cloud services choose AppDynamics as their monitoring tool. It is best for large-scale enterprise use. 
It has a free version and a paid version. And the paid version is available free for the first 15- days. 
5.Splunk IT Service Intelligence 
This Application Monitoring tool applies artificial intelligence to its monitoring software. This AI element creates predictive reports and shows you where the problem acquires. 
There is a free version, a cheaper version of Splunk Light, and premium versions of Splunk Enterprise with a 60-day free trial. 
6.Stackify Retrace 
It is one of the affordable SaaS APM tools for small businesses and individual developers. It has a free workstation-level APM tool that developers can use to test their code. It is called Prefix. 
It cost $25 -$50 per month per server, $10 for non Production. 
7.Site 24 x 7 
Site 24×7 is a SaaS-based unified cloud and Server monitoring tool for DevOps and IT operation in both small and large organizations. This can also be used for Application Monitoring. It is an all-in-one solution that works on Desktop, Windows, Linux, and mobile devices.
It is charged based on the subscription basis which may be monthly, weekly, or yearly, and provides a 30-day free trial.
8.New Relic APM 
If you are a person who is widely interested in monitoring tools, then New Relic is not a new name for you. They produce various types of monitoring tools, one of the Application Monitoring tools. It has great visualization options and monitoring app performance. 
There are three plans available they are – APM lite which is a free version, APM essentially a cut-down version, and Pro APM with a 14-day free trial. 
9.Dynatrace Application Performance Management
It is a full-fledged server monitoring tool that is suitable for both SaaS and on-site model businesses. The special features of Dynatrace are the process-specific network metrics and Artificial Intelligence to understand your application nature.
It charges based on the data ingested each month and it gives 15 days free trial for new users.
10.AppEnsure
This APM monitors both user experience on the website and application. The infrastructure monitoring system helps you to identify the problems before the user complaints. 
It is charged on a subscription basis and has a 14-day free trial. 
Conclusion
There are many APM tools out there in the market but the recommended ones are DataDog and SolarWinds APM tools. Please share your thoughts and questions in the comment section below. 
Continue Reading:
Top 10 Database Monitoring Tools