Top 10 Server Monitoring Tools & Software 2022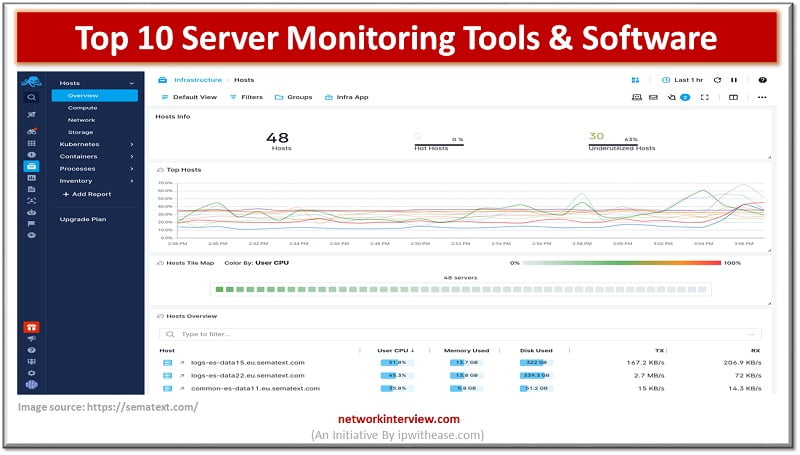 Importance of Server Monitoring
Server performance monitoring is an important function that every organization that uses cloud technology should be aware of. The server monitoring makes sure your server resources are being utilized fully and it runs smoothly.
In this article, you will get to know the top 10 server monitoring tools that every organization should have in their cloud infrastructure. Okay without further ado let's get started.
List of Top Server Monitoring Tools
1.Sematext Monitoring
It is a full-stack cloud and server monitoring solution that gives in-depth visibility and control over your IT infrastructure. It is easily customizable with the infrastructure metrics like common databases, servers, containers, etc…
It has a cost-effective pricing plan and 14 days no-strings free trial.
Advantages:
The major advantages are –
Provides metric correlation between performance, database, and log analytics.
Support new anomaly detection and alerts.
Integrates with all leading cloud providers.
2.SolarWinds Server and Application Monitor
It is agent-less automatic server monitoring software. SolarWinds allows and monitors the server, and gives access to restart the server, kill the process and alter any issues.
SolarWinds has per-host, per-month pricing plans and provides 30-day free trial.
Advantages:
The major advantages are –
It is a free server monitoring tool
It monitors server response time, memory, CPU load, and event logs.
It has an easy and customizable dashboard and graphs settings.
3.DataDog
Datadog is a SaaS monitoring solution for monitoring your cloud infrastructure, applications, and also serverless features. The major advantage of this platform is that it gives a full observability solution with metrics, logs, security, real user, etc…
It gives annual billing and demand billing options. You can also use it free for the first 14 days for an unlimited number of servers.
Advantages:
The major advantages are –
Support log aggregation and analytics
Anomaly detection and alerts
Custom metrics and Custom integrations.
4.NinjaOne
It is one of the most powerful intuitive server management software available in the world. It is best for the managed service providers (MSPs) and IT professionals.
It offers a free trial and it is priced per-device basis based on the features you use.
Advantages:
The major advantages are –
Automatic OS and third-party application patching for Windows and macOS.
Direct control over the devices with remote access.
Reduces ticket volumes and improves ticket resolution time.
5.New Relic
It is a server monitoring software with rich dash boarding support, real user monitoring which gives top to bottom visibility. It has an Error analytics tool that detects issues and provides possible solutions.
But the problem is they don't use a single pricing plan for all features. Thus if you don't have a flexible budget then New Relic can is not your choice.
6.AppDynamics
It has a comprehensive set of dashboards and metrics that gives business-first observability and accelerates your digital transformation with deep insights.
It charges per CPU core and has a 15-day free trial.
7.Dynatrace
It is a full-fledged server monitoring tool that is suitable for both SaaS and on-site model businesses. The special features of Dynatrace are the process-specific network metrics and Artificial Intelligence to understand your application nature.
It charges based on the data ingested each month and it gives 15 days free trial for new users.
8.Site 24 x 7
Site 24×7 is a SaaS-based unified cloud and Server monitoring tool for DevOps and IT operation in both small and large organizations. It is an all-in-one solution that works on Desktop, Windows, Linux, and mobile devices.
It is charged based on the subscription basis which may be monthly, weekly, or yearly, and provides a 30-day free trial.
9.Nagios Core
It offers a different variety of server monitoring options and resolves the issues. It can support nearly 3500 add ons to server monitoring and performance checking. It has minimum downtime thus server availability increases.
10.Prometheus and Grafana
These are the well-known open-source server monitoring tools available now. You need the right skills to set up a full-fledged server monitoring tool using this open-source software.
If you set it up correctly then you can enjoy them for free.
Conclusion
Though there are many server monitoring tools, the recommendations are Sematext and Solarwinds, or Prometheus and Grafana. Please share your thoughts and questions in the comment section below.
Continue Reading:
Top 10 Application Monitoring Tools (APM)
Top 10 Database Monitoring Tools