Which Is Better? A Router or Wi-Fi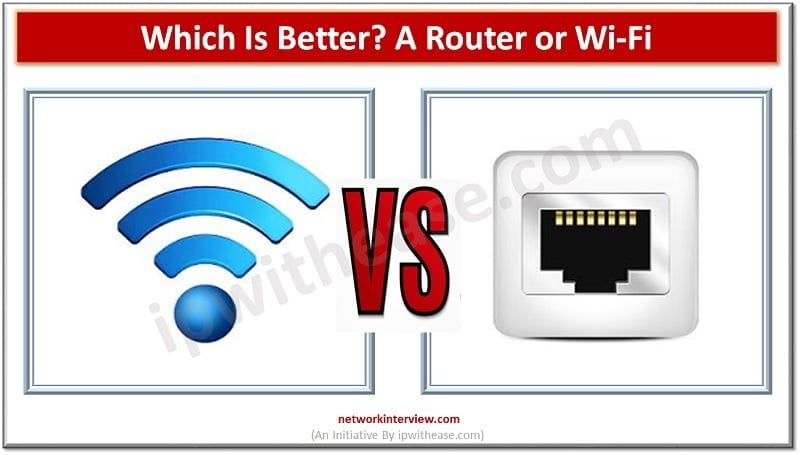 When talking about the internet, there are two different kinds of internet connections that you can have, you could have either a wired connection or a wireless connection. While you are using a wired connection, you need to use a router so that you could use a LAN cable. However, as long as you are using Wi-Fi, you need to make sure your devices have the capability of connecting wirelessly to the internet. Regardless, you need to have a reliable internet connection to make sure your browsing experience is as flawless as possible.
You should look into Xfinity internet prices because Xfinity is one of the best internet service-providing companies in the United States for internet and cable TV. Here is a comparison between having a wired connection and a wireless connection. 
What are the main differences between an Ethernet and a wireless connection?
The main difference between the two, a Wi-Fi connection makes use of wireless signals while an Ethernet connection uses a wire that connects your device directly to the router. A Wi-Fi connection gives you more mobility since you are not limited to the length of a wire. However, if you are connected through an Ethernet cable, you would have to make sure you stay within the length of the wire, otherwise, you could damage either the wire or the router.
Which one of the two is better when it comes to speed?
Although there are quite a several things that determine whether or not an internet connection is fast. Several factors contribute to the speed of the internet whether it is a wired connection or a wireless connection. 
It is a well-established fact that an Ethernet connection is usually faster than a Wi-Fi connection. While using an Ethernet connection, the speeds can go up to 10Gbps of internet speed and in certain cases, it can even go higher. However, Wi-Fi speed can only go up to 6.9Gbps and average Wi-Fi speeds are even slower. Most of the time Wi-Fi speeds are under 1Gbps. 
Out of the two types of connections, which one is more secure?
As crazy as it might seem, using the air as a medium can make you a lot less secure. While you are using a wired Ethernet connection, your data is more secure because you have to use a wire to connect your device to the internet through a router. Since you are using a cable to do so, your data is a lot more secure since data is traveling between the router and your device. 
However, when it comes to a wireless connection, you are using the air for your data to travel through and your data can very easily be captured by anyone in the vicinity. This makes your data more vulnerable to being breached and this makes you a lot less secure and can make your system or your device easy to be attacked. 
Which of the two is more reliable?
There are a lot of other devices installed in houses that use signals to work efficiently. While you are using a wireless wifi connection, you could face signal interference amongst devices, which is why your internet might become slower. Similarly, electrical devices present in your house can cause problems with your internet signals. Pieces of furniture and other physical objects can get in the way of internet signals and make your internet slower. 
An Ethernet connection can tend to be more reliable since it has a layer of insulation in it which is why the cable is as protected from interference as possible. Since you are using a cable instead of signals traveling through the air, your Ethernet connection is not affected by physical objects that get in the way. 
Which of the two connections is better for large files? 
When it comes to uploading files that have a large size or if you are streaming movies and videos, then an Ethernet cable is what you would want to use. This is because an Ethernet connection experiences a lot less latency and can transfer data a lot faster. You could also do the same while downloading content too.
 For instance, if you have a PS4 and you wish to download a game faster, you can connect your PS4 to the router with an Ethernet cable and then download your game in rest mode so that your game downloads as fast as possible. 
Wrapping Up
These are some of the reasons why having an Ethernet cable is a lot better than having a wireless connection. It is a lot faster, it is more secure and it is reliable. If you have certain devices that require a fast internet connection such as a PC or a gaming console, be sure to get a router and connect it to your devices through an Ethernet cable for a fast internet experience. 
Continue Reading:
Difference between Network Bridge and Router