Top 5 Type 1 Hypervisors in Market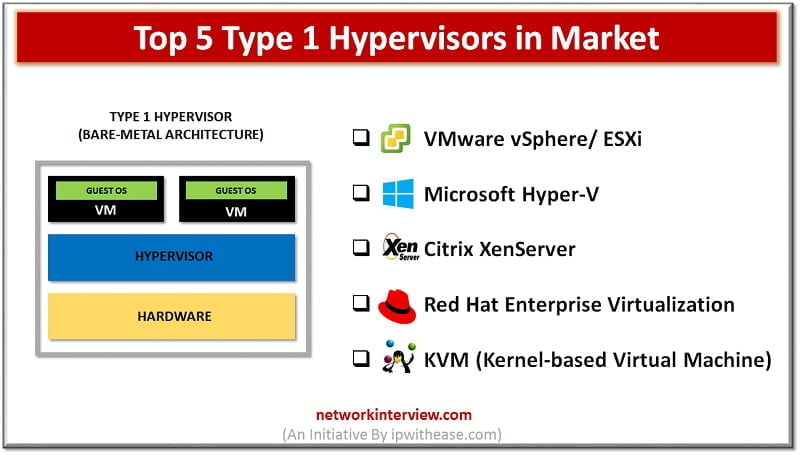 Types of Hypervisors
Virtual Machine Monitor or VMM also called as Hypervisor is a technology that separates software (computer operating system) from hardware. With a hypervisor, a host computer can support and accommodate many other virtual machines by sharing its processing and memory. Hypervisors can also be created for mobiles. The basic concept is to maximize the use of computer resources like CPU cycles, memory, and network bandwidth.
Hypervisors allow every guest (virtual machines) to access the host computer's CPU and memory; it also limits the portion of resources each VM can make use of so that other VM's can also run on a single system easily.
Talking about the types, hypervisors are distinguished into two:
Type 1 Hypervisors: Native
Also known as "bare-metal" hypervisors which lie between guest operating systems and hardware, these directly run on the hardware of the host computer. It also helps manage guest virtual machines. Type 1 hypervisors interacts with the memory, CPU of the host. Direct access makes it an efficient choice, also increasing the security as there is nothing between the CPU and itself that can be put on stake. But, it does need a separate machine to manage host hardware and different VMs.
Type 2 Hypervisors: Hosted
This kind of hypervisor works as another software on the computer. It needs to be lodged or installed in the computer. It differs with the native hypervisors in performance. Type 2 hypervisor provides better connection between the host operating system and the guest virtual machine allowing users to open and exit as required and enabling them to access host OS folders and files from the VM. There lies a potential risk of security because guest OS can be manipulated if the host OS gets compromised.
List of Top 5 Type 1 Hypervisors in Market
VMware vSphere/ ESXi:
Donning the leader's hat is the VMware available in 5 commercial versions and one version free of cost. The product is vSphere/ESXi. Earlier the free version was called "Free ESXi" which is directly loaded on the server. It provides features like svMotion, vMotion, or centralized management. Free version supports up to 32 GB RAM per server. There are also some low cost offerings making it affordable for small scale infrastructures.
Microsoft Hyper-V:
Earlier released under Microsoft, Hyper-V is available both commercially and free of cost. There are 4 commercial editions-
Foundation
Essentials
Standard
Datacenter Hyper-V
It provides features like storage migration, VM replica, dynamic memory and many more. Along with vSphere and XenServer, Hyper-V falls in the top 3 range of type 1 hypervisors.
Related – Hyper-V vs VMware
Citrix XenServer:
XenServer is a commercial solution provided by Citrix present in 4 editions. XenSource, Inc. was purchased by Citrix in 2007. Now, Xen projects are available at Xen.org. Features offered are power management, memory optimization, monitoring and alerting, conversion tools, live storage migration etc. XenServer started as an open source project and today it has labelled their proprietary solutions namely XenDesktop and XenApp with the name of Xen.
Red Hat Enterprise Virtualization (RHEV):
With features like live migration, image management, templating, power saving and cluster maintenance, RHEV is a commercial version of type 1 hypervisor. Built on Kernel-based Virtual Machine (KVM), it benefits users as an easy to set up, use and manage alternative. An open source hypervisor, Red Hat Enterprise is made in such a way that it can work with anything but it is also tested on many hardware and servers. RHEV is an affordable solution as the total cost of owning it is low while performance is outstanding.
KVM (Kernel-based Virtual Machine):

A type-1 hypervisor based on Linux is an open source hypervisor. KVM can run on Linux operating systems like SUSE, Ubuntu and Red Hat Enterprise Linux. Apart from these, Windows and Solaris are some Linux operating systems supported. With KVM, Linux turns into a hypervisor that enables host computer to run and support several other virtual machines or guests. Every guest machine runs as common Linux operating system with hardware like graphics adapter, memory, network card, CPUs and disks.
This is how virtual servers, groups and users can be managed and monitored from a unified dashboard.
Also refer: Type-1 vs Type-2 Hypervisors