Hyper V vs VMware : Detailed Comparison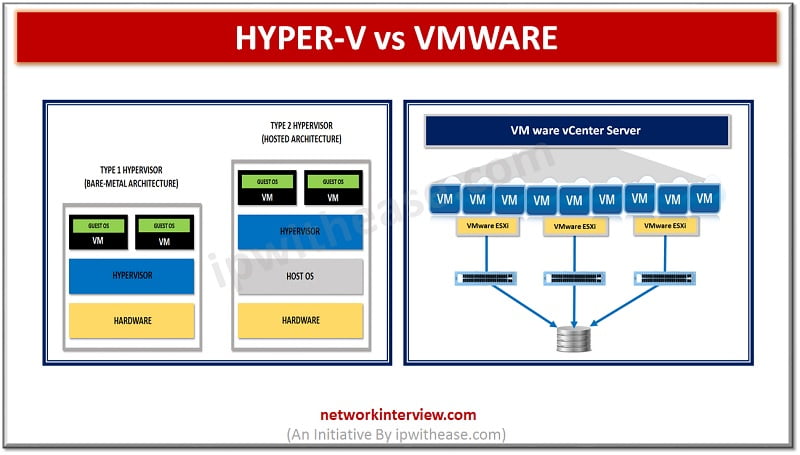 Hyper V vs VMware
In computing, virtualization refers to the act of engendering a virtual version of one thing, as well as virtual constituent platforms, storage contrivances, and electronic network resources. On a very broad level, there are 3 styles of Server Virtualization –
Full virtualization
Para-virtualization
OS-level virtualization.
A hypervisor, conjointly referred to as a virtual machine monitor, is a method that makes and runs virtual machines (VMs). A hypervisor permits one host laptop to support multiple guest VMs by nearly sharing its resources, like memory and process.
Generally, there are a unit 2 kinds of hypervisors. Type-1 hypervisors, which is also known as "bare metal," runs directly on the host's hardware. Type-2 hypervisors, also known as "hosted," run as a package layer, like alternative laptop programs.
 What is Hyper V?
Hyper-V functions by running each VM in their respective isolated space, while leveraging the same hardware. Each Virtual Machine in this scenario may have their own Operating system independent of other VMs. Infact, such logical partitioning by virtualization helps keep the issues like crashing etc local to the VM while other workloads can run independently.
Related – Hypervisor in cloud computing
Editions of Hyper V are as below:
Windows Server Data center
Windows Server Standards
Windows Server Essentials
Supported OS by Hyper-V:
CentOS
Red Hat Enterprise Linux
Debian
Oracle Linux
SUSE
Ubuntu
FreeBSD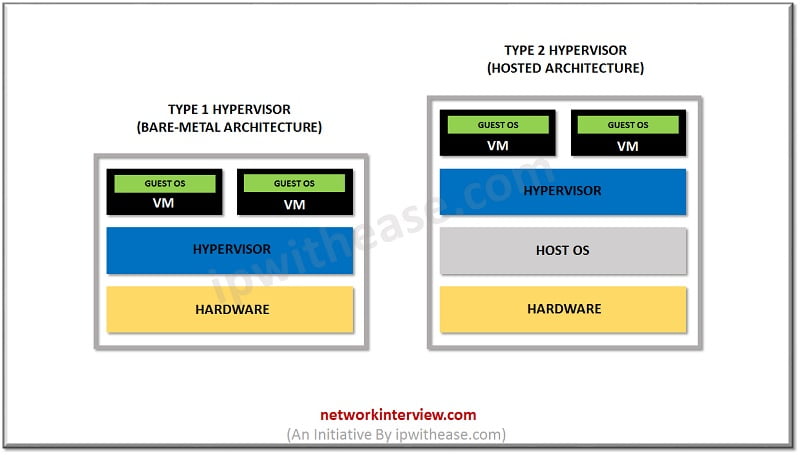 What Is VMware?
VMware is a company that provides platform for virtualization. Vmware was launched in year 1998 in Palo Alto, California. The first virtualization software was VMware Workstation. In year 2001, VMWare GSX Server and VMWare ESX server were introduced in the market. It is notable that majority of the VMware virtualization software programs are for business use.
VMware vSphere is a server virtualization platform created by VMware. Basically, vSphere encompasses a collection of virtualization products that hold the ESXi hypervisor, vSphere shopper, VMware digital computer, vCenter, and others.
Editions of VMware are:
VMware vSphere Standard
VMware vSphere Enterprise Plus
VMware vSphere Operations Management Enterprise Plus
VMware vSphere Platinum
Below are the Supported OS by VMware:
Oracle Unbreakable Enterprise Kernel Release 3 Quarterly Update 3
Asianux 4 SP4
Solaris 11.2
Ubuntu 12.04.5
Ubuntu 14.04.1
Oracle Linux 7
FreeBSD 9.3
OS X 10.10.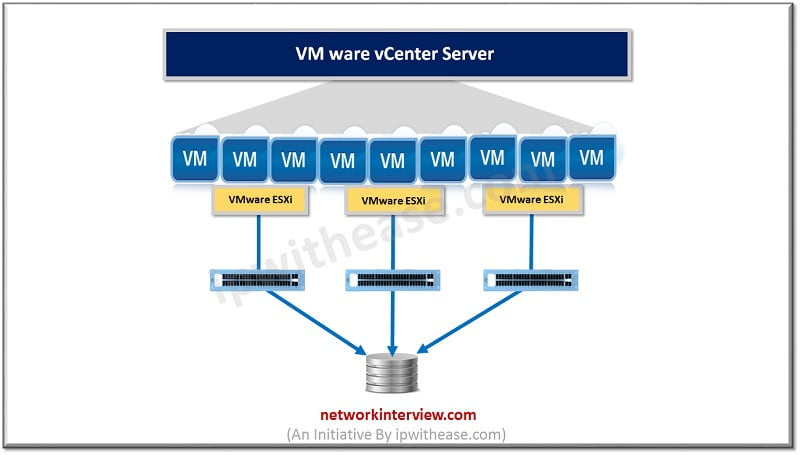 Hyper V vs VMware:
Licensing support of Hyper V and VMware:
Physical CPU support available in Hyper V but limited in VMware.
OSE license support is available in both.
Windows server VM license support is available per host.
Antivirus and malware protection is supported by both.
A web-based management console support is available in both.
Storage Capabilities of Hyper V and VMware:
ISCSI/FC support available in both.
Network file system support available in both.
Virtual fiber channel support available in both.
3rd Party multipathing is available in both.
Storage tearing and Virtualization is available in both.
Network Capabilities of Hyper V and VMware:
IPsec task offload is available in Hyper V but not in VMware.
Virtual receive side scaling is available in both.
SR-IOV with live migration is supported in Hyper-V but not in VMware.
Dynamic Virtual Machine queue is available in both.
Technical feature comparison (Hyper-V on Windows Server 2016 vs Vmware vSphere 6.7)
System Logical CPU

Hyper-V on Win Server 2016 supports 512
Vmware vSphere 6.7 supports 768.

System Physical RAM

24 TB for Hyper-V
16 TB for Vmware vSphere.

Virtual CPUs and VM per host

2048 and 1024 respectively for Hyper-V
4096 and 1024 respectively for Vmware vSphere

Virtual CPUs per VM

In case of Hyper-V (Win server 2016)

240 for Gen2 VMs
64 for Gen1 VMs
320 for host OS

In case of Vmware vSphere 6.7

Memory per VM

For Hyper-V, its 12 TB for Gen2 VM and 1 TB for Gen1 VM
In case of vSphere, it is 6128 GB

Maximum Virtual Disk Size

For Hyper-V, its 64 TB (VHDX) and 2040 GB (VHD)
In case of vSphere, it is 62 TB

Number of Virtual SCSI disks

Both support 256 SCSI disks

Maximum number of VMs per cluster

Both support 8000 VMs per cluster
 Some PROS and CONS of Hyper V:
| | |
| --- | --- |
| PROS OF HYPER V | CONS OF HYPER V |
| Minimal device driver management. | A crash of the primary OS will crash all VMs. |
| A wide range of compatible devices. | OS must be installed in order for the Hypervisor Layer to operate. |
| New server roles are easy to install. | Frequent OS and security updates translate into more overhead. |
| High resilience to corrupt external code. | Lack of support for service templates. |
| Shorter initialization time. | |
| Zero downtime to perform maintenance or apply security updates. | |
| Readily scalable services. | |

Some PROS and CONS of VMware:
| | |
| --- | --- |
| PROS OF VMware | CONS OF VMware |
| No OS is required for controlling the management components. | Vendor support unavailable in issue with Incompatibility of hardware. |
| No additional patch required for Controlling Layer components. | Trial software missing some functionality. |
| Vendor support is good. | Steep learning curve. |
| Out-of-the-box governance feature set. | Complex device drivers will slow the initialization time. |
| Available AWS applications. | Corrupt external code may slow initialization or hang a server. |

Summary
Hyper V and VMware are both extremely powerful hypervisors on which you can run your enterprise data center production workloads. Each have various characteristics that make them unique. Each of these characteristics serve the basis on which many make the decision to go with one hypervisor or another for running their enterprise data centres.