Difference between Network Bridge and Router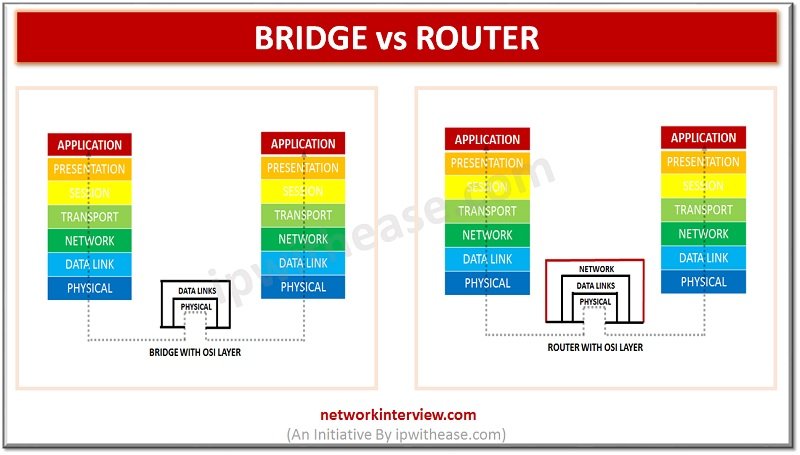 Network Bridge and Router are 2 key networking devices used in connecting segments or networks. While Bridge has been taken by switch, Router still remains the cornerstone of any WAN Network and has been expanding its role with introduction of new technologies like Zone based firewall, GRE and IPSEC tunnels etc. In this article, we will explore the difference between a Network Bridge and Router –
A Network Bridge is a networking device principally operating at the data link layer (Layer 2) of the OSI model with filtering/forwarding/segmentation capabilities to work in a collision domain and a broadcast domain. On the other hand, Router is an internetworking device operating at the network layer (Layer 3) of the OSI model. A router is attached to two or more networks and forwards packets from one network to another and works in many broadcast domains. Let's discus on features, highlights and comparison of both devices.
Features of Bridge and Router
Key highlights Bridge vs Router
Comparison Chart
Conclusion
Features of a Network Bridge
A bridge is a networking device for connecting two segments of a network and transmitting data between them. Bridge operate in both the physical and the data link layers of OSI model. There is a compulsion of using identical protocols for the segments to communicate. The primary use of a bridge is to send, filter, or flood any arriving frame which is depending on the MAC address of that specific frame.
Bridges forward Packets using the software. Thus bridges are software-based. Bridged network fragments collision domains, but do not fragment broadcast domains, instead forward all broadcasts.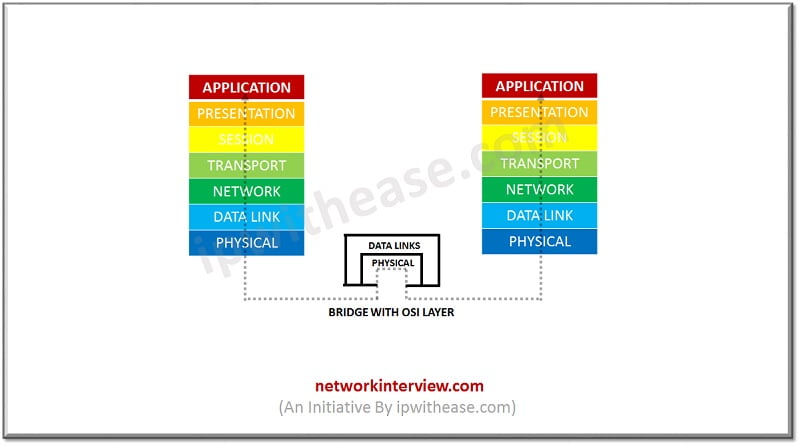 Types of  Network bridges
Simple Bridge- A simple bridge connects two segments and contains a table that limits the addresses of all the stations included in each of them.
Multiport Bridge is employed when we want to link more than two LANs, and each table is containing the physical addresses of stations approachable through the particular port.
Transparent Bridge performs its bridging functions and it's also creates own table of station addresses.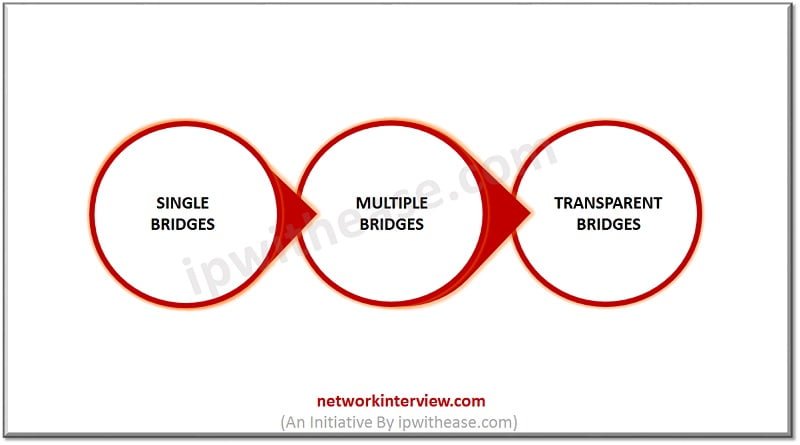 Related – Network Bridge vs Repeater
Features of Router
 Unlike a bridge, if a router receives a packet that is not destined for a connected client, it will forward that packet onward. Routers depend on a routing table in order to know the next destination if it is outside the pool of addresses that the router is maintaining.
A router will have a WAN interface along with a LAN interface. The WAN connection is for all traffic outside of the router's pool, and the LAN connection is for local clients. A router is located at any gateway — where one network meets another — including each point of presence on the internet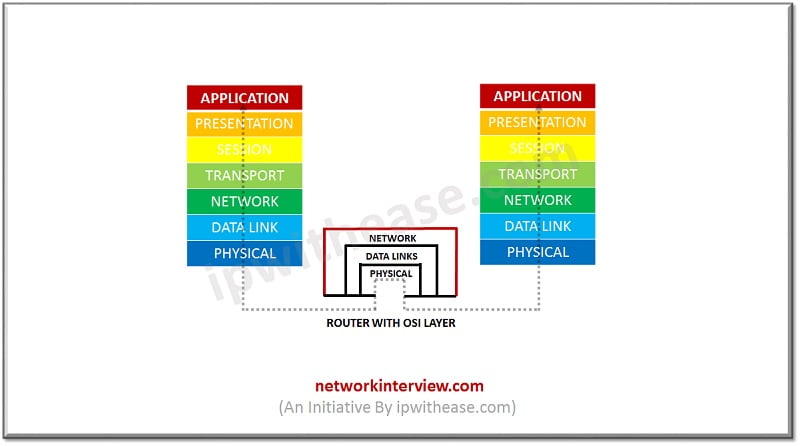 Key highlights of difference between Network Bridge and Router
Routers are not transparent to the end stations. In contrast, Bridges are transparent to the end stations and does not rely on the protocol.
In a bridge, frames are forwarded on the basis of the MAC address of the frame. As against, Router checks logical address (i.e., IP address) of the packets.
The router can work on more than broadcast domain while Bridge can work on a single broadcast domain.
Bridge functions at Data link layer while router operates at the Network layer of the OSI model.
The bridge can relay frame from one segment to another whereas Router store and forward packets.
Comparison Chart 
Below table illustrates difference between Router and Bridge –
KEY TERMS

ROUTER

BRIDGE

Objectives

Router main objective is to connect various networks.
Bridge main objective is to connect various LANs.

Layer

Router works in Network Layer.
Bridge works in Data Link Layer.

Address

Router scans device's IP Address.
Bridge scan device's MAC Address.

Routing Table

Router uses routing table.
Bridge do not use routing table

Domain

Router works on more than single broadcast domains. 
Bridge works on a single broadcast domain.

Ports

Router has more than two ports . Router devices are used to connect the LAN and WAN links.
Bridge has only two ports.

Transparency

Routers do not provide station transparency.
Bridges are protocol independent and transparent to the end stations.

Data Format

Router sends data in form of packets.
Bridge also sends data in form of packets.
Download the difference table here.