NETWORK BRIDGE vs REPEATER : Detailed Comparison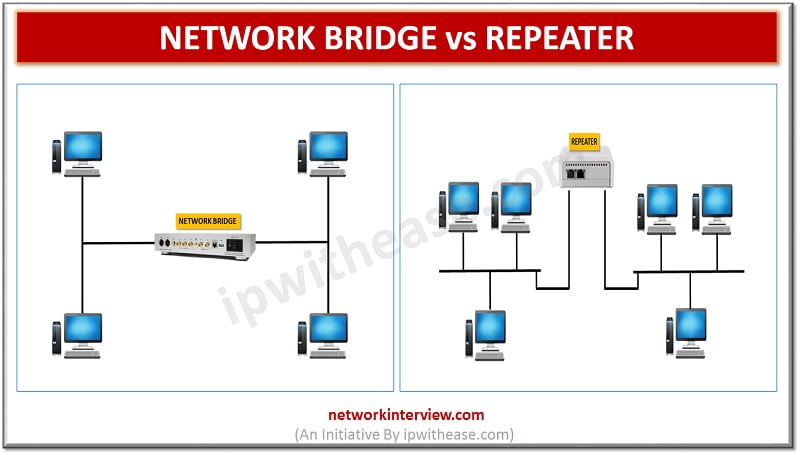 NETWORK BRIDGE vs REPEATER
While working on networking concepts, network engineers may face challenge in understanding how Network Bridge and repeater are different and their working principles.
In this article, we will touchbase on both the devices and compare their functionalities –
Bridge is a networking device operating at the data link layer (Layer 2) of the OSI model with filtering/forwarding/segmentation capabilities to work in a collision domain and a broadcast domain.
Repeater is an electronic device which just regenerates the attenuated signals to its original wave form. It is a hardware device used to extend a local area network. Repeaters operate on layer One of OSI model. It regenerates the weak signal and increases the range of the network. Functionality of the network remains unchanged by the use of repeater. Bridge can be used as a repeater also. Let's now deep dive on features and highlights of both devices.
Features of Bridge and Repeater
Key highlights Bridge Vs Repeater
Comparison Chart
Conclusion
Features of Repeater:
As signal travels along a network cable (or any other medium of transmission), they degrade because of wire's resistance power and become distorted and lost its own original wave pattern that is called attenuation. If a cable is long enough it makes signal amplitude loss after a certain distance depends on medium.
A Repeater regenerates the signal to travel longer distances cable over a network. Repeaters operate on layer One of OSI model. A repeater regenerates the received signals and then re-transmits the regenerated (or conditioned) signals on other segments.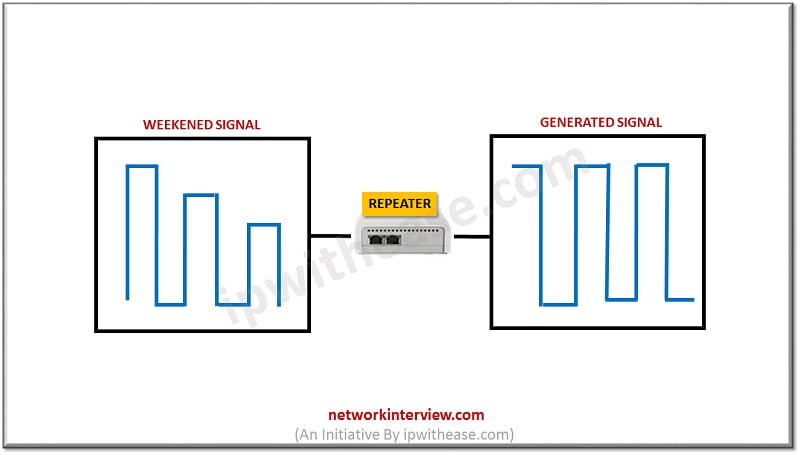 Repeater cannot operate between two different protocol like token ring and Ethernet.  In other words, repeaters do not translate anything it only understand the electrical signal wave form amplitude.
Related – Network Bridge
Features of Bridge:
A Bridge can join segments or work group LANs. A bridge can create logical networks. For example, it can control flooding of data from one network segment to another by creation of logical network.
Below is an arrangement which describes the bridge operation –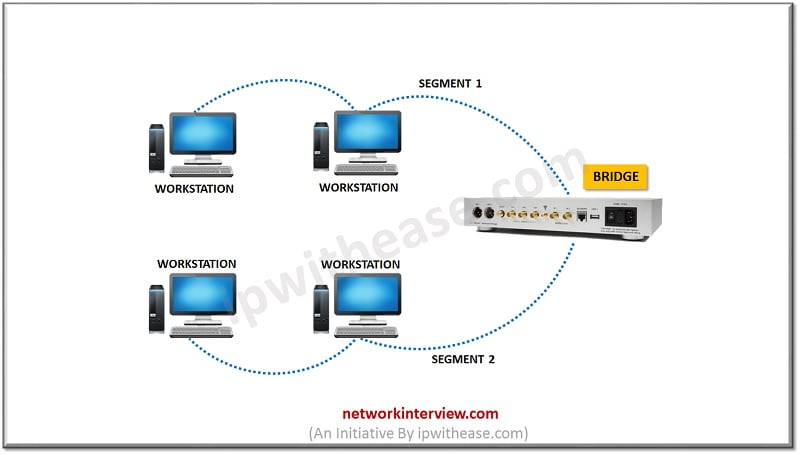 Usage of Bridges:
Bridges simply pass all protocols along the network. Because bridge has capability to allow traffic of multiple protocols, it mainly depends on sender and receiver to communicate on same protocol.
A bridge operates on the rule that each workstation has its own address. A bridge forwards the packets based on the hardware address of the particular destination node.
When frame arrives at port of bridge it will record it in its MAC address table with incoming port number and hardware address. Firstly it will broadcast with in same to get detail of destination node with help of ARP. The output gets added in table with destination MAC address and port number The bridge will then use this MAC table to forward traffic  unicast in next transfer.
Key highlights : Network Bridge Vs Repeater
In a bridge, frames are forwarded on the basis of the MAC address. As against, Repeater do not understand any frames/packet/bits.
Bridges can work on a single broadcast network segment while repeater can forward all segment traffic.
Bridge functions at Data link layer while repeater operates at the physical layer of the OSI model.
Bridge expands the limit of network segments while repeater can extend cable length in network.
Comparison Table
KEY TERMS

BRIDGE

REPEATER

Operation

Bridge operates at the data link layer of OSI Model.
Repeater operates at physical layer of OSI Model.

Packet

The complete frames is understood by bridge.
Repeater do not understand complete frame

Address

Destination address is used in the bridge to determine where to forward a frame.
Repeater are not able to recognize the destination address.

Domain

In the network, if collision occurs in the one segment, it is not forwarded to another segment
Repeater forwards the collision from one segment to another, which causes the same issue to occur on all other segments in the network.

Networks

Bridge connects two networks in a well organized manner.
Repeater expands the limit of the signals in the network.

Filtering

Filtering of the packets in network is achieved by the bridge.
Repeater cannot performs packet filtering.

Economical

Bridges are relatively expensive and used to extend a LAN.
Repeater is also used to extend a LAN, but comparably economical than the bridge.
Conclusion
Repeater use to extend wire length or to regenerate the attenuated signals. On other hand Bridge is used for segmentation of network (LAN) logically.
Download the difference table here.