Which Institute is best for Data Science?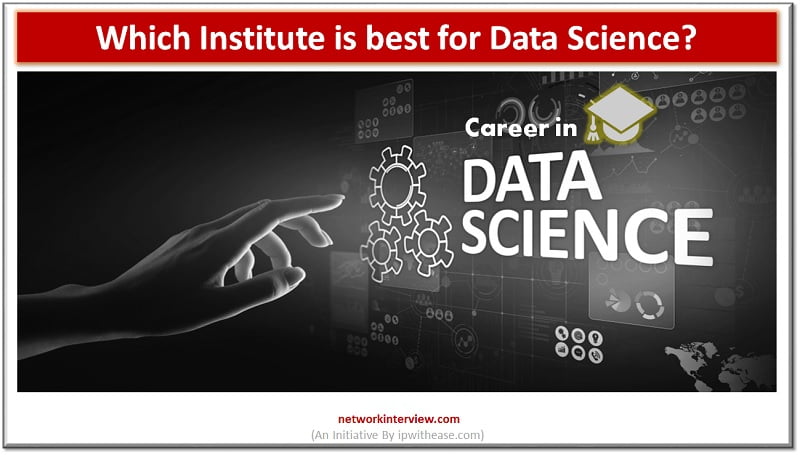 A decade after data scientists were labeled "the sexiest job of the 21st century" by Harvard Business Review in 2012, data scientists continue to be among the greatest and most sought-after job roles in the IT sector, making their way to the top of the information technology corporate hierarchy. We live in a time when technology development is fundamentally data-driven. Data controls all of our actions, whether they are personal or professional. As of 2023, the globe generates over 1.145 trillion MB of data each day, which includes applications in small devices like mobile phones, IoT devices, and large-scale applications spanning numerous industries across multiple sectors, including healthcare, banking, and governance.
Data is knowledge, and knowledge is power, so data is the ultimate power, and who else but data scientists can tame data to derive meaningful insights? There have been numerous technological tools and techniques developed to process, transfer, store, and secure data in a cost-effective and efficient manner. The primary goal of data science is to provide the techniques and equipment required to extract value from massive amounts of data in an ethical and safe manner. As a result, data scientists are, without a doubt, one of the most important job roles in the world.
So, if you aspire to be a data scientist and wish to chart a successful journey into the data science realm, enroll in an excellent data program that will help you acquire the advanced knowledge and technical prowess needed to ensure. This article will give you information about which is the best institute for data science present today.
Following are some of the best institutes for Data Science globally:
Simplilearn
When it comes to online educational institutes that provide top-notch education, Simplilearn is one name that everyone thinks of. It is particularly well-known for the exceptional quality of training it offers. The data science course offered by Simplilearn is on-par with those offered by the top-most prestigious universities in the world.
For instance, the postgraduate in data science program offered at Simplilearn is in collaboration with the prestigious Caltech university, USA and IBM. Hence, it would not be an exaggeration to state that there is no better place than Simplilearn to acquire the advanced knowledge and the skillsets crucial to data science. The wide range of data science programs that offer training in tools and technologies used in data science stand testament to this fact. The following are some of the data science programs offered by Simplilearn:
Data Science with Python Course

Data Science with R Certification Course

Data analyst master's program

Tableau Certification Training Course
Simplilearn offers a wide range of topics ranging from the fundamentals to more complex topics like Bayesian statistics through their well-structured curriculum that are crucial for a data scientist to comprehend. Also, it offers personalized training, allowing you to focus on topics that are very interesting to you and choose the best course of study for your background, which will help you advance in your career.
The Data scientist master's program, which is yet another excellent program offered by Simplilearn powered by IBM, includes unique hackathons, masterclasses, webinars, and Ask-Me-Anything sessions. The online training will give you hands-on experience with R, Python, Machine Learning, Tableau, Hadoop, and Spark, which are the most recent data science tools and technologies.
As a result, it is safe to say that Simplilearn's Data Science courses will give you a head start on your new career, with you feeling confident using data science tools and terminology on your own.
California Institute of Technology (Caltech)
The California Institute of Technology, or Caltech, is a world-renowned science and engineering institute that is ranked as the fourth-best university in the United States. It is a name that needs no introduction, as it is home to some of the world's most brilliant scientists. Caltech's CTME division, in collaboration with Simplilearn and IBM, offers an excellent postgraduate program in data science. The key features of the Caltech data science program are:
Caltech's Academic Excellence

IBM's Industry Expertise

Campus Immersion

Hands-on Experience
Exploratory Data Analysis, Descriptive and Inferential Statistics, Model Building and Fine Tuning, Deep Learning, and Data Visualization are just a few of the key skills covered in the boot camp. Python, R, Tableau, PowerBI, MySQL, Tensorflow, Mindmapping, and other important tools are also covered in the data science program.
IIM Calcutta
One of the top institutions for data science is the Indian Institute of Management in Kolkata, one of India's premier universities. The Advanced Programme in Data Sciences offered by IIM, Calcutta, is one of the best data science programs in the country. The program's main goal is to acquaint participants with the various tools and techniques used for data handling, management, analysis, and interpretation. Although it is aimed at working professionals who want to get practical experience working with data, the program is also intended for those who want to learn about them.
Also, the course material provides hands-on training in the use of modern software programs like Tableau, Python, SPSS Modeler, R, @Risk, Arena, and others. Those who complete the program successfully will have a strong foundation for employing complex quantitative and statistical tools to reach the best conclusions that are backed by trustworthy data analysis.
Imperial College, London
One of the top data science institutes worldwide, the Data Science Institute at Imperial College London was established as a cross-faculty organization to manage data science research at Imperial. The Department of Computing and Data Science Institute at Imperial College London offers a unique environment for data science by bringing together top computer scientists from all over the world with academics from the medical, biological, and social sciences. A wide range of applications, including those in bioinformatics, development economics, behavior analytics, and medicine, have the potential to be transformed because of the two institutes' coordinated research efforts.
The University of Bath, The UK
One of the most esteemed universities in the United Kingdom is the University of Bath. The University of Bath provides a master's program in data science that can be pursued either alone or in tandem with another practical discipline like mathematics or statistics. For a strong foundation in data science theory and practice, the curriculum aims to create specific knowledge in machine learning, statistics, and software engineering.
Since data science is an interdisciplinary field that is deeply rooted in mathematics and information technology, enrolling at the University of Bath instills a strong mathematical foundation as well as the core technical expertise that is the right synergy between science and technology, ensuring a successful data science career. Another topic covered in the software skills for data science subject is the evaluation of programming languages for their applicability to real-world problems.
IIM Kozhikode
IIM Kozhikode has launched a certificate program in data science for professionals from any domain who want to advance their careers. The program will provide students with skills that will allow them to gain an understanding of modern data science practices.
Now that you have a comprehensive understanding of the best institutes to learn data science from, you can make an informed choice for your future career. 
Continue Reading:
How To Get Started with a Cloud Computing Certification?
Business Intelligence vs Data Science