HIPAA Compliance & The Importance of Risk Assessments for Healthcare Providers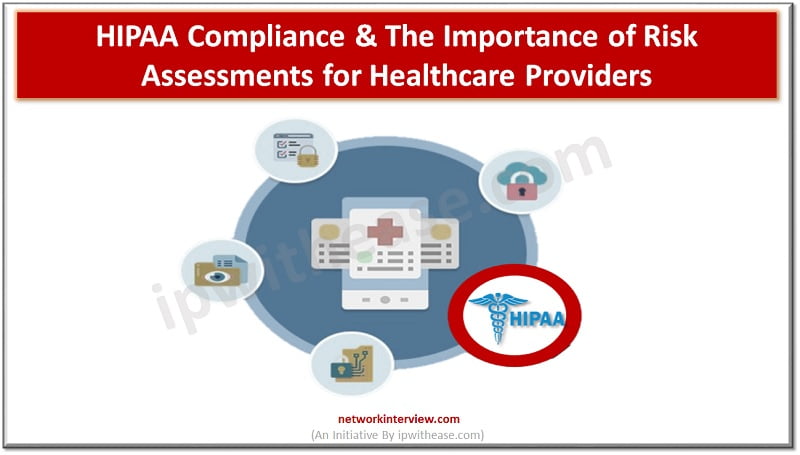 In 1996, Congress passed the HIPAA law to protect individuals' health information. This federal act established national standards for how sensitive patient data should be stored and handled, requiring healthcare providers to meet these regulations. To make sure their practice is compliant with HIPAA, it's important for medical professionals to comprehend what's expected of them and proactively conduct regular risk assessments. Doing so will safeguard both their patients as well as themselves from any potential legal liabilities that can arise from a lack of compliance or negligence in protecting confidential health records. 
HIPAA compliance is of the utmost importance; that's why organizations need to invest in efficient and up-to-date software to ensure their data security. Software such as privacy and security adapters work to protect patient data from breaches or malicious attacks, while also allowing secure access for authorized personnel. Furthermore, the software will assist with administrative safeguards by providing training programs and sound policies.
Finally, risk assessments can be conducted quickly and accurately with properly implemented HIPAA compliance software and HIPAA authorization form. The need for secure patient data is ever-growing – make sure your organization is completely compliant by investing in top-tier HIPAA compliance software today.
Why Are Risk Assessments Important for HIPAA Compliance?
Risk assessments are a key component of HIPAA compliance, crucial for attaining and maintaining secure healthcare systems. With regular evaluations, healthcare providers can identify potential threats to the privacy and security of protected health information (PHI). Understanding these risks is essential for taking the necessary steps toward mitigating them before any harm can occur. Not only do risk assessments help improve security, but they also ensure that healthcare organizations are in line with all relevant laws and regulations.
Healthcare providers have an obligation to maintain patient privacy and security. Regular risk assessments are one of the most effective ways for them to adhere to this responsibility and protect Patient Health Information (PHI). Assessing risks allows healthcare providers to identify potential threats, develop strategies to minimize the risk of such incidents occurring in the first place, and establish better methods for responding if there is a breach or any other incident involving PHI. Ultimately, conducting regular risk assessments demonstrates due diligence in protecting patient data and helps ensure the privacy of patients is kept safe.
How Can Healthcare Providers Conduct Effective Risk Assessments?
Knowing exactly what threats need to be accounted for is a crucial first step when conducting an effective risk assessment. Healthcare providers should make sure they are aware of all possible internal and external risks to their organization's PHI. Staff negligence, deliberate malicious activity, hackers, and malware attacks are all threats that need to be taken into account. Assessing the likelihood and impact of these threats is vital for fully understanding what needs to be done to minimize the potential risks.
Healthcare providers must take action to protect patient privacy. This includes establishing security measures such as two-factor authentication and access control policies, as well as providing more comprehensive HIPAA training for staff. All of these steps can help protect patients' personal health information (PHI) from being misused, while also helping companies stay compliant with the law. It is essential that healthcare providers understand the importance of mitigating risks to PHI and take proactive steps to protect this sensitive information.
How Can Healthcare Providers Ensure They Are Compliant with HIPAA?
In addition to conducting regular risk assessments, there are several other steps healthcare providers can take to ensure they remain compliant with HIPAA regulations. Organizations should develop policies and procedures outlining how they will handle patient data securely; train employees on the proper handling of protected health information; implement technical safeguards such as encryption; regularly review audit logs; and monitor network activity for suspicious activity. By taking these steps, healthcare providers can ensure they remain compliant with HIPAA regulations while protecting patient data from unauthorized access or disclosure.
Final Thoughts:
Healthcare providers must be aware of HIPAA compliance and its importance for patient data protection. Taking the necessary steps to secure systems, such as regular risk assessments, shows proper diligence in protecting patient information. Not only does this protect healthcare providers from potential fines or other penalties due to non-compliance, but also assures their patients that their data is safe from unauthorized access or disclosure. It is essential for care providers to take these precautions and understand the implications of HIPAA agreements.
Continue Reading:
What is Multi-Factor Authentication (MFA) & How Does it Work?
Top 10 Cyber Security Monitoring Tools