Top 10 Cyber Security Monitoring Tools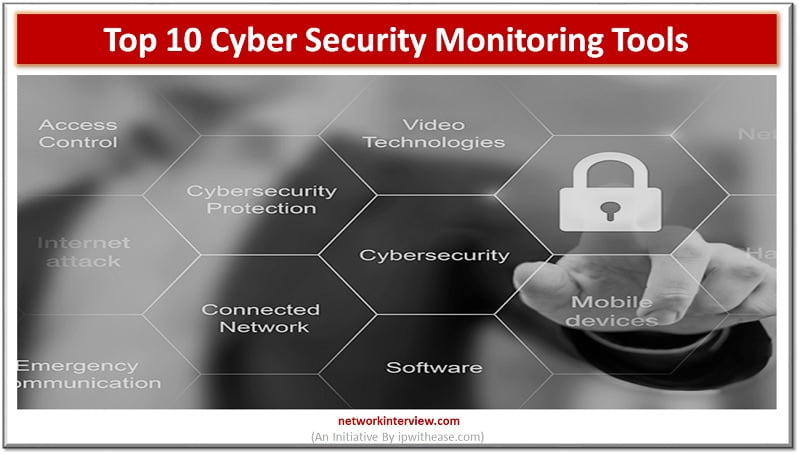 Cyber security software is a must for ensuring business and individuals security and privacy. It is a method to protect networks, systems and applications from cyber-attacks. It helps to avoid unauthorized data access, cyber attacks and identify stealing. Application, information , operational and network security, Disaster recovery are different parts of cyber security.
With the increased rate of cyber attacks, the importance of cybersecurity has increased multifold. Cyber security tools are required to maintain systems protected from various cyber threats like Ransomware, malware, social engineering and phishing.  
In this article we will look at some Cyber Security monitoring tools which made their place in the top 10 and shaped the Security and privacy landscape.  Understand their strengths and features.
List of Top 10 Cyber Security Monitoring Tools  
1. SolarWinds Security Event Manager
–
Ideally well suited for small to large businesses. It is a network and host intrusion detection system. It performs real time monitoring, response, and reporting of security threats. Some of its features are highly indexed log search capabilities, cloud based, scalable, threat intelligence is continuously updated, security information and event manager, log correlation, and log event archival, comprehensive set of integrated tools
2. Intruder
It is ideal for small to large businesses. It is one of the most popular cloud-based network vulnerability scanners which helps to identify cybersecurity weaknesses in exposed systems. Some of its features are 9,000 security vulnerabilities, unlimited scans on demand, unlimited user accounts, check for web application flaws such as SQL injection and cross site scripting, emerging threats advanced notifications, smart recon, network view and PCI ASV scans are supported.   
3. Syxsense
It is ideal for small to large businesses. It provides security scanning, patch management, and remediation on one console from the cloud and allows IT and security teams to stop breaches. Some of its features are security scanner by scanning authorization issues, security implementation , antivirus status, automatically deploy OS and 3rd party patches including Windows 10 updates, blocks communication from an infected device to the Internet, isolation of endpoint and kill malicious processes. 
4. Acunetix 
It is used by small businesses, enterprise customers, Web professionals and pen testers. It secures websites, web applications and APIs. It has vulnerability management capability and both on premises and on demand deployment options are available. Some of its features are advanced macro recording technology to scan complex multi-level forms, password protected areas of the website, assessment for the severity of issue and actionable insights, functionalities of scheduling and prioritizing full/incremental scans. 
5. NetSparker
Ideal for small to large businesses. It is an application security solution. Some of its features are assistance in writing secure code to developers, comprehensive scanning , detection of vulnerabilities, combined signature and behaviour-based testing, unique dynamic and interactive scan to find more actual vulnerabilities. 
 6. Vipre 
It offers solutions for individuals as well as organizations. It provides all inclusive packages and scalable pricing, unparalleled protection with AI, fully integrated to deploy and manage, email encryption capabilities. 
7. LifeLock
It is ideal for small to large businesses. And used to monitor and identify theft and associated threats. Norton 360 LifeLock is all in one identity protection solution. Some of its features are dark web monitoring, id verification monitoring, fictitious identity monitoring, device security, cloud backup for windows, virus protection, parental control, ad tracker blocker, alert of crimes committed in your name and has a privacy monitor.
8. Bit defender total security 
Ideal for small and large enterprises. It provides online privacy, multi-layer ransomware protection and remediation, network threat protection, complete real time data protection, advanced threat defence, web attack prevention, anti-fraud and rescue mode. 
9. Malwarebytes 
Ideal for small and large businesses. It offers cyber security solutions which protect against malware, ransomware, malicious websites etc. it supports windows, Android, iOS, Chromebook devices . Some of its features are anomaly detection, behaviour matching, application hardening , clean up of infected devices, shut down attack vendors from every angle, multilayer protection with endpoint detection, threat prevention in real time. 
10. Mimecast 
Ideal for small to large businesses. It is a cloud-based platform to provide email security and cyber resiliency. It has multiple products and services like email security, threat protection, information protection ,web security and cloud archiving. Some of its features are email security with threat protection from spear phishing, ransomware, impersonation and other targeted attacks, automated content control, data loss prevention, web security by blocking inappropriate websites and protection against malicious web activity and malware , it has cloud archiving feature to secure emails, files and data.
Summary
Below table summarizes the top Cyber Security Monitoring Tools:
Product

Best for

Category

Features

SolarWinds Security event manager
Small to large
Cloud based SIEM tool
-Threat intelligence

-SIEM security monitoring

-Log correlation & analysis

-Network & Host intrusion detection

Intruder
Small to large
Cloud based vulnerability scanner
-9000 security vulnerabilities

-Web application flaw detection

-Notification on emerging threats

Syxsense
Small to large
Cloud security software
-Vulnerability scanner

-Patch management

-Quarantine device

-Device history

-Drag and drop workflow

Acunetix
Small to large , web professionals and Pen testers
On premises/cloud-based web application security scanner
-Dashboards

-Role based access control

-Multiple scan engine

NetSparker
Small to large
Cloud based and on premises web application for security
-DAST and IAST approach

-All integrations

Vipre
Small to large
Cloud based email & endpoint security
-End point security

-Email security

-Network security

LifeLock
Small to large
Identity theft protection
-Cyber threats blocking

-Detect and alert

-Restore and reimburse

Bitdefender Total security
Small to large
Cybersecurity software
-Multi-layer ransomware protection

-Network threat protection

Malwarebytes
Small to large, personal use
Cybersecurity for businesses & home
-Multi-layer protection

-Prevention of threats in real time

Mimecast
Small to large
Email and compliance
-Cyber resiliency for email , web, cyber security
Download the comparison table: Top Cyber security Monitoring Tools
Continue Reading:
Top 10 Server Monitoring Tools & Software