How To Get Started with a Cloud Computing Certification?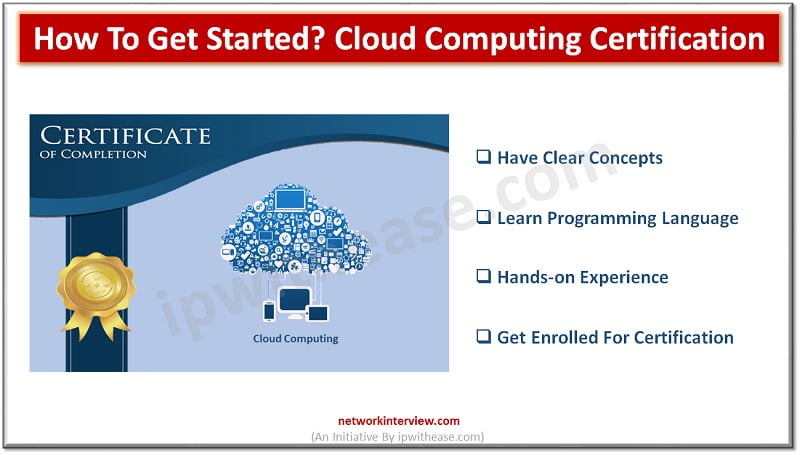 "Cloud is Everywhere."
Yes, if you are reading this article, you are using cloud services directly or indirectly. In other words, cloud computing services are crucial to everyone's daily lives. In fact, a number of titans of the digital industry are using cloud computing to stay one step ahead of the competition and produce high-quality products. Cloud computing was created specifically to help organizations determine the best cloud option by moving their data quickly and safely. Regarding market expansion, cloud computing is a sizable sector of the economy with a $371 billion global market value that is constantly and quickly expanding. By 2025, the cloud computing market will be worth close to $832 billion, predicts researchandmarkets.com.
Cloud computing technologies are beneficial as they provide security, cost-saving services, flexibility, insights, mobility, increased collaboration, disaster recovery, quality control, scalability, innovation, improved DevOps, enhanced compliance, lowered complexity of IT infrastructure management, industry growth, and many other multiple service offerings. So there are numerous reasons that make cloud computing so important for businesses, including analytics, large-scale data storage, scaling the infrastructure, delivering web-based services, disaster recovery services, etc. Due to the increasing value of cloud computing, there is a high demand for cloud computing experts who have gained any cloud computing certification.
So this article will help you get started with a cloud computing certification.
What is Cloud Computing Certification?
It is known that cloud computing technologies are widely adopted by almost every organization, and the knowledge of working with the cloud is poised to become a valuable asset for IT professionals. Therefore it is necessary for professionals in this domain to consider cloud certification comes from many different cloud service providers. Cloud computing certification indicates your abilities to employers/hiring managers and helps you gain experience where you might be lacking. Ultimately these certifications help candidates land entry-level job positions in cloud-related jobs.
Basically, Cloud computing certifications are the credentials that can help you learn the basics and advanced tools and techniques of cloud computing services. They can help you demonstrate your expertise and skills in this domain. There are several cloud computing certifications available such as
Amazon Web Services (AWS) Solutions Architect – Associate,
Microsoft Certified: Azure fundamentals,
Google Associate Cloud Engineer,
IBM Certified Technical Advocate-Cloud v3,
Cloud Security Alliance: Certificate of Cloud Security Knowledge (CCSK),
Google Certified Professional Cloud Architect, etc.
Ways to get Started with a Cloud Computing Certification
In the field of cloud computing, if someone is new or any professional wants to level up and certify their skills, all they want is to get started as quickly as possible. The following mentioned are some of the important steps to get started with cloud computing certification.
Bachelor's Degree is Essential- To take the first step toward a cloud computing certification, it is essential to earn a bachelor's degree as formal education in a technical field. Earning a bachelor's degree in computer science or any related field is definitely the first step to becoming a cloud engineer or achieving a cloud computing certification. Bachelor's degree can also be a prerequisite or criterion by many organizations for hiring. Most cloud engineers graduate with cloud computing certification or engineering.
Prerequisites- Cloud computing is a vast field in information technology that involves the approaches of many important areas such as hardware infrastructure, software infrastructure, data center facilities, software engineering concepts, and virtualization technologies. These are just learning approaches that are connected with each other and provide a strong base to explore and work with the cloud computing platforms.
Gain Technical Proficiency- Besides bookish knowledge, it is necessary to achieve hands-on practical knowledge of cloud computing approaches like operating systems, virtualization, and networking. First of all, it is required to get familiar with Operating systems like Windows, Linux, etc. Visualization skills also play a vital role in clown computing as they help you start your own virtual machine so that you can understand how a virtualized environment works. You can start learning virtualization concepts like Virtual machines, Visualization advantages, Hypervisor, etc.
After learning operating systems and virtualization, it's time to get familiar with networking which is also an essential part of a journey toward learning cloud computing. It is a very complex topic that requires time to fully understand it.
Have Clear Concepts of Types of Cloud Computing- To get certification in cloud computing, it is essential to have a deep understanding of each type of cloud computing, which are

Public Cloud, Private Cloud, and Hybrid Cloud.

Learn programming language- Cloud computing is a technical field where it is essential to have experience in at least one Programming language like C, C++, Python, Java, and Clojure. Through videos, blogs, lectures, online and offline classes, and other resources, you can learn a programming language and clear your certification exam easily.
Hands-on experience- It is a fact that hands-on experience is the best way to learn something. So get your hands dirty with some practical work, gain experience and learn the practical aspects of cloud computing environments.
Get enrolled for Certification- Yes, it is an essential step to get any certification. There are several small and large steps that should be taken under this term. After achieving basic skills and fulfilling prerequisites, it is required to get enrolled in any cloud computing certification course. Fill out the application form as per guidelines at the proper time and have enough study plans to clear the certification exam on the first attempt. Making your cloud-related network stronger can help you with your queries and clear your doubts. Pay the course fee on time, make sure that all your preparations are done and set yourself all fit for the main exam day.
So these are some of the important steps towards getting certified with cloud computing technologies. Choose any reported cloud computing certification, get enrolled, get certified, and land your dream job in this drastic field. Cloud computing certification can help you get better job opportunities and get better salary packages compared to non-certified candidates.
Continue Reading:
Top 10 Cloud Computing Trends: A Look Into the Future
How to make career in Cloud Computing?