How to make career in Cloud Computing?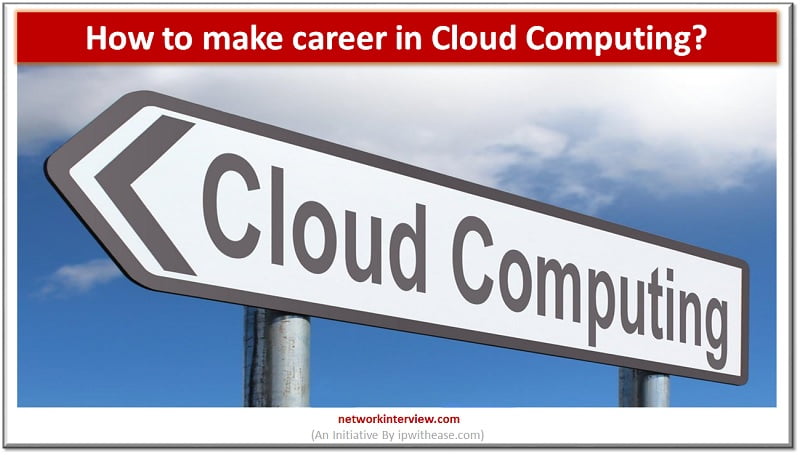 It is undeniable that cloud computing is one of the most advanced tech streams in the last ten years. Nearly 90% of the companies are willing to adopt cloud-based operations. Thus cloud computing has become a promising domain for new and existing Programmers and developers. 
Do you want to make a successful career in cloud computing? Don't know where to start? Then this article is for you. In this article, you will get to know about the skills, knowledge, and steps to follow to have a successful cloud computing career. 
So without further ado let's start with a short intro to cloud computing –
What is Cloud Computing? 
Cloud Computing refers to the processing of the above said Big Data or any other thing that requires large computational resources. Cloud computing involves servers, databases, analytics, and network and artificial intelligence. It often follows three service models – Infrastructure as a Service (IaaS), Platform as a Service (PaaS), and Software as a Service (SaaS). 
Big data cannot be analyzed or operated using the traditional method. It is done using the cloud which is high-powered servers from various providers over the Internet. The career opportunities under cloud computing are as follow – 
Cloud Developer

SysOps Administrator

Solutions, Networks, and other types of Architects 

Front-End & Back-End Developer 

Cloud Security Engineer etc… 
Career in Cloud Computing
Now let's see steps you should follow to start a career in cloud computing – 
1.Get to know about the Cloud Technologies
The first thing you should do is to learn and understand Cloud Technologies and their current-day applications. Your knowledge about the cloud or servers and the work will help you to learn further about the related topics which is an important need to build a successful cloud computing career. 
2.Learn other required skills 
Cloud computing is a master field and incorporates various other fields of skills and knowledge. Thus a simple Computer or Engineering degree won't do any good to you. You should learn and train other skills like Database management, Architecture setup, etc… 
3.Choose a Cloud Platform
Now not like the past, there are many Cloud service providers and each of them follows a different working style. Some of them are Amazon Web Services (AWS) Cloud, Microsoft's Azure Cloud, Google Cloud Platform (GCP), etc… 
Which one should I choose? That's your choice. AWS and Azure are leading in the enterprise space and GCP Architects are in high demand in the market. And nowadays, multi-cloud professionals are recruited for high pay. 
Thus if you are strong on a single platform and semi-skilled in other cloud providers then you can easily make a successful cloud computing career. 
4.Built your Portfolio and get certificates 
Another important thing that will make you stand out from the crowd is certificates and experience. Thus join various certificates courses and training provided by the cloud service providers like AWS Certification, Azure Architect Certification, etc… 
Join or work with a reputed cloud computing person or company as an intern or part-timer and gain experience. Though it is temporary you will get to know more about cloud computing and its real-life applications. This will help you in the job hunt. 
5.Get used to Cloud Computing Tools 
There are many tools used by a cloud developer or engineer in his lifetime. If you learn how to use some cloud computing tools or get certified in those tools this will be a great help in your cloud computing career. 
6.Do Experiments 
The best way to learn anything is by experimenting with them. Thus do some freelance projects or do your minor cloud computing projects with your friends or colleagues. This will make you familiar with the cloud environment. 
7.Look for Jobs 
There are thousands of job opportunities in cloud computing. Many major tech giants like IBM, Oracle, Microsoft, Apple, etc… recruit cloud monitors and developers for high standard salaries and other benefits. You can reach out to them through official websites or interviews. 
You can also try Employment networking with third applications like LinkedIn to reach the respective companies. Start to shortlist the companies based on your skills and knowledge. 
Final Words
Of course, like other job searching processes, it's going to take some time to get a job. But following the above steps will give you a great chance to win this battle to make a successful career in cloud computing.
If you have any further related questions please share them in the comment section below. Happy hunting!
Continue Reading:
Cloud Architect vs Cloud Engineer: Roles & Responsibilities
Cloud Architect vs DevOps Engineer