What is Fintech Technology?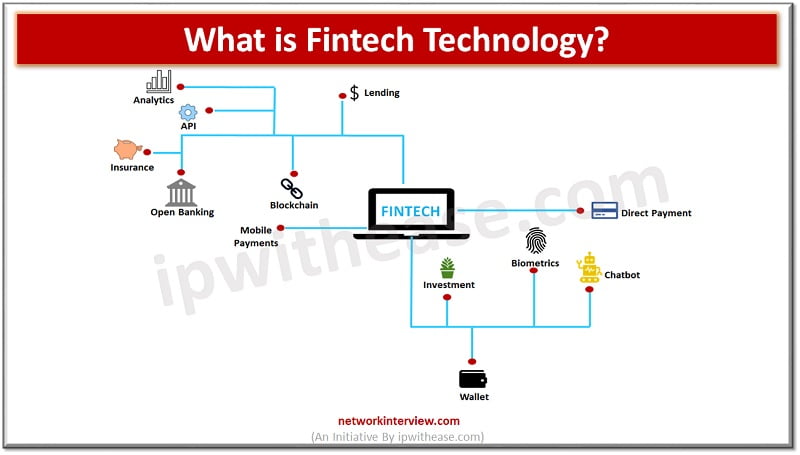 The field of finance is rapidly changing , financial firms, insurance agencies and investment banks are involved at the intersection of data and technology. Big data, machine learning, harnessing algorithms, blockchain technologies are widely spreading to conduct businesses.
Financial technology or Fintech referred to back-end technology used to function traditional financial services however in today's scenario the term has broadened to incorporate new innovations in technology in finance sector such as crypto currencies, block chain, robo-advising, crowd funding etc. 
In this article we will learn more about Fintech technology, its history, span in current times, its functions, advantages and use cases etc.
Adoption of Fintech 
Technology played a key role in every sector including the financial sector. It has come a long way and changed but what was the starting point when we adopted financial infrastructure?
Year 1887 – 1950 was an era when we started using technologies such as telegraph, railroads and steamships which allowed for the first-time rapid transmission of financial information across borders. 
Year 1950s bought credit cards, 1960 bought us ATMs and 1970s bought us electronic stock trading, in 1980s bank mainframe computers and more sophisticated data record keeping systems, 1990s bought internet and e-commerce business 
In the 21st century we are using mobile phones, wallets, payment applications, equity crowd funding, robo advisors, crypto currency and many other financial technologies which have changed the face of banking services.
Fintech Technology
In today's digital era the traditional services once provided by financial institutions have lost their relevance and no longer meet the demands of tech savvy customers. Consumers have become used to digital experience and ease of functions as provided to them by global giants like Apple, Microsoft, Facebook etc. where by a simple click or swipe on smartphone can make tasks easier for end customers. As per the 2019 Global Fintech report the industry raised $24.6 billion with funding topping to $8.9 billion in the 3rd quarter of the financial year.
FinTech refers to technology and innovation which aims to compete with financial services to create new and better service experiences for consumers of banking, asset management, wealth management, investments, insurance and mortgage sectors. With the financial industry some of the technologies used include artificial intelligence, big data, robotic process automation (RPA), and blockchain. Artificial intelligence is used in various forms , AI algorithms are used to predict changes in the stock market and provide insight into the economy. Customer spending habits can be charted. Chat bots are used to help customers with their services. 
Artificial intelligence works best with the combination of big data and management solutions. AI analyses the performance of financial institutions, creates insights and automates essential organization processes such as documentation, client communication etc. Machine learning (ML) is key component of AI and widely used in many areas of banking sector such as:
Fraud prevention – ML tools analyse existing fraudulent cases, detect common patterns, and evaluate and predict possible frauds and uncover discrepancies
Risk management software analyses organization performance and detect potential threat patterns
Fund development prediction is performed by scanning investment records, an ML powered tool can define most probable future developments
Customer service enhancement by analysing customer data and build a smart consumer profile
Pros and Cons of FinTech
PROS
Increase in accessibility and approachability to large section of people

Speed up the rate of approval of finance or insurance. 

Greater convenience to its customers by enablement of services over mobile devices, tablets or laptops from anywhere

Low operating costs as  companies are not required to invest in physical infrastructure such as branch network

Investments in major security to keep customer data safe and secure using technologies like biometrics and encryption 
CONS
Limited access to soft information

Different standards, procedures including business activities which are different then traditional banks. Have to pay higher charges imposed by OCC. 
Benefits of FinTech 
Speed and convenience with FinTech products as products and services are delivered online in easier and quick manner

Great choice of products and services as they can be bought remotely irrespective of location

More personalized products by collecting and storing more and more information about customers so as to able to offer consumers more personalized products and services as per their requirements or buying pattern
Continue Reading:
Artificial Intelligence vs Machine Learning
Data Science vs Artificial Intelligence