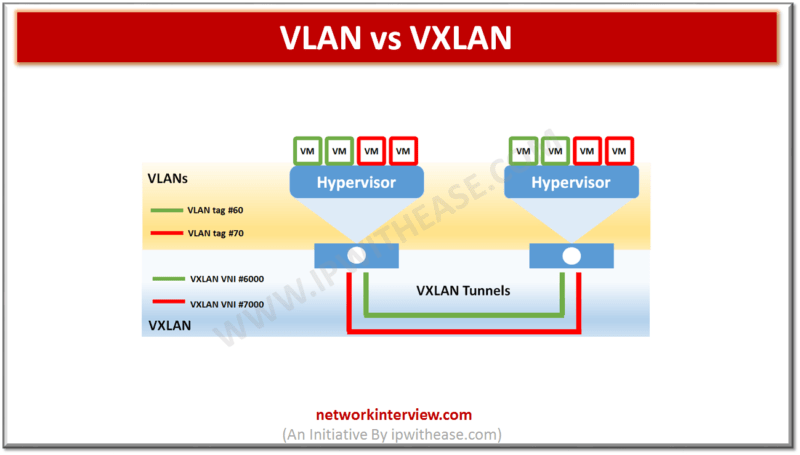 Difference between VLAN and VXLAN:
Below table summarizes the differences between the two:
PARAMETER

VLAN

VxLAN

Full form
Virtual Local Area Network
Virtual Extensible LAN
Definition
Layer 2 partitioned & isolated broadcast domain in a network.
Overlay tunnelling scheme where we can extend the layer 2 domain over a layer 3 underlay network.
Scalability
Scalable up to 4094 VLANs.
Scalable up to 16 million VXLAN segments.
VLAN ID
VLANs use 12-bit VLAN ID which limit to 4094 VLANs.
VXLAN uses 24-bit ID which scales it up to 16 Million VXLAN segments.
Protocol
VLAN uses STP which blocks redundant paths and hence allows using only half of available paths.
VXLAN uses underlying Layer 3 routing protocol to use all the available parts with technologies like ECMP (Equal cost multipath Routing) etc.
Flexibility
Less flexible for multitenant environment.
Flexible and suitable for multitenant environment.
Working
Uses VLAN tag on Layer 2 frame for encapsulation to extend VLAN across switches.
Uses MAC-in-UDP encapsulation to extend Layer2 segments across locations.
Source: ipwithease.com
Continue Reading:
What is VLAN Trunking Protocol (VTP)?