Top 10 White Box Networking Vendors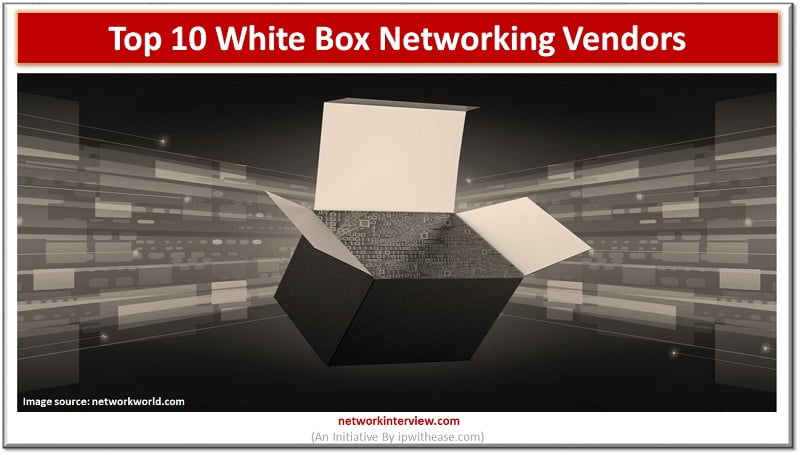 SDN technology detaches dependency on binding both hardware and software. Starting with the SDN network 10 years back, a number of start-ups started to develop open networking systems and white box switches for data centres.
In this article we will look at some white box networking vendors which made their place in the top 10 and changed the networking landscape drastically. Understand their strengths and features.
List of  Top 10 White Box Networking Vendors
Big Switch Networks
Big switch networks was founded in 2010. It was known for its Floodlight SDN controller which got open sourced in 2012. Big cloud fabric is a major product from big switches. It offers Virtual private cloud (VPC) based logical networking, delivering automation of networks and visibility to both on premises and multiple cloud workloads. It provides consistent network management and capabilities for operations management. Some of the key customers of big switch networks are Verizon, VMware, Visa and T-Mobile.
Cumulus
Cumulus was founded in 2010. Cumulus is a pioneer in open network operating systems for Whitebox switches. It allows the automation, customization and scale of data center networks. It provides 100+ hardware platforms including industry standard open compute platform (OCP) and ONIE (Open networking Install Environment). Cumulus is the first white box software provider to add support for Minipack, Facebook's latest OCP compliant reference design.
Pica8 –
Pica8 was founded in 2009. Key product offering from Pica8 is PICOS, an open networking software. PICOS offers tightly integrated / coupled control planes, giving network operators non-destructive control of their enterprise's networks; deep and dynamic traffic monitoring and attack mitigation in real time. PICOS provides functionality called CrossFlow which tightly couples the L2/L3 control plane and classic 'SDN' control plane for real time network operations. Some of its key customers are General Electric, stratedge and Edge core.
Plexxi –
Plexxi was founded in 2010. Key product is Plexxi switch which enables customers to build public and private clouds. This product post acquisition is getting integrated with HPE composable Fabric ecosystem. Plexxi supports composable infrastructure which can be composed or recomposed as per the need based on network loads. Some of its customers are Arrow electronics, SafeGuard Scientifics and Jefferies Financial group
Pluribus –
Pluribus was found in 2010. Its key product offering is Netvisor ONE Operating system which is layer 2/3 switching optimized for meeting requirements for distributed enterprise and service provider networks. It supports peer-to-peer architecture, and eliminates the need for an SDN controller and simplification of overall network architecture. It supports open compute platform (OCP) and open network install environment (ONINE) standards. Some of its key customers are Cloudflare, Steelcase and Tibco.
NoviFlow –
It was founded in 2012. Its key product is NoviWare network operating system software which can be deployed on network switches, WAN IP/MPLS routers, network appliances, and high bandwidth forwarding planes. It is compliant to OpenFlow 1.3/1.4 and 1.5 protocol versions. Its key customers are Fortinet and Lumina networks.
Arrcus –
Arrcus are manufacturers of white box switches running ArcOS latest generation switches that leverage Jericho-2 chipset. It supports multi-tenancy at scale, open integration across multiple ODM vendors. It offers hardware agnostic platform which is largely deployed in data centre fabrics, large scale peering/ edge deployments, and cloud.
Kaloom –
Kaloom is a software solution for white boxes which are meant for hyper scale and distributed data centres. It supports integrated routing and switching and enables developers to develop new code to add new features and services. It has low latency multi datacenter fabric, self-forming and self-discovery capabilities, zero touch provisioning of virtual networks and automated software upgrades.
Snaproute –
Snaproute was found in 2015. It created an open-source software FlexSwitch to the open compute project (OCP). It runs on industry standard white box switches, provides all management and networking functionality to simplify networking stack. It automate network provisioning
iPinfusion –
iPinfusion offers OcNOS industry first full featured network OS for white box it supports advanced capabilities such as extensive switching and routing protocol support. MPLS and SDN. It has hybrid, centralized or distributed network support; scalable, modular high performance network support and a robust data plane.
Continue Reading:
Basics of SDN and Open Flow Network Architecture