Top 10 Trends of Software Development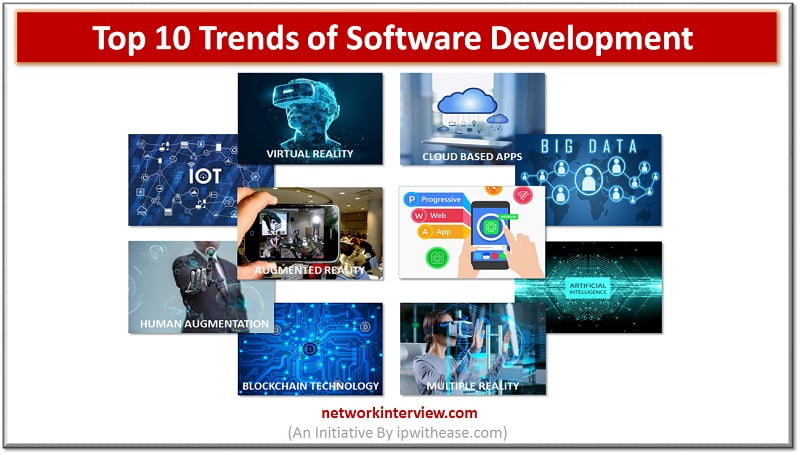 Introduction to Software Development
No one can stop technological advancements. We have come across different phases of development; each of them taught and amazed us with different things. Like that the leading IT industry has also undergone major developments and trends recently.
Here are the top 10 Software Development Trends that are ruling and going to rule in 2021. Some of them are already in use and others are going to boom this year. Okay without further adieu, let's jump into the article.
List of Top trends of Software Development
1. Internet of Things (IoT)
IoT growth can be tracked back from 2020 and before. Even big players like Amazon started to adopt them. Are you hearing about IoT for the first time? Here is a simple explanation for you.
Internet of Things refers to the physical objects like cars, motors, computers, that are connected through sensors, software, or other technologies. The main purpose of the Internet of Things is to exchange information and data between the devices or systems over the internet.
In day-to-day life itself, you can see how the IoT is taking over critical roles in many industries.
2. Virtual Reality (VR)
The Covid Pandemic forced the industries to go remote. Though Virtual reality technologies are mostly focused on gaming and video sharing platforms, it's not more. The schools and other educational institutions have already started to adopt the VR systems in their places.
Adopting VR in corporates can give a virtual and remote working place and helps in application development, consumer satisfaction and implementation of VR in a training session can give great results. So there is no doubt, Virtual Reality is going to rule the software development world for next 10 years.
3. Cloud-Based Solutions
Yes, this is not the first time you are hearing about this. Cloud computing and cloud-based solutions are already in the trend for the last 3 years. But they are not outdated still now, there is more room for development in the Cloud-based solution.
The introduction of new technology like a distributed cloud will make the process of accessing data from different places very easy. And cloud-based solutions play an important role in the growth of IoT, so they are not going to lose their graze shortly.
4. Big Data
Again, Big Data is another trendsetter in today's IT field. And this is also clearly connected with IoT and Cloud-based solutions. So don't worry there is a promising future for Big Data.
But the people have become aware of the amount of data held by the companies, so it is important to protect and secure them to earn the customer trust. This has created a new idea of Data-as-a-Service shortly known as Daas.
5. Artificial Intelligence (AI)
Movies overhyped artificial intelligence. We have not reached that point yet, but soon we will. AI technology has been in development for five years and it has introduced us to things like machine learning, machine control, etc…
Though they are not going to hit the top during this year, AI will not lose its place in the IT field. It will develop slow steady for the next 50 years to achieve the final goal.
6. Mixed Reality
All thanks to Corona, we have taken a step towards the mixed reality. We all know how smartphones reduced geographical distance and ease communication. It is expected that mixed reality will do the same.
Think of working with your team in a virtual world and discussing the plans through digital visualization instead of papers, pen, or projectors.
7. BlockChain Technology
We can see the development of blockchain technology in financial sectors in our day-to-day life. Many banks and financial institutions have started adopting them. It helps in secured and simplified recording, bookkeeping, and authorization of financial transactions.
8. Human Augmentation
There is a long way to go in the case of human augmentation but the first step has been taken. Remember the neural link idea of Elon Musk. Like this, we can expect many amazing inventions or ideas this year.
9. Augmented Reality
AR has been already in the trend, we have been using IT technologies and software solutions in navigation, architecture, and retail sectors. And there are many sectors to come under its hand. The goal of complete Augmented Reality can be achieved only after 50 years but every year they will be on-trend.
10. Progressive Web Apps (PWA)
In the past five years, the PWAs have been serving as the best mid-ground between mobile and web apps. Google and Microsoft have been heavily invested in these innovations for the last years.
If you want to know further about these trends please leave your question in the comment section.
Continue Reading:
What is Blockchain technology?