Top 10 Rack Servers in 2022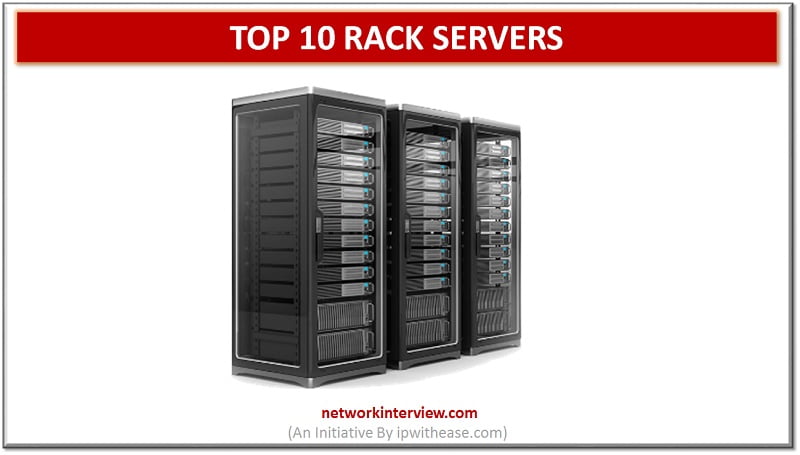 Rack servers market is dominated by few vendors as market consolidation and acquisitions have taken up pace in the last couple of years. There are top three providers in this domain namely DELL EMC, HPE and IBM which capture almost 43% of market share. Other vendors competing for their space include Lenovo, Huawei, and Inspur while Cisco, Fujitsu and Oracle are producing unique, high performance machines. 
In this article we will look at some Rack servers which made their place in the top 10 and shaped the IT and business landscape in the year 2021.  Understand their strengths and features.
Top 10 – Rack Servers 
Cisco UCS C240 M6
It is a 3rd generation AMD EPYC processor. It includes 32 DIMM slots, 8 TB capacity, RAID control, and an internal dual M.2 drive option. It is a two socket, 2 RU form factor and offers high performance computing. It has upgrade capacity for additional DDR4 DIMMs, right PCIe 4.0 slots, 28 storage interface slots, up to 960 GB for M.2 boot options, and support up to five GPUs. This server is ideal for an array of tasks including storage, I/O intensive applications, and high-performance computing. 
Dell EMC PowerEdge R750
It offers 24 NVMe drivers and eight PCIe 4.0 slots for throughput. It has 3rd Gen Intel Xeon scalable processors (80 Nos). for memory it carries 32 DIMM slots, up to 8 TB capacity, and can take six different disk types.
It is designed to manage demanding high workloads ranging from database analytics to Artificial intelligence, virtualization, and machine learning. 
Fujitsu PRIMERGY RX4770 M5 
It is a 2U, quad socket server having 3rd Gen Intel Xeon processors. Having 28 cores per socket and 12 DIMM slots per CPU, this server can have 15 TB of memory. It is flexible and supports twelve operating systems to choose from. 16 general slots for NVMe adapters and 8 PCIe 3.0 slots. 
HPE ProLiant DL380 Gen10 
It is meant for high performance computing segments, data warehousing and analytics operations. It has 2 Intel Xeon scalable processors, up to 28 cores, 3 TB with 24 DIMMs and 2666MT/s, up to 16 GB NVDIMMs option, up to 8 PCIe 3.0 slots, and maximum storage of 232 GB. It has a robust security feature which includes a series of validation checks between system components which run every 24 hours to test and verify any modifications or changes to easily detect any malware and compromised code.
Huawei Fusion Server Pro 2288H V5
It is a 2U, 2-socket server that is well suited for an array of workloads. From big data processing to databases and cloud computing it is suited for modern tasks and power consumption reduction is 15% without any change in performance. It has 28 NVMe drives. 12 intel Optane persistent memory modules, the 228H V5 can achieve up to 7.5 TB memory capacity and has 10 PCIe 3.0 slots.
IBM Power System S922 
It has IBM homegrown POWER9 processor and is fit for organizations requiring resilient and cloud enabled servers. It has top notch processing power with 4 TB memory, easing cloud applications, analytics, and any other demand intensive workloads. 
It has fifteen PCIe 4.0 slots and two U.2 modules slots for expansion. It has an embedded POWER VM hypervisor which can consolidate workloads to reduce overhead costs.
Inspur NF8480
This 4U four socket module server which is fit for high performance computing, Artificial intelligence, and has 50 slots of SAS, SATA and NVMe drives. Has 19 slots for PCIe 3.0 drives with memory capacity of 7.5 TB. It is highly scalable and flexible who need full height and half height options for I/O balance and expansion.
Lenovo ThinkSystem SR630 
It has 7.5 TB memory capacity, 123 TB storage capacity. It comes with the latest Intel Xeon processors, four PCIe 4.0 slots, and four NVMe ports. It is able to cope up with harsh environments and keeps energy costs low as compared to the amount of raw computing power it has. 
Oracle Server X8-2
Newest server in X86 series for middleware and application workloads. It has 1 U module which allows 64 TB of memory and 51.2 TB of storage space. It is based on the Platinum or Gold 2nd Gen Intel Xeon scalable processor. 
Dell EMC PowerEdge R840 
Four socket rack servers, 24 NVMe drives, and supports two GPUs for workload acceleration. It has 6 TB capacity and can be expanded up to 15 TB while using DC persistent memory and load reduction DIMM (LRDIMM). It is designed for data intensive workloads and ideal for high frequency trading, CPU virtualization and workload acceleration. 
Below table summarizes the comparison between all these products:
PRODUCT

FF /SOCKET

PROCESSORS

MEMORY

DRIVES SUPPORTED

FEATURES

Cisco UCS C240 M6
2 U – 2
Intel Xeon scalable
3 TB
26
I/O intensive applications
Dell EMC PowerEdge R750
2U – 2
3rd Gen Intel Xeon
8 TB
24
General purpose server
Fujitsu PRIMERGY RX4770 M5
2U – 4
3rd Gen Intel Xeon
15 TB
24
Enterprise class UNIX system
HPE ProLiant DL380 Gen10
2U – 2
2nd Gen Intel Xeon
9 TB
30
General purpose server
Huawei Fusion Server Pro 2288H V5
2U – 2
2nd Gen Intel Xeon
3 TB
31
Ideal for big data processing
IBM Power System S922
2U – 2
IBM POWER9
4 TB
Ideal for mission critical workloads
Inspur NF8480
4U – 4
3rd Gen Intel Xeon
12 TB
50
I/O balance and expansion
Lenovo ThinkSystem SR630
1U – 2
3rd Gen Intel Xeon
6 TB
16
Compute intensive applications
Oracle Server X8-2
1U – 2
2nd Gen Intel Xeon
64 TB
8
Scalable and meant for intensive workloads
Dell EMC PowerEdge R840
2U – 4
2nd Gen Intel Xeon
15 TB
26
Ideal for virtualized applications
Download the comparison Table: Top 10 Rack Servers
Continue Reading:
Blade Server vs Rack Server vs Tower Server