Top 10 Blade Servers in 2022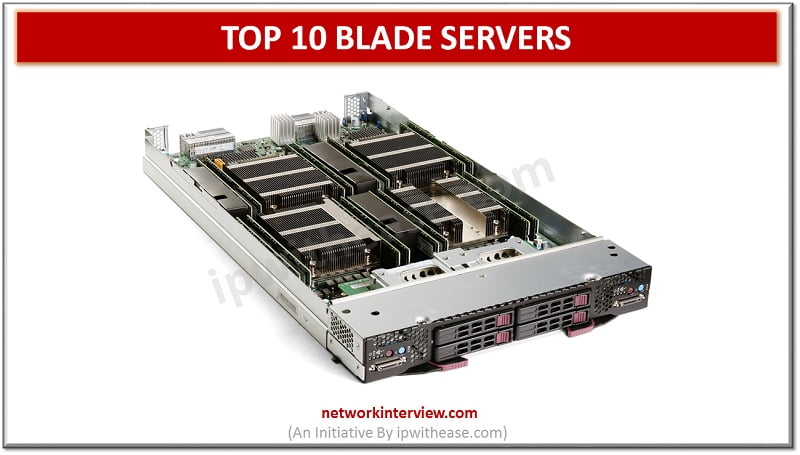 Enterprise organizations have adopted blade servers for hosting on large scale for mission critical applications which rely on scalability and availability. Blade servers perform ancillary functions such as power supply management, cooling and some network functions. It is a data centre module designed to fit in a blade enclosure or chassis. Blade servers enhance data centre overall power and cooling efficiency and take up less physical space hence saving the space costs as well. These servers are scalable, host swappable hence provide high availability and redundancy and support a wide variety of business objectives which may include virtualization, web hosting, file storage, sharing and other requirements. 
In this article we will look at some blade servers which made their place in the top 10 and shaped the IT and business landscape. Understand their strengths and features.
Top 10 – Blade Servers 
Dell PowerEdge FX2 Chassis
FX2 chassis has density and efficiency of blades with lower costs and simplicity. It has rapid ability to scale up and come up as a popular option for big server farms which want stripped down compute blades. It comes in a 2U rackmount form factor which can be configured to hold 4 half-width, 8 quarter width sleds or 2 full width sleds. It is a great option to reduce downtime as so many blades are packed together which can failover without impacting others. It is a good choice for an entry level infrastructure but lacks storage and computing power of many other products available in the market. 
HPE ProLiant BL460
It is designed for a wide range of configuration and deployment choices. The standalone blades are not expensive but with the BLc7000 enclosure price shoots up. It can scale up to 26 cores, 12 GB SAS and 2.0TB of HPE DDR4. Keeping security in mind, major firmware is anchored directly into the architecture, running millions of lines of firmware code before the server operating system boots. It offers a secure recovery option as well and firmware can be recovered to a good state after compromised code is detected. It is a good choice for the small and medium business segment.      
Lenovo ThinkSystem SN550
It is part of Lenovo Flex system orchestration platform, having claims of ability to run applications with up to 80% better density than a standard rack based deployments.it has flexible blade servers which are optimized for cloud, server virtualization, database and virtual desktop infrastructure. It supports up to 28 cores.
Cisco UCS B200 M5
They are considered smart choice for those already using Cisco. They are a good option for those who focus on networking rather than computing on storage. It has 28 cores per socket, up to 24 DDR4 DIMMs for improved performance, up to two GPUs. It can also accommodate up to two small form factor (SFF) HDD/SSD/NVMe drives or 2 SD cards or M.2 SATA drives. 
Huawei Fusion Server E9000 
It is a converged architecture-based blade server having four socket blades that puts it in the upper category. Its infrastructure is designed to converge computing, storage, networking and management.  It has 16 slots in a 12U chassis which includes a redundant power supply unit, heat dissipation modules, management modules, and switch modules. It can be installed in a standard 19" rack at depth. It supports management features like lifecycle management, automated firmware upgrade, automated OS deployment, stateless computing and Restful APIs.
Fujitsu Primergy BX400 S1
It is considered a data centre on wheels. It is a dual socket server blade ideally suited for web infrastructure workloads and HPC. It harnesses Intel Xeon E5-1600 v4 processors, up to two with 44 cores each, 2 TB of memory, two hot plug disk drives, and two additional mezzanine cards. It offers direct attached storage and can support up to 10 hot pluggable SAS or SATA hard disks. 
NEC Express5800 Blade Enclosure M
It is one of the cheapest blade server's ideal for reducing computing footprint or upgrading an aging server in infrastructure. It is also built to have easy setup and configuration connectivity through its management module. It is not meant for large organizations however due to its managing, storage and networking options are not enough. 8 compute blades and six switch modules can fit into the chassis. It provides monitoring status of each blade, easier cabling using KVM switches, redundant power supply modules and fans to ensure servers run with high availability. 
Dell PowerEdge MX840C
This model is part of PowerEdge MX Kinetic infrastructure ecosystem, with dense compute, and loads of memory. expandable storage subsystem, it is meant to deliver flexibility and agility required for demanding and shared resource environments. It can scale up to 448 cores per chassis. It has 48 DDR4 DIMMs slots and 8 2.5" drive bays for SAS/SATA disk drives. It enables maximum utilization, and avoids over provisioning. 
HPE Synergy 660
It can host four Xeon scalable processors. Quick deployment of IT resources via single interface. It supports both two socket and four socket full height compute modules, as well as 6 TB memory, and up to four SFF drives. It is ideal for higher performance and scalability requirements centric applications. 
SuperMicro SuperBlade 
Each node includes up to four 28-core Xeon scalable CPUs with 3 TB DDR24 2666 MHz in 48 DIMM slots. Chassis has support for NVMe/SAS3 HDD blades, option 100G EDR InfiniBand/Intel Omni-Path or 10G mezzanine HCA.
Comparison Table: Blade Servers
Below table summarizes the comparison between all these products:
PRODUCT

PROCESSORS

CORES

RAM

FORM FACTOR

FEATURES

Dell PowerEdge FX2 Chassis
4 Intel Xeon E5-4600
36
512 GB
Full/Half/Quarter width
Scalable, Entry level for large server farms
HPE ProLiant BL460
2 Xeon scalable
52
2 TB
Half height
Good for SMBs
Lenovo ThinkSystem SN550
2 Xeon scalable
56
3 TB
Full width
Fit for IBM environments
Cisco UCS B200 M5
2 Xeon scalable
56
3 TB
Half width
Ideal for cisco networks
Huawei Fusion Server E9000
2 Xeon scalable
56
1.5 TB
Half width
Good performance
Fujitsu Primergy BX400 S1
2 Xeon E5-2600
88
2 TB
Half height
Ideal for web infrastructure workloads
NEC Express5800 Blade Enclosure M
2 Xenon 5500 series
8
128 GB
Full width
Server consolidation
Dell PowerEdge MX840C
2 Xeon scalable
112
9 TB
Double width
High end, high performance
HPE Synergy 660
4 Xeon scalable
96
6 TB
Full height
Top line performance
SuperMicro SuperBlade
4 Xeon scalable
112
12 TB
Half height
Budget price, 4 socket Xeon
Download the comparison Table: Top 10 Blade Servers
Continue Reading:
Blade Server vs Rack Server vs Tower Server