Top 10 Tower Servers in 2022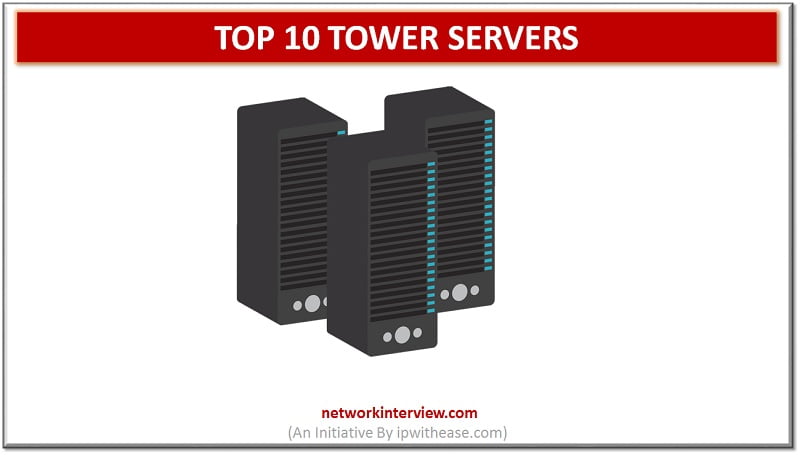 Tower servers are most prevalent in the small businesses today. They provide processing power for everything from serving files and databases to systems management and corporate networking. They are well suited for businesses looking for purchasing their first server as they are compact, low cost and have ease of setup. These small business servers are easy to setup and maintain, robust enough to be able to work under intense loads, handle high number of users, and also be expandable as business grows.
In this article we will look at some Tower servers which made their place in top 10 and shaped the IT and business landscape.  Understand their strength and features.
Top 10 – Tower Servers 
Dell PowerEdge T30
It can be brought as bare bone or a fully configured server. It has Intel Xeon E3-1225 v5, supports six SATA disks, 64 GB memory. It has fast quad – core Xeon processor and can accommodate six internal disks. However, it has few limitations single Gigabit network port, no hot swapping of disks.
Dell PowerEdge T20
It has bare bone version without hard disks. It has Haswell-based Pentium processor which has clock speed of 3GBz and supports up to 32 GB DDR3 ECC RAM, expansion capabilities include four SATA ports (32 TB if use 8 TB hard disks), four I/O slots and 10 USB ports. It is cost effective model and compact mini tower Dell Server having easy access to internals. It has certain limitations such as it is more of a desktop than server CPU and it has no drives or OS.
Lenovo ThinkServer TS150
It has built on best of ThinkServer tradition. It is 4U enterprise class server and it comes with support for RAID 0,1,10 and 5 via an onboard controller. It can accommodate up to four 3.5" HDDs and it can go up to 40 TB of storage. It has 64 GB of memory. It is most affordable ThinkServer model and quite in operations.
HPE ProLiant ML350 Gen 10 
It is packed with Intel Xeon scalable processors, and offers big performance boost over earlier models. It requires separate storage however but supports wide support for graphics and computing options. it can be turned into rack server as business grows without additional investment. It supports up to 16 GB memory and scalable and decent in design. Limitations are it is a hefty machine and don't come with hard disks.
Fujitsu Primergy TX1310 M1
It is an entry level, SMB focused server. It is designed to run silently 24/7 and has RAID 0/1/10 but not 5. This model has Intel Xeon E3-1226 V3, two 1 TB hard disks and 16 GB memory. It comes with optical drive and two Gigabit Ethernet ports for redundancy, four DIMM slots and four storage bays, this server supports up to 32 TB of storage and 32 GB of memory. It has some plus features such as good guarantee and has an optical drive. Some limitations are no RAID 5
HP ProLiant Microserver Gen8 
It is small in size and light weight. It has Intel Xeon E3 family, up to 16 GB memory, system management processor, two Gigabit Ethernet ports, one PCIe slot, support for RAID 0/1/10, a DVD writer, up to four hard disks, an internal MicroSD card slot, integrated Matrox G200 graphics chip and seven USB ports. It is professional built with ease of access and compact in size. It has no hot swap disks and quieter in operation.
Lenovo ThinkServer TS460
It is a big server with 50 Litre volume and 25Kg weight, this is 5 U server runs on Intel Xeon E3 model with Turbo Boost technology with three years onsite warranty. Supports up to 64 GB of memory, and integrated RAID controller with four RAID types, DVD writer, four fans, a 300W PSU and two Gigabit Ethernet ports. Up to eight hard drives and eight USB ports, lockable door and support for ECC memory, Serial and VGA connector. Limitations are costly and a big machine.
HP ProLiant ML350 G9 5U
Expensive but loads of features such as dedicated, integrated graphics card, three years onsite warranty, four Gigabit Ethernet ports and support for 12 Gbps SAS (takes only 2.5" drives). Runs on Intel Xeon E5-2603 V3 processor, and supports two CPUs, it has six cores and 24 memory slots allows to hit 3 TB of memory, lockable front door, and storage controller. It has six core CPU which is ideal for intensive loads but definitely highly priced.
Scan 3XS SER-T25
Specially designed for SMB segment, Two broadband based Intel Xeon E5-2603- V4 processors with 12 cores and 30 MB of cache. 64GB of DDR4 ECC memory, 1 TB WD enterprise class hard drive, two Intel Gigabit Ethernet ports, a 1000W Gold PSU and support for eight hard disk drives. It is compact and powerful but highly priced.
ASUS TS500 
It has latest Intel Xeon processor E5-2600 V3, eight DDR4 DIMMs, six expansion slots, three 5.25" media bays and single 500W 80 plus bronze power supply. It has four 3.5" hot swap SATA/SAS HDD bays upgradable to eight HDD bays for flexible storage requirements. Other key specs included 10 SATA ports, a DVD write, eight USB ports, a PS2 port, a VGA one and three Gigabit Ethernet ports. It is perfect for server and workstation use and robust power and flexibility.
Comparison Table: Tower Servers
Below table summarizes the comparison between all these products:
PRODUCT

PROCESSORS

MEMORY

DRIVES SUPPORTED

FEATURES

Dell PowerEdge T30
Intel Xeon E3-1225 v5
64 GB
Upto six SATA
Fast quad core processor
Six internal disks
Dell PowerEdge T20
Intel Pentium G3220
4 GB
No drives
Very cheap
Compact mini tower
Lenovo ThinkServer TS150
Intel Xeon E3-1200 v6
64 GB
Up to 40TB HDD
Most affordable
Whisper quiet
HPE ProLiant ML350 Gen 10
Intel Xeon Scalable 4210
16 GB
No drives
Scalable
Decent design
Fujitsu Primergy TX1310 M1
Intel Xeon E3-1226 v3
16 GB
2 *1 TB HDD
Good guarantee
Optical drive
HP ProLiant Microserver Gen8
Intel Celeron G1610T
4 GB
No drives
Good quality
Compact in size
Lenovo ThinkServer TS460
Xeon E3-1200 v6
64 GB
80 TB
Three years onsite warranty
HP ProLiant ML350 G9 5U
Intel Xeon E5-2603
8 GB
No drives
Six-core Xeon CPU
Scan 3XS SER-T25
Dual Intel Xeon E5-2603 v4
64 GB
1 TB HDD
Compact and quiet
ASUS TS500
Intel Xeon E5-2600
As per order
No drives
Good fit for server / workstation use
Download the comparison Table: Top 10 Tower Servers
Continue Reading: