Snapdragon vs Exynos: Which one is better?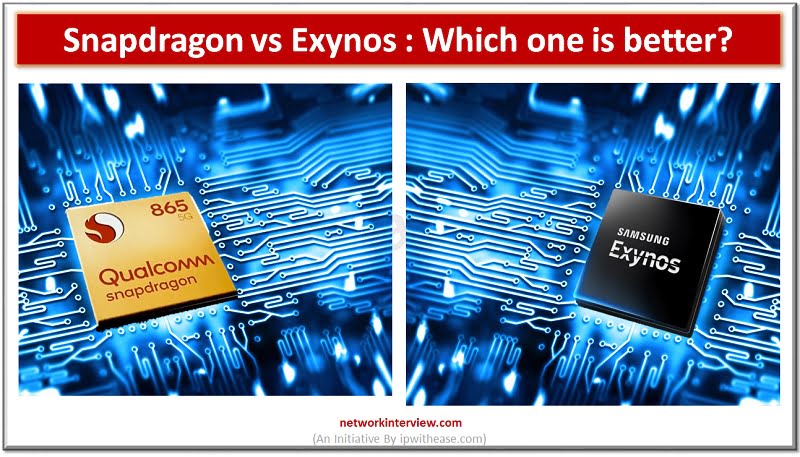 Have you ever bought a Samsung Phone which has a different processor than your friends? Yes, the Samsung Mobiles uses two processors for all their models. 
The mobiles with Exynos processors are sold in Asian and European countries whereas the phones with snapdragon are sold in the US. Do you wonder why? 
Here in this article, you will know about it and the major differences between the Samsung Exynos processor and Qualcomm Snapdragon Processor. Okay without further adieu let's start the article with a short introduction to both the products. 
What is Snapdragon?
Snapdragon is the SoC (System On a Chip) produced by the American-based multinational corporation Qualcomm technologies Inc. They are one of the top manufacturers of Semi-conducting chips used in Wireless Technologies, Consumer electronics like Cars, Mobiles, and other Gadgets, and also in the Telecommunication industry. 
The Snapdragon is considered the best chipset in the market for Mobile or Smartphones and almost became a monopoly. The chipset uses the ARM Architecture and has an integrated GPU named Adreno which is also produced by Qualcomm Technologies Inc. 
Snapdragon processors are well known for their gaming performance and high battery life. You can find the Snapdragon processors in high-end phones like Oppo, Huawei, One Plus, Samsung, etc… 
Features of the Snapdragon processor
Here are the salient features of the Snapdragon processor-
It is one of the most secure chipsets in the market

It promises high endurance and battery life

Heats less compare to MediaTek and Intel 

Uses in-house designed Graphics plug which boosts the gaming and graphics performance. 

Currently ranks first in various benchmark tests. 

It's expensive to afford
What is Exynos?
Exynos, which was formerly known as Hummingbird is an ARM architecture-based processor (SOC) designed by the Semiconductor producing subsidy of Samsung Electronics. It is mostly based on the ARM Cortex core with some exemption to High-End features of the Samsung M Series. 
Unlike the snapdragon processor, the Exynos chipsets are only used in the Samsung self-produced mobile phones. They also have an integrated GPU named Mali. Samsung is the biggest mobile phone manufacturer in the globe and because of it, the Exynos Processor covers nearly a large part of the Asian and European countries. 
Snapdragon vs Exynos Debate and its history:
This debate and comparison between these two processors started ever since Samsung started to release two versions of the same product with different processors. Yes Samsung itself uses a Snapdragon instead of its house-made Exynos processor. 
There are various reasons for this decision some of them are – 
To meet the global demand

To reduce the cost of the mobiles in the Asian countries to meet the consumer budget

To escape the monopoly of Qualcomm and secure themselves from future risks. 
But this decision made by Samsung confused people whether they should buy the Snapdragon version or Exynos version. Samsung avoided it by selling the Snapdragon version only in the American countries and Exynos in the Asian and European countries. 
Okay, Which is better?
Here is a side-by-side comparison between the two processors for you to make a decision. 
Snapdragon vs Exynos
Comparison between Snapdragon and Exynos Processor:
Parameter

Snapdragon

Exynos

CPU Cofiguration

 

 

1x Cortex-X1 @ 2.84GHz

3x Cortex-A78 @ 2.4GHz

4x Cortex-A55 @ 1.8GHz

1x Cortex-X1 @ 2.9GHz

3x Cortex-A78 @ 2.8GHz

4x Cortex-A55 @ 2.2GHz

GPU
Adreno
Arm Mali
AI
Hexagon
Tri-core NPU
On-Device Display

 

4K at 60Hz

QHD+ at 144Hz

4K at 60Hz

QHD+ at 144Hz

Cost
Expensive
Comparatively low price
Availability
On various phones
Only on the Samsung Phones
Modem

 

LTE Cat. 24, up to 3000 Mbps down, 422 Mbps up;

5G SA/NSA/Sub6/mmWave, up to 7.35 Gbps down, 3.67 Gbps up

LTE Cat. 22, up to 2500 Mbps down, 316 Mbps up;

5G SA/NSA/Sub6/mmWave, up to 7.5 Gbps down, 3 Gbps up

Manufacturing Node
5nm EUV
5nm
Download the comparison table: Snapdragon vs Exynos
Final Words
Are you still confused? It's simple. The fact that Samsung itself is going for the snapdragon processor makes the Snapdragon winner. However, in past years, Exynos has been improving its processor performance. By the results, we may expect Exynos to take over the Snapdragon in the future. 
If you have any other further doubts or questions about the Processor of the mobile phones. Please leave them in the comment section below. And let us know your thoughts on this article.
Continue Reading:
Snapdragon vs Kirin: Which one is better?
Snapdragon vs MediaTek: Which one is better?