Resume Writing Tips After Job Termination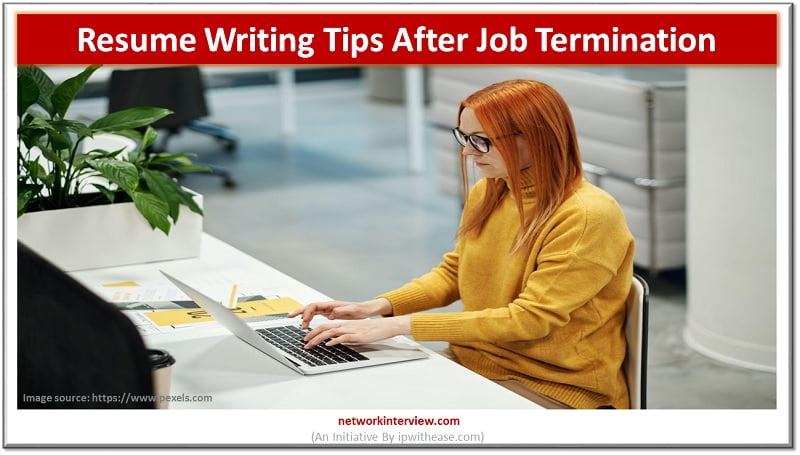 How do you create a strong resume after being fired?
A resume is crucial for your job hunt because it provides one or two pages highlighting your qualifications and relevant skills. Employers use resumes to decide who to hire, and they can also help you land your first interview. Thus, you better structure your resume and think carefully about what information you must include.
But what if you just got terminated by your employer? How do you create a strong resume after being fired? For a variety of causes, employees got terminated from their jobs. However, it can give your potential employers a bad impression of you when you start searching for a new job.
Resume Writing Tips
If you find yourself in this situation, consider checking out the resume writing tips we have shared below. This way, your job termination won't affect your chance of getting hired for a new job. 
Tip 1: Don't Talk About Being Terminated
Don't mention being terminated on your resume. There's no need for you to do so. Remember that according to the top recruitment agencies in the U.S., Canada, and the U.K., you should be reassured about putting a reason why your previous job ended. It should only be discussed during the interview whether you get fired or resigned. 
Moreover, in Australia, recruitment firms in major cities such as Sydney, Melbourne, and Brisbane, advised that your resume should merely list the beginning and end dates of each position you've held without explaining your reasons for quitting your previous workplace.
Moreover,  according to Perth recruitment agency, Scotford Fennessy and other recruitment experts, applicants should only highlight their accomplishments on their resume, as well as their skills. 
Just concentrate on what you accomplished while serving in the previous positions you occupied and how your abilities and accomplishments will help you in the roles you have going forward. Until the recruiting manager inquires, there is no need to bring up your termination.
Tip 2: Keep the End Date Accurate
If your job has been terminated, avoid the impulse to continue listing it on your resume as "to present" to give the impression that you are still working there. When the job termination becomes public, potential employers might believe you intentionally misled them.
Additionally, putting a start and an end date on each position you hold is vital as it helps the Applicant Tracking System or ATS to rate your resume. Depending on how many months you held each post, it awarded you points. Your score, which might influence how high your resume ranks, increases with the number of months of experience you have.
The longer you have stayed in each position, the better you will be scored by the ATS. As a result, the employer will consider you as one of the most qualified applicants experience-wise. 
Tip 3: Concentrate on Your Successes
Although it's tempting to put your feelings aside and start writing a convincing description of your previous employer when revising your resume, you must avoid it at all costs. Focus on your achievements instead. 
Your resume could dazzle prospective employers if you emphasize your successes and value proposition. Even if recruitment managers are curious about your departure circumstances, your CV should be compelling enough to result in interview requests.
Your accomplishments are the things you've done that left a lasting impression on your employer or client. It is an outcome that you individually create while doing a specific task. They typically involve stuff you develop, design, sell, or start. 
It differs from the duties listed in a job description because those duties are constant regardless of who holds the position. An accomplishment shows the employer that you can perform and is particular to your experience. Keep your duty summaries brief and concentrate on noteworthy achievements instead.
Tip 4: Utilize the Right Words to Stand Out
Simple, uninspired descriptions of your work responsibilities and achievements won't help you. Use strong action verbs to describe your duties and tasks, such as "achieved," "designed," "enhanced," and "established." 
By doing this, you can convey important information while sounding assured. To avoid relying too heavily on action verbs, give information on how you enhanced a process or met a goal. Words like "professional," "results-driven," and "detail-oriented" don't tell us much. So, you better avoid using them on your resume. 
Additionally, you mustn't also use terms like "go-to person," "team player," or "go-getter," as they may sound cliche and come off as fluff that only takes valuable space on your resume.
Tip 5: Proofread Your Resume Many Times
Before delivering your CV to a potential employer, it is crucial that you carefully check it. Your odds of getting hired for your next job might be destroyed by typos, misspellings, poor grammar, and improper punctuation.
An error on your resume will follow you throughout the employment process. It will be read by several persons who will eventually impact the hiring decision. Perhaps one of them is particular about grammar usage. One negative impression caused by a mistake from one person is all it takes to give you a black mark that you could have prevented.
So, it's highly encouraged that you revisit your resume multiple times and read it thoroughly. You can also quickly run it through grammar check software just to be sure that your resume is good to go. 
Being Terminated Is Not a Deal-Breaker
Many applicants believe being terminated is a deal-breaker for an employer, but this isn't always the case. How you handle the situation will influence the hiring manager's impression of you. Everybody makes mistakes and encounters unpleasant things. 
However, not everyone can do so, so if a potential employer notices that you can, they'll recognize your adaptability and optimism as traits you will bring to the new job.
Continue Reading:
Top 10 Networking technology trends for 2023
Top 10 highest paying IT companies in the World