Career in Search Engine Optimization: The Definitive Guide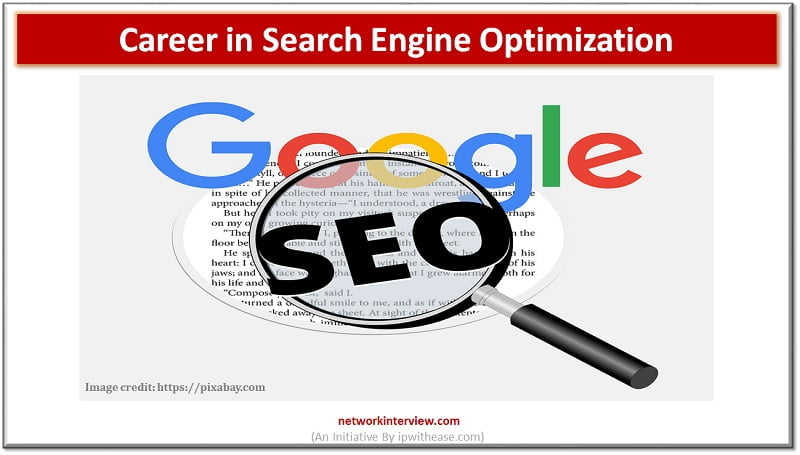 Search engine optimization is a field that's growing more important every day. With the prevalence of search engines like Google, Bing and Yahoo rising, SEO has become an essential practice for any website hoping to attract visitors.
Unfortunately, there are many misconceptions about SEO as a career option. Many people think it's too technical or requires you to know coding. Truth is, it doesn't require you to know coding at all! Similar fields like social media marketing also have their fair share of misconceptions.
This article will help you to get started on your path to becoming a successful SEO expert.
If you're someone considering building a career in digital marketing and want to become proficient in its various fields then consider enrolling in Online Digital Marketing Courses. These courses are designed for both students and working professionals who to expand their opportunities, stay ahead of the competition, as well as skillfully navigate the digital landscape effectively. So enroll in one of these courses today and gain yourself an outcome-oriented digital marketing certification.
What Is SEO?
Search engine optimization (SEO) is the process of increasing the visibility of a website or a web page in search engine results. SEO includes both:
Organic search result – Results displayed by Google organically
Paid search result – Results that come from a paid listing
Why Pursue a Career in Search Engine Optimization?
If you love researching and getting to the bottom of things, SEO is a great career choice for you.
It's a field that constantly changes, so you always have something new to learn. You get to dig deep into the human element – why people search the way they do, what words they use, and how to structure content in a way that's most likely to resonate.
This can be a very rewarding career helping people find information, connect and transact online.
SEO is a field that's in high demand, as more and more people are turning to the internet for answers.
Most SEO jobs are in-house positions at companies that have a website. If you're someone who prefers to work independently, freelance SEO is an option.
Things to Know Before Starting an SEO Job
The Pay:
SEO is a great field for getting lots of experience in a short amount of time. It also pays very well for entry-level positions, ranging between $40,000 to $70,000 a year. SEO experts with many years' experience can earn six-figure salaries.
The hours:
SEO can be a 24/7 job. You may need to adjust your hours if you have a full-time job on the side, but many people have built successful businesses while working just a few hours a day.
The tools:
SEO is truly a creative field. You'll need to stay on top of the latest trends, weekly updates from Google and industry changes. Many SEO professionals rely on tools like Moz and SEMrush to help them stay on top of the latest changes.
The Best Skills for Becoming an SEO Expert
Strong analytical skills: You need to be able to look at information from many angles — the business side, the customer side and the search engine side.
A great understanding of the internet: You need to be able to understand how people use the internet, how search engines work and which strategies will get the best results.
Strong writing skills: You need to know how to write content that people want to read and search engines want to rank. You'll also be responsible for writing blog posts, emails and other content to help build your business.
Creativity: You need to be creative in your approach to solving problems. You'll be working with budgets, timelines and resources; and need to be creative in your solutions.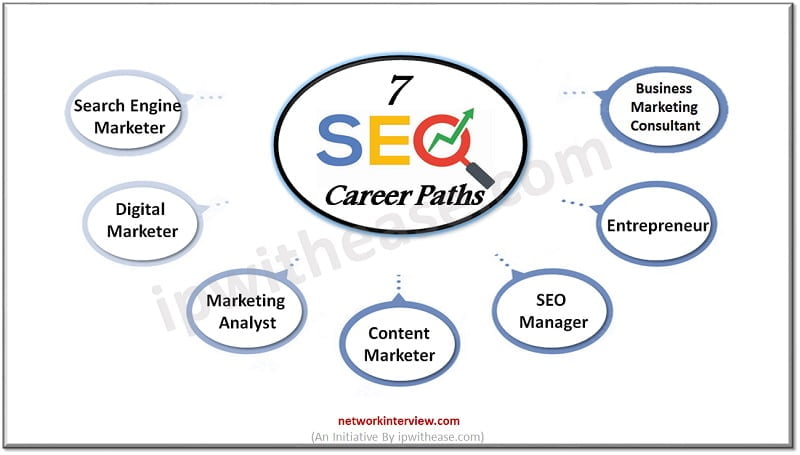 7 Career Paths for SEO Specialists
Below is the list of career paths to choose for SEO specialists:
Search Engine Marketer
Search engine optimisation and search engine marketing (SEM) are frequently muddled up, but in reality they are extremely distinct.
In SEM, you must learn new abilities such as Pay Per Click advertising (PPC), marketing, and customer relationship management, in addition to SEO. Although many SEM professionals focus exclusively on paid search, you can combine SEM and SEO to manage both sides.
According to Payscale, SEM professionals earn a median income of $45,255, or around $2,300 more annually than typical SEOs. A SEM specialist must be able to handle Google AdWords, Bing AdWords, and other web analytics.
Business Marketing Consultant
Some SEO specialists go on to be professional business consultants, marketing specialists, and public speakers. Even though you must have had success with your own business or someone else's to work as a consultant, you may become a public speaker and work with clients to improve their marketing and strategic planning.
You'll generally be working with clients
to devise solutions to their unique demands,
strategize and implement search and marketing initiatives,
assess the effectiveness of existing tactics as well as those you introduce, and
provide long-term support and strategizing to those companies.
If you are idea and strategy motivated, consultancy is a wonderful opportunity. It is a business marketing specialist's job to advice on marketing strategy, strategy, and tactics. The mean annual wage for this position is $57,610.
Digital Marketer
With your existing Search Engine Optimization experience, digital marketing is an easy way to broaden your range of skills and increase your salary. Digital marketers handle all kinds of online marketing, including SEO, SEM, PPC, and social media.
As a digital marketer, you must be able to develop and implement marketing strategies, use SEO, plan content, understand and use social media as part of long-term strategies, use analytics and data management, and work with advertising platforms to drive paid traffic.
Digital marketers earn about $46,919 annually on average, but certain web marketing, communications, and strategic marketing qualifications can increase your income.
Marketing Analyst
As an SEO specialist, you are undoubtedly well versed in data analytics. As a marketing analyst, your primary job is to use numbers to track the performance of existing initiatives, identify new ones, and generate reports and forecasts based on data.
Every year, marketing analysts make an average of $52,176, and those with qualifications in business analysis, strategy, market research, and SQL can benefit.
Content Marketer
If you are an SEO who prefers working with content rather than links and numbers, content marketing is a natural progression for you.
Creating blogs, outreach materials, videos, graphics, reports, and other content is part of content marketing. Your specific position will vary depending on the company, but most content marketing professionals work in a marketing team to make content decisions in a marketing plan.
With a starting salary of $56,414, content marketing also rewards significantly more than SEO alone.
SEO Manager
A company's SEO squad may include data managers, SEO specialists, content strategists, technology specialists, and a number of other specialists. The larger the company, the bigger their SEO team, and the greater their advantage.
An SEO manager must understand search engine optimization and, at times, search engine marketing, but rather lead a team and develop marketing strategies than directly handle the day-to-day data and link analysis.
SEO managers earn a median income of $64,358, but may have a wide range of duties depending on the firm and the size of the team.
Entrepreneur
You can use your Search Engine Optimization skills to set your own terms and offer them to businesses as a self-employed professional. You might not receive the same salary if you start your own business in SEO or digital marketing, as your salary will vary depending on your firm, your launch, and the services you provide.
If you do have something to offer to businesses, prefer to work on a contract basis, or have some other reason to start your own business, starting your own business may be rewarding and profitable in the long term.
Final Words: Is Being an SEO Specialist Worth it?
SEO or Search Engine Optimization is a growing field that offers many opportunities for creative thinkers and problem solvers. If you enjoy researching and getting to the bottom of things, you have the potential to earn a great living while helping the world find the information they're looking for.
Choosing the right career path is perhaps one of the most important decisions you'll make in your life. It can have a major impact on your happiness, financial success and quality of life. So, before you make any decisions, make sure you're fully informed about the pros and cons of each career path.
Continue Reading:
Why choose Digital Marketing as a Career?
How to create a career in Automation Testing?