Placement Guarantee Course: Pros & Cons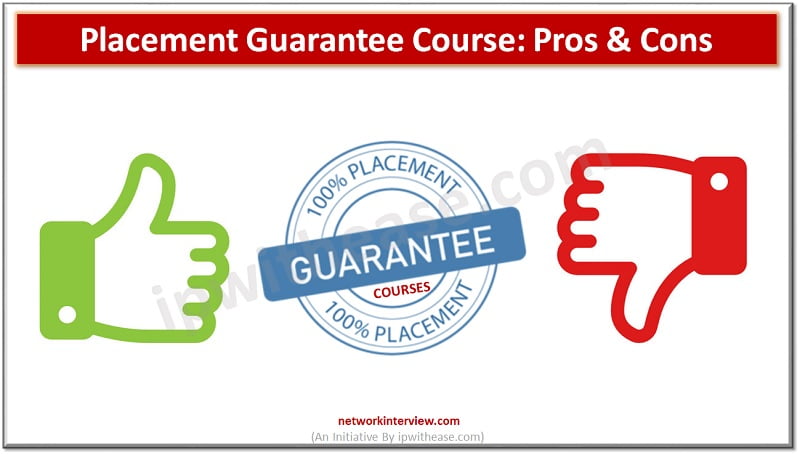 What is a Placement Guarantee Course?
First, let's take a quick look at some of the kinds of placement guarantee courses that are widely available in the market. By opting for these types of courses, you can now enjoy the amazing opportunity of securing a guaranteed job with ease. 
Full-stack web development course

Certification courses in sales and marketing
Data structures and algorithms

Business development associate course

Digital marketing

course with placement guarantee

and many more
According to recent statistics, it is quite evident that 56% of all digital marketers are men, and 44% are women. On the other hand, it is expected that the number of marketing managers will grow by 10% from 2020 to 2030. 
However, these courses come with their own set of advantages and shortcomings. Many people fail to realise that and make impulsive decisions, thus facing huge consequences later on. Without any further delay, let's check out both sides of a coin right away!
Pros & Cons of  Placement Guarantee Course
Pros:
You Can Focus on Learning
When you join a placement guarantee program, it gives you a scope to channelize your dedication and efforts solely in the learning process. Paving the way towards success will be easier if you choose to maintain top-notch consistency throughout the course. The associated team members will strive hard to monitor whether you are honing your skills in an efficient manner or not. 
You Can Ensure Peace of Mind
You can now stay stress-free or say 'nay' to mental pressure since you know that the placements are a sure shot. Surviving in a cut-throat competition will look like a smooth cakewalk in no time. So, when the institution helps you with its placement opportunities and connections, why not roll in comfort instead of feeling anxious every moment?
Cons:
The Institute Can be Involved in Scam
A big fraud has entered the Indian education sector where some companies tell you to get enrolled in their courses and only pay after you land a job. During the time of admissions, some of the associates might mislead you by providing wrong insights and information. However, in reality, their placement percentages might be extremely low. On the other hand, there are some companies that are capable of offering referrals and nothing else. These kinds of training institutes might not have any partnerships or hiring contracts in place. 
Since these courses come with a promising nature of offering individuals job opportunities, they might take a step back from putting in their time and energy into grabbing better opportunities. These people often forget to realise that none of the employers will hire an employee who doesn't possess any skills. Even if they manage to get a job in some firm, it won't stay sustainable for a longer time period. 
Final Thoughts
As the saying goes, every coin has two sides; it applies here too! Though there are many advantages of having a job guarantee, some training companies are simply not worth it. Ultimately, as a student, it's very important for you to get complete details and do your research before joining any course. Think for yourself!
Continue Reading:
Difference between TOGAF and ITIL
Top 10 Cloud Computing Certifications