Xen vs ESXi: Type 1 Hypervisors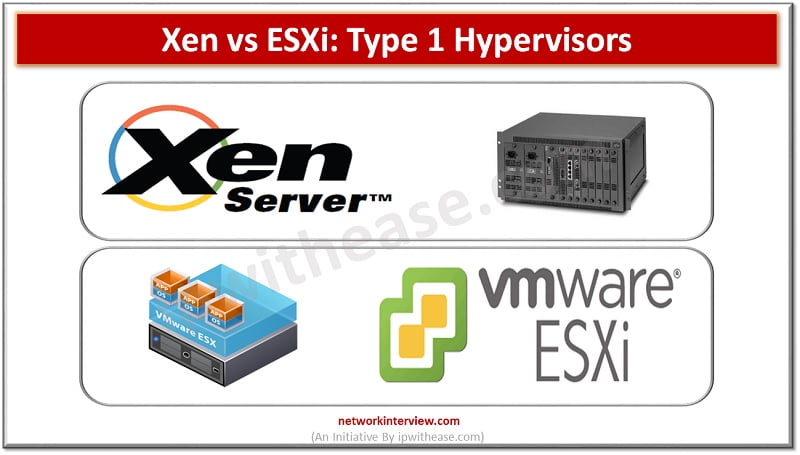 Xen and ESXi are unique form of type-1 hypervisors that are specially built for deploying and serving the virtual computers. There can be various kinds of similarities between the two, but here our aim is to bifurcate both of them in terms of the features that are contrary to one another.
XenServer
XenServer is a platform utilized by virtualization administrators for the purpose of hosting, organizing and handling VMs. It is even utilized to share all the hardware resources such as storage, CPU, networking, memory – to VMs. The key element of Xenserver has an objective to facilitate virtualization architecture supervision. VM templates are an important feature of this.
VMware ESXi
VMware ESXi Server is a kind of software system which is depended on computer virtualization by VMware Inc. The features of ESXi Server are: it is a smaller footprint edition having advanced qualities of the VMware ESX Server. ESXi is applied with VMware architecture and it is utilized for the purpose of organizing central supervision for business desktops and data center implementations.
Difference between Xen and VMware ESXi
Pricing:
As per the comparison done among the two of these with regard to expenditure, it turned out that distinct enterprise models are there that have been implemented by these servers. By the way, Xenserver is an open source which is entirely charge less and even offer license as per server.
On the other hand, a land holder license is required in ESXi and it is licensed with each processor. However, products do possess a considerable client subsequently dotted all over the world regardless of their expenses composition.
Host Server Limits
ESXi possess around 120 virtual machines in such a way that there is one single host with each virtual machine as well as the RAM with each host at 2048 GB with an entire 2048 virtual disks per host.
XenServer has a complete pack of 75 virtual machines per host. It has a RAM consisting 1024 GB per host and 512 virtual disks for every host.
Both the system acquires 160 logical CPUs with each host and the skill is there of possessing a complete of 2048 virtual CPUs with each host. Nevertheless, XenServer do not posses any virtual CPUs on the host.
Supported Host Operating Systems
The further aspects differentiating the two are actually backing host operating systems. With no question in mind, the Achilles heel which is a part of VMware ESXi is the kind of host operating systems helped by the program.
On the contrary, Xenserver even helped a lot of host operating systems like Novell Linux Desktop, Linux WS, Red Hat Linux, Linux ES and Red Hat Enterprise Linux AS. Other Operating systems comprises of Windows 95 and 98, Windows NT Workstation, Windows 2000 Professional and Server, Web and Standard Editions, Windows Me, Windows NT Terminal Server, Windows Server 2003 Enterprise, Professional editions and Windows XP Home.
Technical Help
Whether it is Xen server or ESXi, both of them promote a spectrum of technical support media like white papers, instructional videos, telephone, forums, knowledge base, system upgrades, online self-service etc.
They even vary in this field as VMware does not offer technical support through email, brochures, blogs and instructional booklet of the proprietor. However it significantly do possess a well-staffed support desk and even provide a remote training choice.
Citrix XenServer, on contrary, offer technical help via users' instructional booklet, email, blogs and brochures – however does not offer this endorsement via a help desk or via remote training.
Technical Specifications
The Bare Metal (Type 1) hypervisor type is executed by both Xen software and ESXi software. These software programs help x64 and x86 architecture. Despite of the fact that they help several sorts of virtualization like para-virtualization and hardware dependent virtualization, only the VMware ESXi accomplish entire virtualization.
The Xen software system and ESXi software system endorse many depository choices. In terms of virtualization, the main difference between Xen and ESXi is that VMware just focus on promoting SSD and FCoE for Swap and never promotes iSCSI, SATA, SAS, USB, NFS – which are entirely endorsed by Citrix Xenserver. Both of them promote DAS, NAS and FC depository whereas none of them promotes eSATA or RDM. Both systems have even achieved plethora of users in healthcare sector, financial services, and the government area and education field.
Comparison Table: Xen vs VMware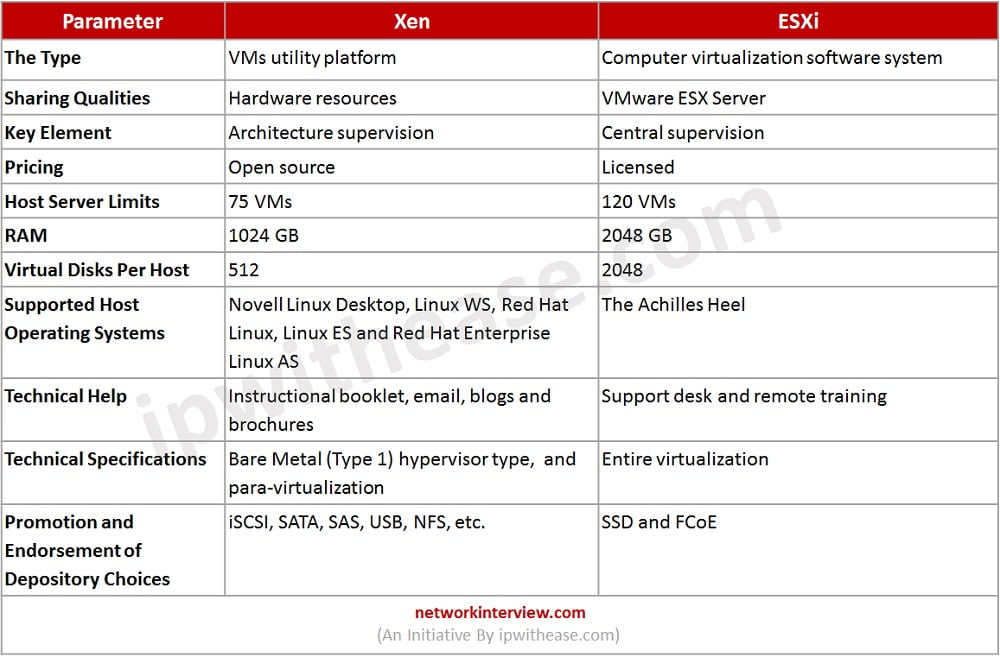 Download the comparison table: XEN vs ESXi
Conclusion
While comparing Xen vs ESXi, we have drawn the line of difference in terms of the sharing qualities, the pricing, host server limits, technical help and specifications as well as the promotion and endorsement of the depository choices. When it is matter of recognition space and market presence, the VMware vSphere ESXi appears to be victorious over its counterpart. This information regarding both products can help you to easily find out which of the two excellently sets within your profession route.
Continue Reading:
XEN vs KVM : Type 1 Hypervisors