NGFW: What is a Next Generation Firewall?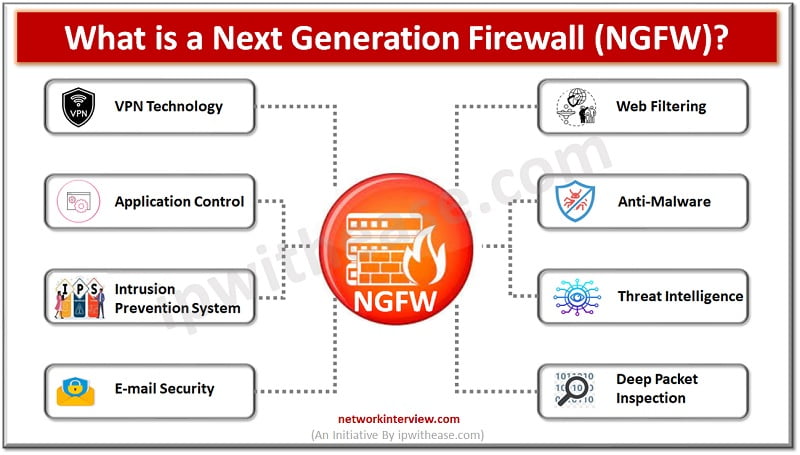 Traditional firewalls have come a long way by providing a clear overview of network traffic jams. Allows or blocks traffic according to port, state and protocols and filters traffic as per rules specified by firewall administrators. NGFWs have eventually changed the entire landscape of security with penetration of cloud and exposure of the threat landscape much bigger. These deep inspection firewalls are perfect fit to handle cybersecurity threats. 
In today's topic we will look more in detail about next generation firewalls, its internal architecture, its features and types. 
Introduction to Next Generation Firewalls (NGFW)
These firewalls are third generation advanced security systems and operate on layer 2 to layer 7 of the OSI reference model. It has blended features of a traditional firewall along with advanced features . These firewalls utilize advanced deep inspection technology, including an integrated intrusion prevention system (IPS), as well as application intelligence and controls. This combination allows for the visualization and monitoring of the content of accessed and processed data. 
Organization networks have expanded far more than earlier times and now they include real time collaboration tools like web 2.0 applications, instant messaging (IM), peer-to-peer applications, VOIP, streaming media and teleconferencing applications have open new venues for attacks. NGFW firewalls deliver application intelligence and controls, malware protection, SSL inspection and high number of simultaneous files or network streams do not limit high end NGFWs. 
Features of NGFW
Some of the key features of Next generation firewalls are as under:
It includes intrusion prevention.

It has software attention and control to see and block volatile applications.

Improvement in paths to encompass destiny record feeds.

Has strategies to address ever evolving threats.

Prevention to stop attacks before they actually happen.

URL filtering to enforce filtering policies on millions of URLs.

Deployment flexibility – on premises, cloud or as a virtual firewall.
Benefits of NGFW
Key benefits of Next generation firewalls are as under:
Standard capabilities of first-generation firewalls such as packet filtering, stateful inspection, NAT, VPN etc.

Integrated intrusion detection systems to support vulnerability management and suggest action based on IPS activity.

Full stack visibility & application identification to enforce policy at Application layer or layer 7, independent of the protocol and port.

Ability to create blacklists or whitelists and able to map traffic to users and groups using active directory.

SSL decryption to enable identification of undesirable encrypted applications.
Types of Next Generation Firewalls (NGFW)
There are three types of next generation firewalls (NGFW) based on method of delivery and security controls capabilities as under:
Software based NGFW – do not require a dedicated part of network physical resources, instead they run like any other application in the network using CPU and memory resources as needed. These types of firewalls are installed and configured for each network device either in a collective manner or individually. 
Hardware based NGFW – Hardware firewalls are physical devices or appliances which monitor and scan all incoming and outgoing traffic routed through them. They are not housed directly on network infrastructure and rely on its physical resources and do not bring down network flows.
Cloud based NGFW – are also hosted firewalls as they are called. It is a software-based firewall which is deployed off premises cloud to limit pressure on network resources or management requirements. The hosted cloud is owned by network owner or rented for computing resources. These are also sometimes referred to as Firewall-as-a-service (FWaaS) which is managed by cloud provider. 
Some of the popular Next generation firewalls (NGFW) are: Juniper networks SRX series , Sonicwall next generation firewall TZ series, Barracuda CloudGen firewall series  , Cisco FirePOWER , Sophos XG series 
Quick facts! 
Next generation firewall market constitutes 20% of sales of total network security market.
Continue Reading:
Physical Firewall vs Virtual Firewall