What is an ML Powered NGFW?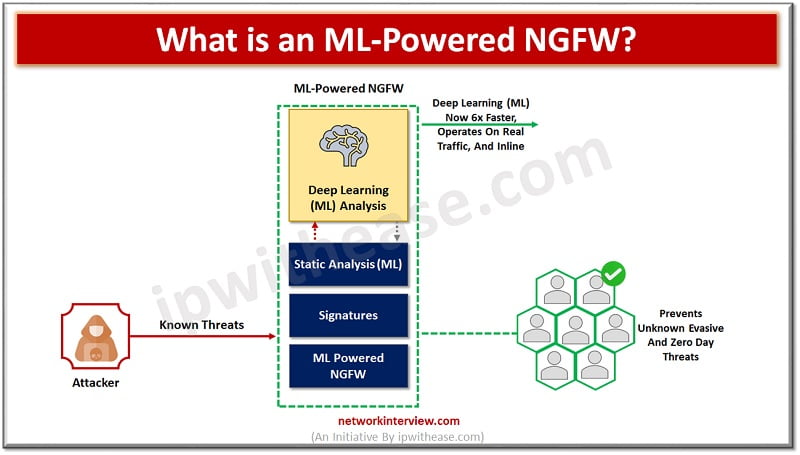 Firewalls have always been the first line of defence, traditional firewalls have a set of rules to keep bad traffic and requests from malicious hackers away from organization networks. The role of traditional firewalls is however changing and getting replaced with new generation firewalls (NGFW) as the threat landscape is chaining at a very rapid pace. The next generation firewalls equipped with Machine learning (ML) is the new breed of firewalls round the corner which are giving edge to administrators to flight attackers. 
In today's article, we would look more in detail about Machine learning (ML) enabled NGFW, their advantages, use cases etc. 
ML Powered NGFW 
Attackers use different methods of existing ones and modify them to get into traditional signature-based protection systems. NGFW uses heuristics for detection of modified malware, Victim zero (o) is first person or enterprise to experience attacks. Signature modifications do not help security systems to solve problems, alternative methods of analysing every bit of traffic or every file is slow and cumbersome.
NGFW enabled ML algorithms directly into firewalls core and enforce results in real time. NGFW's inspect files which are getting downloaded and block anything which looks malicious before the download gets over. Single pass inspection as it is called with inline prevention. NGFW prevents infections without the need for cloud or offline analysis, avoids false positives and reduces potential infection to zero. 
NGFWs leverage inline ML based prevention to prevent threats such as file less attacks, malicious scripts, phishing attempts, and portable executables.
Advantages of ML Powered NGFW
Provides protection against sophisticated and complex threats which require detection mechanism which relies on accurate and timely signatures

Zero delay signatures enabled every ML powered NGFW in seconds 

ML powered NGFW can classify all IoT and OT devices in network 

ML powered NGFWs can use cloud scale for protection and management of devices
Limitations of ML Powered NGFW
ML powered NGFWs analyse large amounts of telemetry data and can recommend security policies based on organizational network analysis

ML based firewalls do not cover every file format so it alone could not be sufficient to provide complete protection and there is a need for cloud-based analysis to support threat detection
Security services by ML NGFWs 
Advanced threat protection is there with intrusion prevention systems (IPS) having offline and online security analysis using cloud compute for AI and deep learning techniques without compromising the performance. It can detect unknown and targeted command and control (C2) attacks as well as evasive attacks from tools like Cobalt Strike
ALOps – uses machine learning to predict up to 51% of disruptions to NGFW before impacting firewalls with telemetry of over 6000 deployments. 
DNS security – extends protection for latest DNS based attack techniques inclusive of strategically aged domains with 40% coverage of DNS based threat coverage
Advanced URL filtering – Prevention of new and highly evasive phishing attacks, ransomware and web-based attacks via deep learning powered analysis of web traffic including live web content in real time 
IoT Security – IoT devices visibility and policy creation automation across seen and unseen devices using machine learning capabilities
Quick tips!
The Next-Generation Firewall Market expected to grow from $2.39 billion in 2017 to $4.27 billion by 2023.
Continue Reading:
Artificial Intelligence vs Machine Learning
Firewall Serving as Egress Gateway: Networking Scenario