5 top Reasons your Organization needs an effective Network Monitoring Software Solution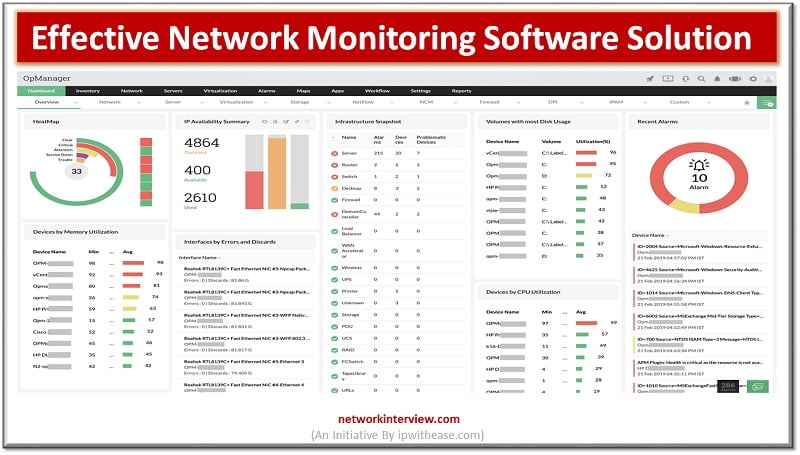 With organizations worldwide realizing the benefits of network automation, the hunt for the best network monitoring software is becoming fierce. The best network monitoring software solution operates continuously, provides visibility into the devices in your network, eliminates critical downtime in advance, and reduces operating costs.
Why is Network Monitoring important for organizations?
Productivity and security are the core mantras of any new day business. Whether be it for a small scale or large operation scale, an integrated network monitoring application is all your business needs. A network monitor diagnoses and locates specific issues allowing you to address them with precise and timely actions. This shrinks the time between discovering the real-time issue and implementing the relevant corrective action.
Here are the top five reasons your business needs an effective Network Monitor:
Achieve insightful performance analysis: Network monitors help you understand your network better by providing information about the performance and status of each device in the network.
Receive proactive alerts: It alerts you about potential server down times and network failures enabling you to take corrective actions promptly. An effective network monitor helps ensure your network is reliable which builds trust from end users through the continuity of service it delivers.
Visualize key metrics in real time: Network monitors with built-in maps deliver a real-time view of the devices present in the network. Representations like heat maps, business views, layer 2 maps. And rack views give detailed insights about the performance of each network device.
Gain key insights for capacity planning: Businesses using these tools receive a clear layout of the resources they need in the near future, and network admins obtain precise knowledge to ensure continuous performance and productivity.
Obtain data-driven and visual reports: Network issues and problems are difficult to monitor and anticipate. Reports make the job easier for the IT admins because they enable the data to be better understood so relevant action can be taken. Reports can convey more than mere numbers, and visual as well as grouped data streamlines the process for proactively determining the best measures to take.
Evaluating Network Monitoring Application Features 
Customization: Custom monitoring options are crucial. Growing operations will review an expanding amount of data over time and being able to monitor specific processes is vital for efficiency. The software select should provide default monitoring protocols, support multi-vendor networks, let you configure metric thresholds, provide a wide range of device templates, and provide full visibility into your network so you can perform effective pre- monitoring as well as drill down to analyze specific metrics.
Integrations: Another important consideration is avoiding software that does not allow add-ons or integrations. Having to deploy and use multiple monitoring tools to accomplish tasks is difficult for network admins. Costs often soar and processes are inefficient when multiple applications are utilized that don't enable your organization to integrate necessary capabilities.
Scalability: A solution that adapts and scales to the needs of your network is essential. When your organization grows, your network needs to grow proportionally. A network monitor with a scalability deficiency will also increase the cost of implementing add-ons when that need arises.
Automation: With growing technology, automation is often spot-lighted. Automating repetitive tasks and creating sequential workflows helps network admins focus on high priority tasks and reduce manual errors.
Security: This is a basic requirement for any network monitoring tool. This is not just a matter of security for your organization, but also a crucial component for the integrity you provide to your end users. It is important to evaluate the big security picture and obtain answers to all your security concerns before you consider purchasing a network monitor.
Key Network Monitoring Features OpManager Provides for your Organization
ManageEngine OpManager is a highly integrated network monitoring solution that addresses the ever-growing needs of organizations by performing real-time monitoring of individual devices in the network. OpManager features:
A dedicated, highly customizable dashboard with an easy-to-comprehend display, heat maps, color-coded alarms, device grouping, business views, and more.
Instant discovery of the full range of devices with a well-defined glossary, customizable discovery rule, scheduling, and more.
Over 52,000 vendor templates, 11,000 device templates, and 292 interface templates with a customizable template option.
A wide range of monitoring of devices like routers, servers, VMs, storage devices, and wireless local area network controllers present in the network with extended visibility of the device performance.
Automatable workflows reduce human interventions in macro environments.
Instant threshold violation alerts through emails, SMS, push notifications, log tickets, and more.
Exportable reports from more than 80 categories, including Health and Performance, Forecast Reports, and others, help you obtain key performance metrics that can assist you with boosting network performance.
Personalized integrations and add-ons for enterprise-dependent monitoring needs. In real time, OpManager's monitoring data can be fed implicitly to ServiceDesk Plus and instances during fault management lets you drill down to OpManager and analyze the actual problem.
Affordable and transparent pricing options. Intuitive and easy-to-use intuitive network software.
Each of these features supports the many reasons to select OpManager as one of the best network monitoring software solution for your organization. To explore and evaluate on your own, you may download a free, 30-day trial today. You can also schedule a free, personalized demo with one of the product experts to receive answers to your questions, and discover the benefits of this powerful network monitoring solution.
Continue Reading:
Top 10 Helpdesk Software Solutions