How Virtual Assistance Solutions Help Your Small Business?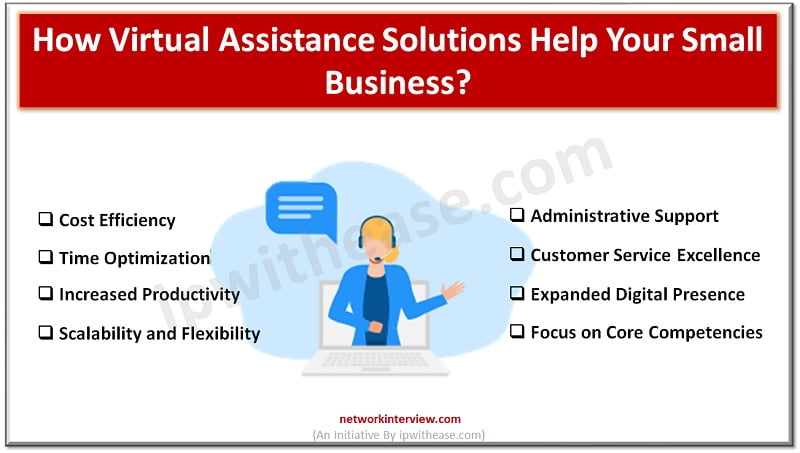 In today's fast-paced and competitive business landscape, small businesses face numerous challenges that can hinder growth and productivity. Limited resources, time constraints, and the need to juggle multiple tasks often leave small business owners overwhelmed and struggling to keep up. This is where virtual assistance solutions come to the rescue. 
Virtual assistance has emerged as a game-changer for small businesses, offering a cost-effective and flexible way to outsource administrative tasks and streamline operations. This article will explore how virtual assistance solutions can help your small business succeed. 
Importance Of Virtual Assistance for Small Businesses
Here, have a look at the benefits of virtual assistance for your small business:
Cost Efficiency
:
Small businesses often operate on tight budgets, making hiring full-time staff for various administrative tasks challenging. Virtual assistance solutions provide a cost-effective alternative. Instead of incurring expenses related to salaries, benefits, and office space, you can outsource specific tasks to virtual assistants on an as-needed basis. This approach saves you money while still ensuring that critical tasks are handled efficiently. 
Time Optimization
:
As a small business owner, your time is valuable. Spending hours on administrative tasks takes away from strategic planning, business development, and customer interaction. Virtual assistants can handle time-consuming activities such as email management, data entry, scheduling, and research, allowing you to focus on core business functions. By delegating these tasks to virtual assistants, you can optimize your time and work on growing your business. Therefore, investing in Virtual assistance services is the right move. 
Increased Productivity
:
Virtual assistants are skilled professionals who specialize in various areas, such as customer support, social media management, content creation, and bookkeeping. By leveraging their expertise, you can significantly enhance your business's productivity. Virtual assistants can efficiently handle tasks that may not be your area of expertise, saving you time and ensuring high-quality outcomes. With a virtual assistant taking care of routine activities, you can concentrate on the tasks that require your attention and expertise. 
Scalability and Flexibility
:
Small businesses often experience fluctuations in workload and demand. Virtual assistance solutions provide the flexibility to scale up or down based on your business needs. Whether you need assistance during busy periods, special projects, or temporary staffing, virtual assistants can seamlessly adapt to accommodate your requirements. This scalability ensures that you have the support you need without the long-term commitments associated with hiring additional employees.
Administrative Support
:
Small business owners are often burdened with administrative tasks that can consume a significant amount of their time. Virtual assistants can take on these responsibilities, handling tasks such as managing emails, scheduling appointments, organizing documents, and maintaining databases. They can also provide support in areas like travel arrangements, expense tracking, and invoicing. With virtual assistants handling these administrative functions, you can focus on strategic decision-making and growing your business.
Customer Service Excellence
:
Providing exceptional customer service is crucial for small businesses to build a loyal customer base. Virtual assistants can play a pivotal role in ensuring excellent customer service experiences. They can handle customer inquiries, respond to support tickets, manage live chat interactions, and resolve customer issues promptly and efficiently. With virtual assistants supporting your customer service efforts, you can enhance customer satisfaction and loyalty, ultimately leading to business growth. Virtual Receptionist Services are also in trend in today's scenario. 
Expanded Digital Presence
:
In today's digital age, having a strong online presence is essential for small businesses. Virtual assistants can assist with managing your social media accounts, creating content, and implementing digital marketing strategies. They can help you establish a consistent brand image, engage with your audience, and expand your reach. With virtual assistance, you can effectively harness the power of digital marketing to promote your products or services and attract new customers. 
Focus on Core Competencies:
Every small business has its unique set of core competencies and expertise. By outsourcing non-core tasks to virtual assistants, you can focus on what you do best. Whether it's developing new products, providing specialized services, or improving your existing offerings, virtual assistance solutions allow you to concentrate on the aspects of your business that set you apart from the competition. This focus on core competencies enhances your business's value proposition and differentiates you in the market. 
Final Thoughts 
In conclusion, virtual assistance solutions provide small businesses with invaluable support, cost efficiency, time optimization, increased productivity, scalability, administrative assistance, customer service excellence, expanded digital presence, and the ability to focus on core competencies. 
By leveraging virtual assistance, small businesses can overcome resource limitations, streamline operations, and position themselves for growth and success in today's competitive business landscape. 
Embracing virtual assistance solutions can be a game-changer for your small business, enabling you to achieve more with less and thrive in a rapidly evolving marketplace.
Continue Reading:
What is VPS (Virtual Private Server)?
CSPM vs CASB: Detailed Comparison