Step-by-Step Tutorial: How to Sign a PDF?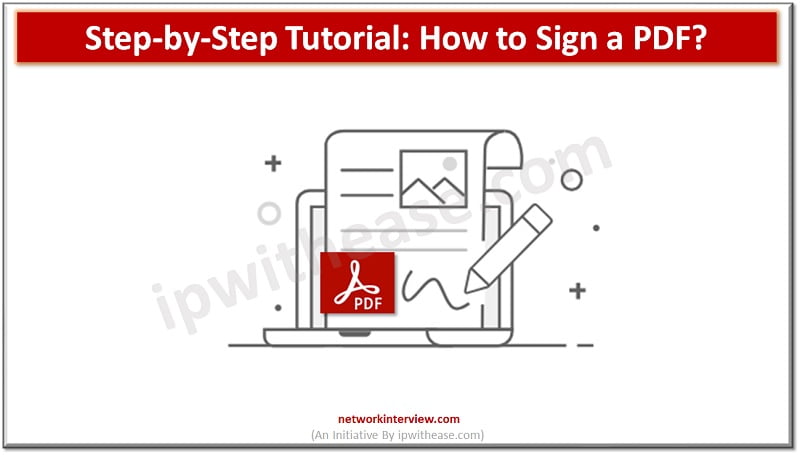 One of the most popular programs for signing PDFs is Adobe Acrobat Reader DC, which allows you to electronically sign documents on your computer or mobile device. Here's how to do it:
Open the PDF you want to sign in Adobe Acrobat Reader DC.

Click on the "Fill & Sign" option in the right-hand toolbar.

Click the "Sign" button in the toolbar at the top of the page. Choose whether you want to add your signature or initials.

Click "Add Signature" to create a new signature. You can draw, type, or upload an image of your signature.

Once you've added your signature, position it where you want it to appear on the page.

Click "Apply" to add your signature to the document.

Save the document with your signature added.
That's it! You've successfully signed a PDF document. Other than this option, you can find numerous other apps and online tools that also offer signing PDF options. Some of these charge subscriptions while some offer this service for free. 
What are reliable & available online tools and websites to sign a PDF?
While looking for a reliable and right type of online tool or website to sign PDF, you will first have to decide whether you want to get this service for free or will it not be a problem for you to spend some money on it. 
This is because the quality of the result will depend on the services chosen. The ones that charge some money, try to provide real-like results without giving a feel that the signatures are added separately and lately. 
Therefore, you will first have to decide which kind of service you want to get. After which, you must choose a website or a tool that will be easy to understand and will be efficient enough to provide the document as soon as possible. Below are some options discussed that might help to sign a PDF with ease:
1. Adobe Sign 
It is one of the most popular and professional tools to sign and manage PDFs. Its interface is user-friendly, and it offers a wide range of features. Adobe Sign allows you to send documents for signature, track their status, and receive notifications when the recipient has signed. 
It also allows you to customize and track agreements, create templates for frequently used documents, and securely store signed documents. With Adobe Sign, you can sign documents digitally using your mouse, stylus, or finger, and ensure that your signatures are legally binding. 
Adobe Sign integrates with popular business tools such as Microsoft Office, Salesforce, and Dropbox, making it a versatile and efficient solution for electronic signatures.
2. HelloSign 
It is an efficient and intuitive tool that allows you to sign any PDF file online quickly. It offers multiple options such as draw, upload, and type signatures.
3. DocuSign 
It is a secure and trusted platform for electronic signatures. You can easily sign, send and manage documents in a few clicks.
4. SignNow 
It is a popular and reliable e-signature software that offers an intuitive user interface, and you can sign, send and track documents online.
5. Smallpdf
It offers an easy and convenient way to sign PDF documents. It is free and user-friendly, allowing you to upload your document and sign it in just a few clicks.
6. PandaDoc 
It is an all-in-one document automation software that helps you with contract management and signatures.
Conclusion
Online tools and websites offer different features and pricing plans when looking for the best option to sign PDFs, so you can choose the best-suited tool according to your needs.
Continue Reading:
What is Digital Certificate and it's Types?
RPA (Robotic Process Automation) vs DPA (Digital Process Automation)