Wi-fi Analyzer for Windows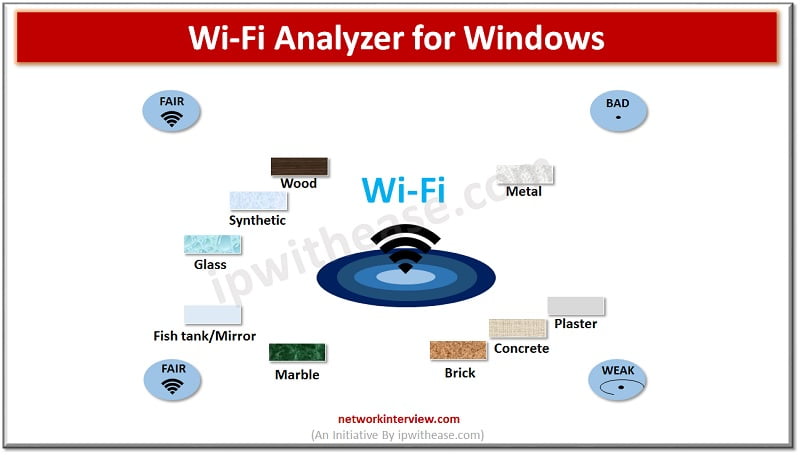 Wi-Fi has become the saviour in Covid-19 times and an absolute necessity for remote working. More and more people are working from home and using Wi-fi networks. Wi-Fi analysis is a crucial and ongoing process to monitor Wi-Fi infrastructure and performance in order to resolve any errors which occur. It requires insight into network devices, network paths, and a range of other key metrics which govern end user experiences. 
In this article we will learn more about Wi-Fi analyzers for Windows, how it operates, its advantages and disadvantages, and use cases etc.
What is a Wi-fi analyzer for windows? 
Wi-Fi's can be inconsistent and sluggish at times due to external factors which are beyond our control. Wi-Fi being used in closed places like offices, homes, buildings usually suffer congestion due to overlapping signals, walls, microwaves and other signal interfering items. Sometimes neighbouring Access Points (APs) also use the same frequency range which causes a decrease in wireless speed and performance as well.
Many devices nowadays such as Microwave ovens, Bluetooth devices, baby monitors, Wireless home phones also use similar Radio Frequencies "RF" as Wi-Fi that can interfere with your Wi-Fi signal and weaken it. Wi-Fi attacks launched by hackers by setting up an insecure Rogue AP inside a network to create a backdoor into a trusted network is quite common. They can also create an Evil Twin AP, an attack that masquerades a trusted AP by displaying the SSID to lure victims.
Regular monitoring and analysis of Wi-Fi networks is a critical step to keep up with speed and security.
Wi-Fi analyzer allows you to scan wireless Access Points (APs) and channels working on the 2.4 and 5GHz (Wi-Fi bands), and give detailed information to make adjustments to your AP and Extenders so that you get the best coverage, speed and security as  necessary.
Uses of  a Wi-Fi analyzer
The below list shows a baseline of what a Wi-Fi analyzer can do:
AP Scanner –
Scans reachable Wi-Fi APs and collects information like channel, DB signal strength, MAC address, vendor, etc.
Client Scanner –
Scans devices connected to your AP and block unauthorized users
Visualize Aps –
Shows in pictorial representation using graphics for Signal Strength, connected users, Signal-To-Noise ratio etc.
Security Mechanisms –
Manages security for Wired Equivalent Privacy (WEP), Wi-Fi Protected Access (WPA) , Wi-Fi Protected Access II (WPA2) and Enterprise.
Reporting –
Presents historical data and test results for ease of troubleshooting
Wi-Fi Analyzer: The three tabs
Wi-Fi Analyzer usually includes three tabs or options – connected, analyse and networks.
The connected tab provides information about the current Wi-Fi connection. It displays graphics of connection quality based on speed of link and signal levels. There are icons to show bad link speeds, weak channels, poor connections, absence of Internet connection and unsecured connections. 
The Analyze page lets you configure or tweak changes to boost connection strength. It also provides access to graphics and the channel ratings, switching between channels and toggling between various bands of frequencies. 
The network tab offers a list of all available SSIDs according to signal bars, frequency band , overlapping , Wi-Fi method and network type. It lets you filter available connections according to their name and signal.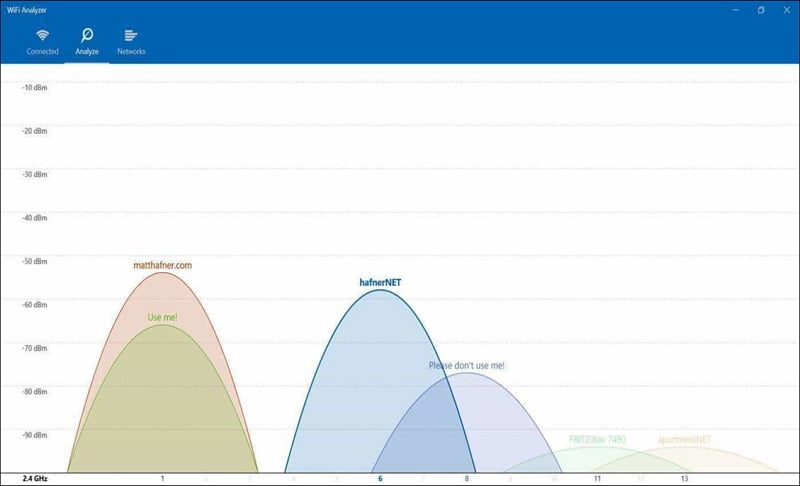 Features of Wi-fi Analyzer for Windows 
Helps to locate better place for Wi-Fi receiver where signal strength is maximum.

Provides information about each Wi-fi channel.

Displays signal strength in history graph.

It recommends best channel for new AP. 
Examples of some Windows based Wi-Fi analyzer tools are NetSpot, InSSIDer, Wifi Analyzer , Vistumber, Wireshark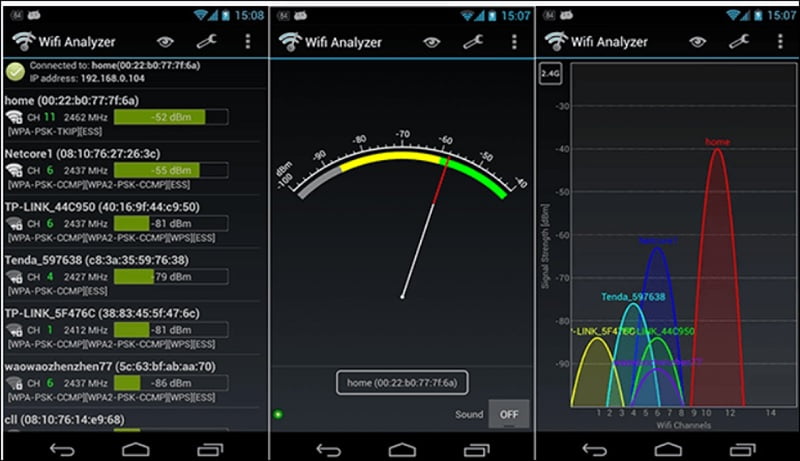 Continue Reading:
Wi-Fi generation comparison Wifi 6 vs Wifi 5 vs Wifi 4
Understanding What is Wi-Fi 6 Technology and How Fast is it?
Windows Management Instrumentation (WMI)