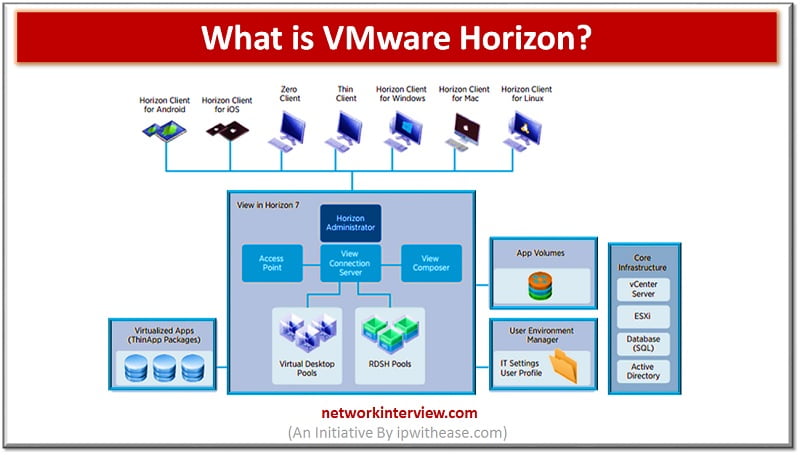 Introduction to VMware Horizon
In the IT industry, VMware Horizon is defined as a commercial desktop and app virtualization product developed by VMware Inc for Microsoft Windows, Linux and macOS operating systems. It was initially introduced in the market with the name VMware VDM, but after the updated release of version 3.0.0 in 2008, the name was changed to "VMware View". Later on, with the launch of version 6 in April 2014, the name was updated to "Horizon View" now and is referred to as "VMware Horizon" to represent desktop and app virtualization platform editions.
VMware Horizon: Specifications and Features
In general, VMware Horizon assists IT efficiently deployment and scales virtual desktops and applications from a single control panel with fast provisioning, automated tasks and simplified management interface.
Exploiting world class management services and deep architecture integrations with the VMware technology ecosystem, the VMware Horizon platform delivers a modern approach for desktop and app management that extends from existing solutions to the hybrid and multi-cloud environments. The outcome, we observe is fast and simple virtual desktop and application delivery that extends the optimal user experience to all remote and local applications.
The most advanced specifications and features in the latest edition, according to the official website are the following:
Hybrid Delivery, Management and Scale:
Horizon VMware currently supports hybrid and multi-cloud architectures that allows IT customers to scale with flexibility across public and private clouds such as VMware Cloud on AWS and Microsoft Azure. Finally, the latest edition of VMware Horizon supports VMware Cloud and Google Cloud on Dell EMC platforms, as well as Azure VMware Solution (currently in preview mode).
Finally, the newly integrated Universal Broker service system, delivers a global entitlement layer that intelligently provisions all the users to their personal desktop or application, in any connected pod or cloud environment, according to the availability or proximity for the best possible user experience.
Modern Platform for Simplicity and Speed:
In addition, VMware Horizon latest platform, provides abilities to deliver stateless, non-persistent desktops very fast (in seconds). The result is centralized and simplified management with one-to-many provisioning and zero downtime updates.
Furthermore, Instant Clone technology provides extra capabilities to Horizon platform through integration to VMware vSphere and App Volumes Software. The New Instant Clones Smart Provisioning abilities, can effectively improve Instant Clones with Horizon functionality to help reduce storage requirements and buying costs.
Finally, Elastic DRS (Distributed Resource Scheduler) gives to the system administrators the ability to dynamically expand pools and scale burst (up and down) automatically, in order to meet business needs.
The Best Digital Workspace Experience:
In the latest edition of VMware Horizon the company introduced some new Advances in Blast Extreme protocol that deliver a great user experience with support for high quality video content, including 3D graphics workloads that use the new HEVC H.265 codecs and GPU's acceleration. Therefore, now the users can use both 4K and 8K monitor displays. In addition, new automation techniques are introduced, that mainly reduce the CPU and network bandwidth utilization with intelligent selection of the transport mode (protocol) and Codec depending on screen visual content and network connection conditions.
 Finally, VMware Horizon offers improved capabilities for unified communications and social network applications for best user experience and improved productivity.
End to End Security from Your Trusted Partner:
Another advanced feature of VMware Horizon, applies to Virtualizing desktops and applications by providing inherent security because the data and the applications reside in the datacenter and not on the terminal endpoints.
With this particular technique, Horizon improves the experience by taking advantage of intrinsic security that is built into the user's VMware infrastructure to further enhance security from the device, across the network and into the datacenter or cloud. These integrations are compatible with the Unified Access Gateway, Workspace ONE Access, VMware SD-WAN by VeloCloud and NSX Advanced Load Balancer (Avi Networks).
Finally, with next-generation endpoint protection from VMware Carbon Black, IT departments can further improve security on virtual desktops and applications.
Conclusion 
As we explained in this article, VMware Horizon is a complete solution product that delivers, manages and protects virtual desktops. Starting from provisioning to management and finally monitoring, VMware Horizon platform offers an integrated stack of enterprise-class technologies that can deploy hundreds of customized desktops and Remote Desktop Session Host (RDSH) servers in a few seconds from centralized single images.
Continue Reading:
Hyper V vs VMware : Detailed Comparison