What Is Ripple and RippleNet?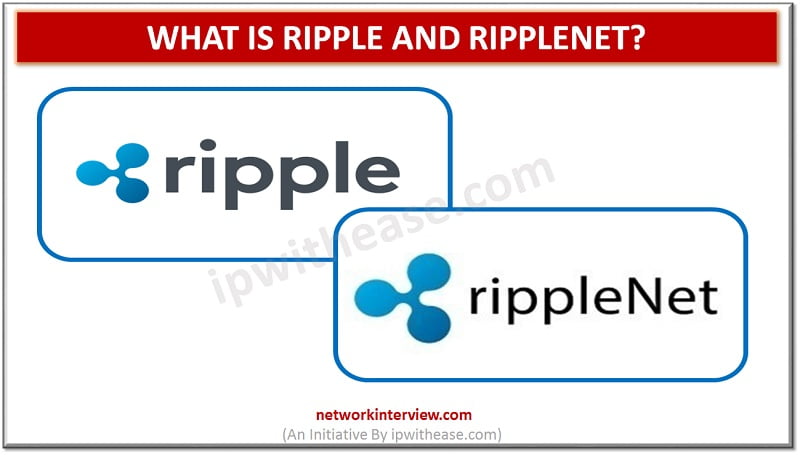 Ripple and RippleNet
The technology that serves both like a network for digital payment and a cryptocurrency for the financial transactions is termed as Ripple. The operation of Ripple takes place on a peer-to-peer and open source decentralized platform on which seamless money transfer is allowed in any format whether Yen, USD, bitcoin or litecoin. Connecting the payment providers, banks and exchanges of digital asset is the major aim of Ripple so that the global payments can become cost efficient and faster.
The design of Ripple infrastructure is aimed at making the transactions convenient and quicker for the banks. This is the reason why bigger financial institutions have this option of cryptocurrency as more popular. While XRP cryptocurrency is is generally referred using Ripple, in actual terms, it is a company by which XRP's are held the most. Not just several systems for payments are offered by Ripple but almost 60 billion XRP are also owned by it.
RippleNet
RippleNet, the blockchain system of Ripple provides financial institutions and businesses with several programs that also cater in payments that are cross borders. xRapid, xCurrent and xVia are included in it. RippleNet is limited, unlike XRPL, to Ripple Company and is developed on XRPL top as an exchange and payment network. At present, a suite of 3-product is offered by RippleNet that has design intended to serve as solution for payment system for financial institutions and banks.
XRP: the digital currency of Ripple
XRP is the digital currency and for the other currencies, it serves like a bridge. There is no discrimination from XRP between one cryptocurrency/fiat and the other and therefore exchange of any currency with another becomes easier. There is own gateway for each of the currency present on ecosystem. If someone asks for paying for the services with bitcoins then it is not necessary for the receiver to have bitcoins as well. The payment received could also be sent in form of Canadian dollars to the gateway. In simple terms, it is not required to have gateway for complete transaction initiation since use of multiple gateways is possible that can form a trust chain that ripples athwart users.
When user holds balances with gateway then it exposes him to risk of counterparty. In traditional system of banking, this is an apparent risk. If its liability is not honored by gateway, the money value that is held by user at that gateway could be lost. A gateway is not trusted by the user and can therefore make use of trusted gateway for the purpose of transaction. The risk of counterparty is not there with bitcoins and with several other altcoins as well since the bitcoin of a user is not the liability of any other user.
Working of ripple:
The running of ripple network is not with a bitcoin like system of proof of work or with Nxt like system of proof of stake. Instead, a consensus protocol is there on which the transactions depend for validating the balances of account on system along with the transactions. The working of consensus is for improving system integrity with double spending prevention. For instance, if a transaction is initiated by a user with several gateways but the same amount is craftily sent to systems of gateways, then everything will be there with him but with first transaction deleted.
Consensus is used by the nodes distributed individually for deciding as which is first transaction and majority vote is determined for this purpose using poll system. Roughly just 5 seconds are taken by the transactions and they are almost instant. No central authority is there for deciding as who can confirm the transactions and set up nodes and this is the reason of decentralized nature of ripple platform.
In the given currency, all IOUs track is kept by Ripple for any gateway or user. Flow of IOU transaction and credits take place among Ripple wallets that are available publically on the ledger of Ripple consensus. However, history of financial transaction is recorded publically and it also becomes available to the blockchain, there is no link of data to any business or individual's account or ID. However, information is made susceptible to the measures of de-anonymization with dealings public record.
How to purchase ripple:
The convenience of buying ripple is not as much as bitcoin. In certain occasions, a Bitstamp like exchange of cryptocurrency allows exchanging XRP or USD but this case is rare. The other ripple selling exchanges such as Binance and Coinbase will demand different cryptocurrency exchange such as ether or bitcoin for XRP acquition. A ripple wallet and account is needed regardless of currency that is exchanged for XRP. This is where the XRP is sent.
Ripple wallets:
There is much similarity between bitcoin wallets and ripple wallets with the secure keys by which transactions are allowed. However, minimum 20 XRP is needed by wallets in case of ripple as the initial deposit. Similar to other wallets of cryptocurrency, different forms of wallets are there that includes mobile wallets and software wallets available for iOS and Android. A hardware wallet is generally recommended for storing ripple. The contents are stored offline in hardware wallets and therefore the security is more in this case. Ledger is one of notable manufacturer of hardware with wallet that supports ripple.
Conclusion:
While the first cryptocurrency known is Bitcoin and for the smart contracts, the platform recognized is Ethereum, ripple network might be considered as the system of currency exchange with its focus on solutions for global payment for financial institutions and banks. Implementation of RippleNet might be done on existing banking infrastructure's top as the means of improving and complementing the traditional system of payment. Real time cost efficient payments are allowed by xCurrent athwart the financial institutions while XRP is used by xRapid like a borderless bridge currency for offering liquidity pools on demand. Communication and integration of all participants of RippleNet are facilitated by xVia.
Ripple is supported by following banks:
UBS
Yes Bank
Santander
NBAD
Axis Bank
Continue Reading:
What is Cryptography? Detailed Explanation
What is Blockchain technology? – The Bitcoin Cryptocurrency Technology