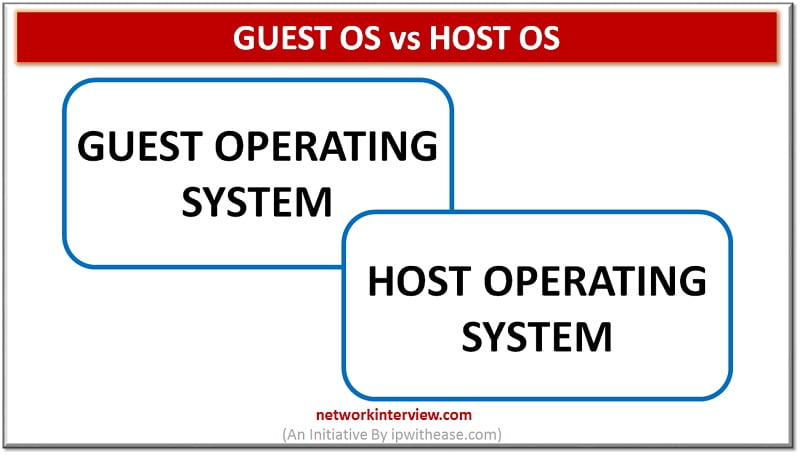 Guest OS vs Host OS
When it comes to virtualization, several strategies are there that are popular. Your selection among these depends on several factors including imports, its development, software interface, virtual machines alters and other characteristics as well. Hosted virtualization stands as the simplest option of all and guest OS and host OS are involved in it. Virtualization 3rd party software, accessible operating system and several guest operating systems are used by the virtualization of this type. Shared resources are used by every guest OS in this strategy for operation with the host.
In other simple words, the operating systems that run on the hardware are termed as host operating systems while those running on the virtual machine are termed as the guest operating systems. So let us discuss the difference between guest OS and host OS.
Host operating system:
A computer software termed as host operating system is one that operates with primary hardware. The typical use of this term is when differentiation of guest OS is done in virtualization server. Virtualization allows the single physical server to serve several virtual machines. Essentially these machines are hardware isolated pieces having sufficient memory, processing, network capacity and storage. When it is the case of resource sharing between guest OS and host OS, virtualization serves more efficient and less expensive. Virtualization that is container based is also used by Host OS that helps in application partition in the server. For each of the application, containers use is allowed by this and the complete OS is not required for the purpose.
Guest operating system:
While the computer installed software is termed as host OS or host operating system that is used for interacting with hardware, the software that runs and installed on virtual machine is termed as the guest operating system. In virtualization, the guest OS can have several differences from host OS and it either serves as the portioned system part or a virtual machine part. Another OS is mainly provided by this for applications.
While resources are shared by guest OS with host OS, the operation of these two is completely independent from each other. It is possible that at same time, these several operating systems run but initially host operating system should be started. Use of guest operating system offers one of the major advantage is the form of its ability for running applications and programs that are not able to work with host operating system.
Following are also possible with guest operating system:
For the purpose of testing
Running of more than a single application in which varied OS are needed on same hardware
While the host operating system could be just one, the guest operating systems could be multiple on the basis of virtualization demands of the user.
Difference between guest operating system and host operating system:
PARAMETER

GUEST OPERATING SYSTEM

HOST OPERATING SYSTEM

Definition
The virtual machine installed software is termed as guest operating system.
The computer installed software known as host OS is the one that interacts with primary hardware.
Function
Interaction of guest OS takes place with virtual machine
Interaction of host OS takes place with the hardware
Quantity
Guest operating system could be multiple or single
Host operating system could be single
Download the comparison table here.

Conclusion:
In simple terms, the original operating system is host operating system by which an environment is offered where it is possible to run the guest operating systems. Host operating system and guest operating system has the major difference in which running of host OS takes place on the hardware directly while virtual machine is there on which guest operating system runs.
Related – Operating System Interview Q&A