Top 10 Trends Impacting Infrastructure & Operations for 2023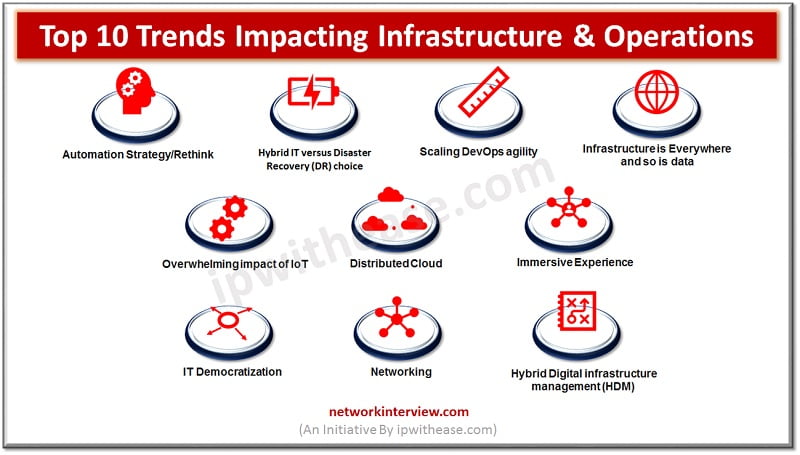 Introduction to Infrastructure & Operations
Organizations need to support digital infrastructures as infrastructure trends now focusing on new technologies such as Artificial intelligence (AI), Edge computing to support rapidly growing IT infrastructure and support agile business needs parallelly.
In this article, we will look at some infrastructure and operations trends in which shaped how support for digital infrastructure will grow over the years. Business continuity and disaster recovery are the prime focus for organizations had bought trends like colocation, cloud services, edge locations and more and more focus are on uptime guarantee.
Top 10 Trends Impacting Infrastructure & Operations 
Automation Strategy/Rethink
With growing automation maturity level in organizations and multi cloud adoption with new flourishing solutions providing a rich ground for poor tool choices made in the past leading to messy implementations and lack of scalability. Multiple vendors are coming up in market with new tools risking organizations to pick up or deploy duplicate tools leading to process overheads and hidden costs which cumulatively form a situation where scaling of infrastructure can't be achieved as per business expectations. Top management is expected to employ a dedicated role to oversee automation forward and invent to build a proper automation strategy.
Hybrid IT versus Disaster Recovery (DR) choice 
Hybrid IT with on premises data centres, edge locations and cloud services are disrupting disaster recovery planning. Organizations are potentially exposing themselves when their traditional disaster recovery plans are not reviewed with hybrid infrastructure as resiliency requirements required to be evaluated at every stage of design right from the beginning and not just after the deployment.
A redundancy strategy which seamlessly responds to all infrastructure needs be it hybrid or cloud and address all IT abnormalities and interdependencies to support quick resumption of normal IT operations is the need of the hour.  Best way to achieve redundancy is to have a copy of your data which can be accessed onsite immediately as well as copy which is located off-site. Hybrid cloud helps in providing the secondary offsite backup location.
Scaling DevOps agility
Enterprise production teams are working in DevOps environments increasingly so the challenges of scaling DevOps must be addressed and ensure necessary skills are available to scale self-service platform services. A shared self-service platform services will provide a digital toolbox of I&O capabilities to help multiple DevOps teams to create, release and manage products along with ensuring consistency and streamlining of efforts at scale.
Infrastructure is everywhere and so is data
Infrastructure is everywhere as business needs it. Planning for explosive data growth is vital to business as technologies like Artificial intelligence and machine learning are being used as competitive differentiator more and more. The increased focus is on same workloads running across multiple locations and making data harder to secure. Availability and integrity of critical applications and data in the event of disaster is achieved via continuous replication and it captures all changes which occur considering real time replication strategy, write order fidelity and any point in time recovery.
Overwhelming impact of IoT
Far reaching and transforming effects of IoT projects and their intrinsic complexity can be a challenge for team to understand each piece of IoT puzzle. I&O must be involved at early stages in IoT planning discussions to understand proposed services model and its scale.
Distributed Cloud 
As more and more businesses are moving to cloud in a distributed model where public cloud services are available in different geographical locations while the provider remains responsible for operations, governance, updates, and evolution of the provided services. This model is likely to appeal organizations which are constrained by location of cloud services previously.
This trend is still in its early stages and operational leaders need to analyse if distributed cloud is right choice for their needs based on some questions such as how life cycle of hardware will be managed? What SLA would be needed? And how SLAs will be met? etc.
Immersive Experience
Operational leaders' expectations are on rise, which are influenced majorly by wide and rich experience provided by consumer technology from digital giants. The functions considered value adds earlier and now forming the baseline expectations. User expects seamless integration, immediate feedback, and very high level of availability.
IT Democratization
Less code and no code platforms enable users to build at fast pace applications using minimal coding approaches. This has enabled citizen development to save resources and time. But a poorly developed approach risks increasing the complexity of IT group. Operational leaders need to build governance and support offerings which are not tough but easy for users.
Networking
Networking has evolved to delivery highly available networks and it is often achieved via careful change management. Some of the challenges which network teams are going to face going forward such as risk avoidance, technical debt, and vendor lock-in all mean more challenges and tough road ahead for network teams.
Multi-protocol lab switching technologies (MPLS) allow carriers to focus on developing IP networks which would support both public Internet and private WANs across IT infrastructure. In SD-WAN technologies there is a steep decline and focus is shifted towards Internet. Advances in machine learning and low costs high performance processors in today routers allow SD-WAN algorithms in making routing decisions. Performance data collected about each link will help businesses to make better purchasing decisions with internet carriers.
Hybrid Digital infrastructure management (HDM)
Operational leaders need to look at tools that challenge silos of visibility. Some vendors are already trying to address this however there are emerging tools which are not able to answer all challenges imposed by hybrid digital infrastructure management so I & O leaders need to do a careful examination to evaluate functionality promised and anticipate their own teams may be forced to fill gaps by integration of tools and growing their baseline.
Continue Reading:
Top 10 trends in Automation Testing Tools