Top 20 Hyper Converged Infrastructure Vendors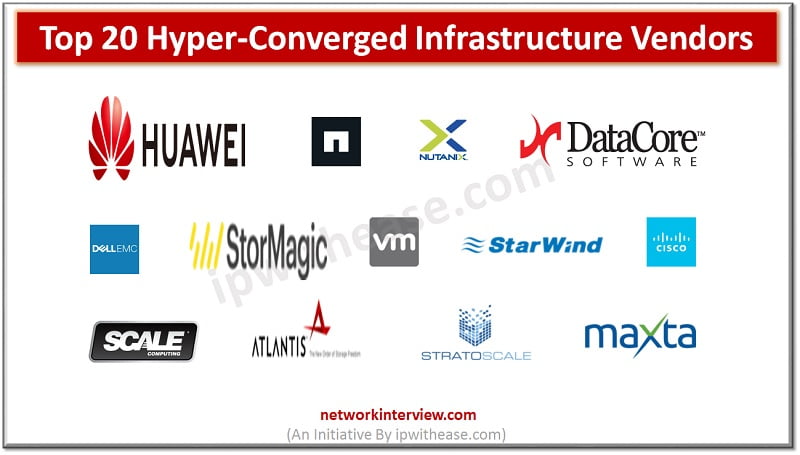 Hyper Converged Infrastructure Vendors
Multiple Vendors offers Hyper Converged Infrastructure (HCI). Before we discuss on vendors involved, a quick definition of HCI should provide a good understanding of the technology in discussion – Hyper Converged infrastructure integrates compute, storage and networking into a single system, where HCI platforms include a hypervisor used for virtualized computing, software-defined storage, and virtualized networking which are run on off-the-shelf systems or servers. Enterprises can choose an appliance from a single vendor, or hardware-agnostic Hyperconvergence software.
Top 20 Hyper Converged Infrastructure Vendors (HCI)
Let's compare Hyper Converged Infrastructure HCI pricing, performance, features, stability and more w.r.t various vendors in market:
Cisco
Cisco's HCI product offers are based on its HyperFlex products. HyperFlex is available in many different models including HyperFlex Hybrid Nodes include Cisco's HX220c M5 and HX240c M5, as well as the version of the HX240c.
Cisco HyperFlex All Flash configuration is made for workloads that require top-tier performance. Model's Cisco's HX220c AF M5 and Hx240c AF M5 are available in flash storage.
Cisco HyperFlex Edge configuration such as the HX220c Edge M5, are intended for use in remote and branch offices. These variants are available either in B Series or C Series servers that don't include storage.
Dell EMC
Dell EMC's VxRail appliances are based on VMware's vSAN. Dell EMC also offers a VMware Cloud Foundation on Dell EMC VxRail product designed as a hybrid cloud platform. It provides integration with the VMware Cloud Foundation and is designed for organizations that want to run Kubernetes at cloud scale.
Dell EMC also offers HCI platforms for organizations that have standardized around Microsoft technologies. Azure Stack Hub acts as a hybrid cloud where the Azure Cloud uses on-premises resources and software-defined compute, storage and networking and Dell AX nodes.
Hewlett Packard Enterprise
Hewlett Packard Enterprise (HPE) with Nimble disaggregated hyper-converged infrastructure, or dHCI platform can be storage and compute resources. HCI is designed for hosting critical applications that need a high level of storage performance and data resiliency.
HPE Nimble Storage dHCI provides self-optimization of workloads and can be managed from VMware vCenter. As per HPE, the product can be deployed in 15 minutes and delivers six nines (99.9999%) of availability.
NetApp
NetApp control plane provides a consistent management experience across multiple clouds. NetApp can be managed using an identical interface and identical procedures. There is single tool to manage NetApp HCI resources as well as other cloud services like AWS, Google and Microsoft Azure clouds. The control plane also enables admins to move workloads from one cloud to another as needed.
Nutanix Inc.
Nutanix's software-defined HCI product is one of the most popular platforms in the industry. Nutanix's proprietary Prism tool has capability to manage the entire AOS environment. Some of key benefits Nutanix boasts of include ease to scale out by adding the nodes, single click upgrade of software/ firmware, reduced rack space and cooling, minimal connectivity complexity.
Pivot3 Inc.
Pivot3's hyper-convergence product is designed for use in the enterprise, specifically considering video, data and frame loss prevention including video stream load balancing. Its reliability and erasure coding mechanism are designed with no single points of failure. Pivot3's HCI also performs real-time health monitoring which automatically alerts an admin and creates a support case if issues are detected.
Scale Computing
H3C virtualization platform by Scale Computing boasts of making IT infrastructure easier for all size organizations. As stated by Scale Computing, the platform can be deployed in less than an hour and no training is needed to manage the system. Moreover, Scale Computing doesn't require its customers to purchase hypervisor licenses.
StarWind Software Inc.
StarWind company offers hyper-converged systems and has been considered as one of niche players as per Gartner report in 2019. StarWind Hyper Converged Appliance is flash storage designed for high-performance workloads. StarWind uses RAM as a write cache to ensure maximum performance and provides six nines of availability and fault tolerance.
Stratoscale
Stratoscale HCI platform is built for public, private or hybrid clouds. Stratoscale product is based on the KVM hypervisor and supports multiple storage architectures. Stratoscale can support the external storage arrays. It focuses on cloud infrastructure, hence its management tools tend to be cloud-oriented.
VMware
VMware provides a software-based hyper-converged product that comprises four core components.
VMware vSphere hypervisor, which enables HCI deployment to host VMs.
vSAN is VMware's virtualized storage product combines storage devices into a storage pool making it possible to scale storage as per requirement.
NSX is the VMware network virtualization platform that organizations can use to connect resources across data center and multi-cloud environments.
vRealize Suite consists of VMware products that are designed for data center and cloud management
Cohesity
Cohesity features its software-defined HCI platform to manage backup and data protection. Converge file and object services quickly deliver test/dev instances and provide analytic functions on a single global data store.
Huawei
Huawei is a networking and telecommunications company and is new to the HCI, releasing its FusionCube in 2014. Huawei offers with an option of either all categories including FusionSphere virtualization or FusionStorage. They sell the platform with the option of using KVM or VMware virtualization software.
Scale Computing
Scale Computing combines storage servers and virtualization software in one appliance package based on system which is scalable, self-healing and easy to manage a single server.
Atlantis Computing
Atlantis HCI features include high performance, low costs that are missing from traditional infrastructures. Atlantis also provides the flexibility to optimize and enhance the current capacity of any mix of hardware, local and shared storage or to transition to more efficient hyperconverged and public cloud storage. Atlantis solutions effectively reduce costs by lowering data center infrastructure requirements, simplifying management and eliminating the requirement to buy shared storage.
HyperGrid/Gridstore
Gridstore has rebranded itself as HyperGrid. HyperGrid only supports Microsoft's Hyper-V for its compute virtualization and also supports Windows Systems Center and Windows. HyperGrid offers an all flash storage array with independently scaling compute and storage nodes. It scales up to 64 compute nodes and 256 storage nodes.
EMC
Two major EMC HCI platforms are –
VxRail uses EMC storage components combined with VMware compute and network virtualization.
VxRack for larger deployments. It comes in two sub-categories: One uses open source software management and storage from EMC's Scale IO division. Another one is based on VMware's Software Defined Datacenter (SDDC) software.
Stratoscale
Stratoscale is one of the newbies in the HCI market founded in 2013. Stratoscale HCI platform structure is based on an open source technology such as KVM for virtualization and ZFS for virtualized storage, high performance in workload and data migration capabilities. Stratoscale lacks deduplication technology and data compression.
Simplivity
HCI by Simplivity includes features of Multi-site data management, global deduplication, data backup, clones, multi-site data replication and disaster recovery along with WAN optimization.
DataCore Software
DataCore Software Corporation's main feature is for storage virtualization platforms that enhance online disk storage resources, managing and optimizing flash memory, hard drives, storage arrays and Cloud storage across a wide option of vendors and devices within both virtual and physical environments.
StorMagic
StorMagic makes virtual SANs simple for edge computing. SvSAN is designed for large scale organizations, with thousands of sites and companies running small datacenters that demand a highly available, cost-effective and flexible solution.