What is Hyper Converged Infrastructure (HCI)? Detailed Explanation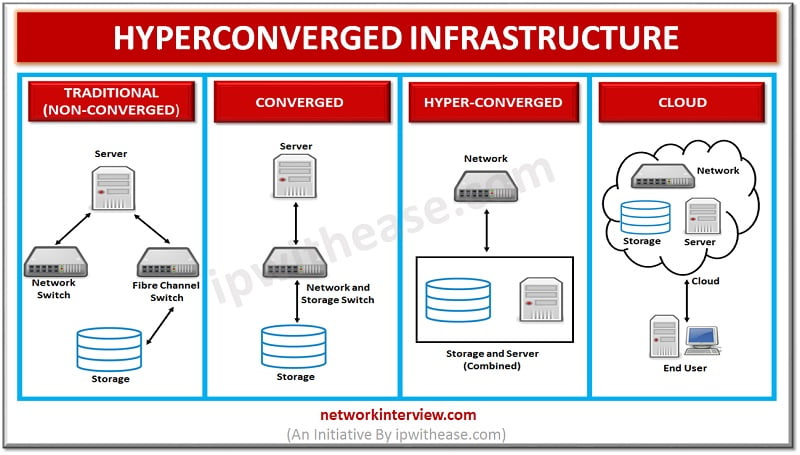 Introduction to Hyper Converged  Infrastructure (HCI)
Hyper Converged Infrastructure (Also called HCI in short) combines storage, computing and networking into a single system to reduce complexity and increase scalability. Hyper Converged platforms use a hypervisor for virtualized computing, software-defined storage and network virtualization. Multiple nodes are combined to form a pool of shared compute and storage resources designed for convenient consumption.
Related – Hypervisor in Cloud Computing
Benefits of HCI
HCI delivers simplicity and flexibility, scalability, data security as compared with legacy infrastructure. Integrated storage, servers and networking devices are designed to be managed as a single entity across all instances of a hyper converged infrastructure. Hyper Converged environment is cost savings in areas including data center power and space.
Management Efficiency
Data Efficiency
High Availability
Scalability
Data Protection
How Hyper Convergence infrastructure differs from traditional converged infrastructure?
Traditional infrastructure is a preconfigured package which is combination of software and hardware in a simplified management. On other hand, in converged infrastructure compute, storage and networking components are discrete and can be separated. In a Hyper Converged  environment, compute, storage and networking components can't be separated and the software-defined elements are implemented virtually with the hypervisor environment.
Converged and Hyper
Converged  systems both aim to simplify data center management. Converged infrastructure has the same components but they're discrete, separable as compared with hyper converged. Hyper converged infrastructure fully integrates all components and is software defined.
Comparing Traditional Storage and Hyper Convergence
In comparison with the traditional storage infrastructure, Hyper Convergence offers the following 5 benefits over traditional infrastructure:
Hyper Convergence provides single point of administration, monitoring and control on storage, servers and virtual infrastructure.
Hyper Convergence provides lower cost of infrastructure due to both the elimination of dedicated SAN/NAS and the greater efficiencies of management.
Hyper Convergence provides highly available storage and compute that built-in and available should a node fail.
Hyper Convergence provides included data protection in the form of wide-striping and replication.
Hyper Convergence provides reduced cost (through eliminating dedicated storage maintenance and support contracts), greater utilization of servers and storage, increased uptime, and inclusion of advanced features.
How Does Hyper Converged  Infrastructure Work?
Virtualization software containers and pools are underlying resources, which dynamically allocates them to applications running in VMs or containers. VM Configuration is based on policies assigned in the applications, eliminating the need for complicated constructs like Logical Unit Number (LUNs) and volumes. Below are components of Hyper Converged Infrastructure.
Storage virtualization
Compute virtualization
Networking virtualization
Advanced management capabilities including automation
Related – VM vs CONTAINER 
Advantages of Hyper Convergence vs. Traditional Three-Tier Architecture
Lower costs:  Reduces storage footprint, power use and maintenance costs.
Simplicity and agility: Hyper Converged systems can be deployed in a fraction of the time as compare to traditional infrastructure. And there's no need for specialists for implementation.
Performance: Hyper Convergence renders high levels of performance. Many organizations use hyper converged apps and SQL Server for their best performance.
Flexible scaling: Hyper Converged infrastructure scales easily. New resources are identified and integrated into the cluster quickly.
MultiCloud support: Hyper Convergence reduces the time and cost of transitioning to a hybrid cloud. Easy to move data and applications between on-premises servers and the public cloud.
Security and data protection: On-premises IT infrastructure is more secure than other options. Security features including self-encrypting drives and tools that provide high levels of visibility. Backup and DR are also built in feature.
 Disadvantages of Hyper Convergence
Cost to add compute in hyper converged infrastructure is high.
Adding Hyper Convergence is more expensive than adding incremental compute/storage to traditional system.
Vendor Lock-in for all the Infrastrucrture types i.e. Network, Compute and.
What challenges will Hyper Convergence resolve?
By centralizing resources and management, Hyper Convergence resolves the Lowers cost, Reduces Complexity, less staff burdens and high performance.
Hyper Convergence Architecture (HCI)
The storage architecture is divided into two categories,
VSA-based
Hypervisor-embedded storage virtualization.
Virtual Storage Appliance (VSA) is a virtual machine (VM) which consumes the physical storage provided to the hypervisor and allows other VMs to access that storage. VM runs in the general pool of infrastructure and consumes resources in the same way as the rest of the VMs. In this case, the VSA falls directly in the I/O path and other VMs read and write data through it.
Conclusion
Hyper Converged infrastructure is a software-defined, unified system that combines all the elements of a traditional data center: storage, compute, networking, and management.