Tier 1, Tier 2 and Tier 3 ISP: The Three Tiers of ISPs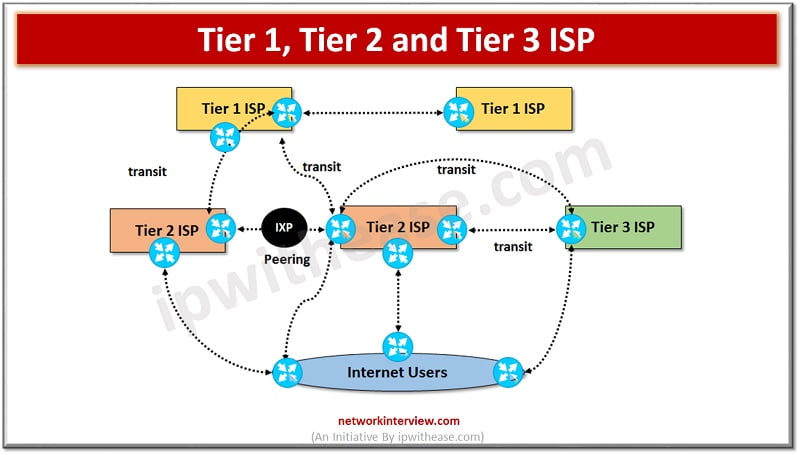 Internet Service Providers
Internet service providers are organizations which provide internet connection to end users and other organizations which can be customer businesses, individuals. ISPs have made it easier and affordable to connect to the internet. ISP acts like a gateway to connect the device to the Internet. ISPs are conceptually organized into tiers or three layers based on the type of Internet services they provide. We will learn more about these three tiers and layers in this article. 
Most of the internet service providers own physical infrastructure (fiber, cables, etc.) to provide internet access. ISPs that can can take advantage of their large network reach to strike up deals with other ISPs. Transit, peer, and customer are the three most important types of traffic exchange agreements.
Transit: A computer network allows network traffic to cross it by providing transit services. Typically, transit is paid for by smaller networks to gain access to the rest of the internet.
Peer: Network owners may see a mutual benefit in allowing each other access to their respective networks. In this situation, neither party has to pay for the exchange of traffic, which is referred to as a settlement-free exchange.
Customer: An internet service provider pays another network for internet access, and provides internet access in return.
Today we look more in detail and understand about tier 1, tier 2 and tier 3 of ISP or internet service providers, how they are different from each other, which are the most prominent ISP providers in each tier etc.
What is a Tier 1 ISP?
Tier 1  Internet service providers are on the top of the hierarchy and have global reach and do not pay for Internet traffic through their network. These ISPs connect at the same level and allow free traffic passing to each other. These ISPs are also known as Peers. 
These ISPs are not just having established network lines at regional level but also lay Internet cables under the sea to provide internet connections to other countries. They build infrastructure such as Atlantic Internet sea cables, and provide traffic to all other Internet service providers but not to end users. 
They provide coverage at international and national level. Some most prominent ISPs in this category are
Cogent Communications,

Hibernia Networks,

AT&T, Tata,

Bharti  Reliance and

VSNL. 
What is a Tier 2 ISP? 
Tier 2 ISPs are service providers who connect between Tier 1 and Tier 3 Internet service providers. They are regional or country based and act like Tier-1 ISP for Tier-3 ISPs. Tier 2 ISPs are larger compared to Tier 3 ISPs and sometimes own their own cables and other network hardware. 
These ISPs do not cover the entire globe but still they need to reach a bigger network to allow a signal to reach to any place on Earth. Tier 2 ISPs buy services from Tier 1 ISPs which own intercontinental cables such as AT&T, Deutsche Telekom Global Carrier who will sell their services to Tier 2 ISPs. They provide coverage at regional level. Some of the ISPs in this category are
Vodafone,

Easynet,

Jio,

Airtel,

BSNL
What is a Tier 3 ISP?  
Tier 3 ISPs are closest to end users and help them to connect to the Internet and charge them for their services. These ISPs work on purchasing models and they pay a cost to Tier 2 ISPs based on traffic generation. 
These ISPs don't usually own hardware required for actual transmissions; they purchase connectivity from Tier 2 ISPs (also known as transit) . They provide local coverage. Some examples of Tier 3 ISPs are
Comcast,

Deutsche Telekom,

Verizon wireless,

MTNL,

SITI cable,

Spectra etc. 
Comparison Table: The Three Tiers of ISPs
Below table summarizes the key points of differences between the three tiers of Internet Service providers: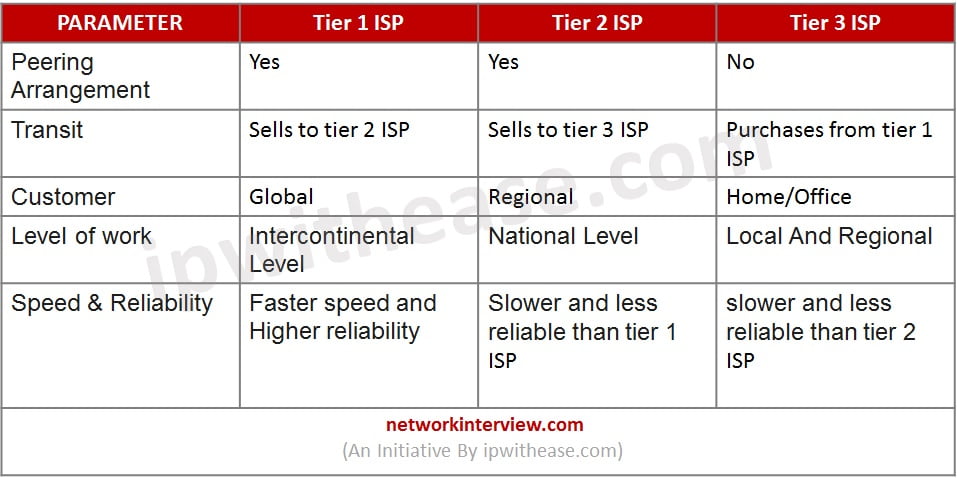 Download the comparison table: 3 tiers of ISPs
Continue Reading:
ISP vs VPN: Know the difference