Technical Hierarchy: Deloitte India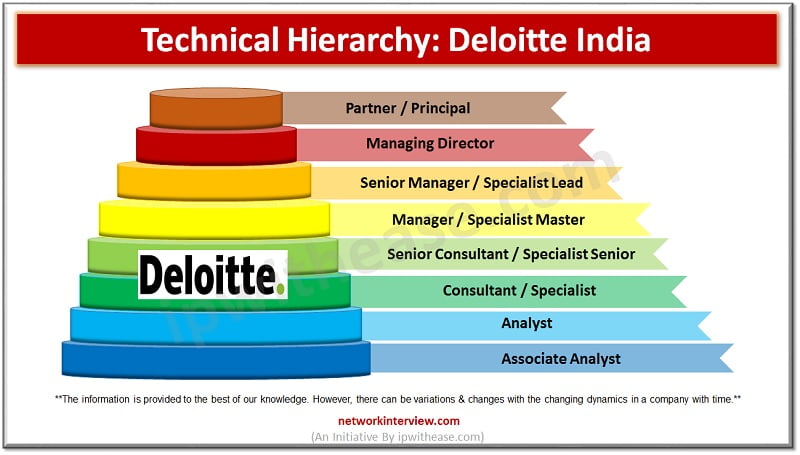 Today, engineering graduates dream of getting a job at a leading Software Development or Information Technology company. But software engineers are not only needed in technical companies but there are also good career opportunities in other firms. 
One of them is the professional service provider Deloitte. In this article, you will get to know about the different technical positions and their salaries. 
Okay without further ado let's start the article with a short introduction to Deloitte Limited. 
About Deloitte 
Deloitte Touche Tohmatsu Limited is commonly called Deloitte, founded in the year 1845, in London. It is a multinational company that provides professional services like auditing, accounting, Legal, Management and Financial Consultancy, etc… 
It is the third-largest privately-owned company in the United States and it is one of the reputed firms that sponsored the summer Olympics 2012. It has 415,000 (2022) professionals working across the Globe.
Though Deloitte is mostly engaged in Accounting and other services it also hires a considerable number of Software engineers and IT professionals to create Enterprise software and Accounting Solutions. 
Here is the technical Hierarchy of Deloitte…
You can also watch this video for better understanding:
(or continue reading)
Technical Hierarchy of Deloitte
The salary and other information provided below may vary based on the country and places. 
Associate Analyst
This entry-level job is best for the new graduates. You will be tasked to do some basic coding and scriptwriting work. After 1 year you will be promoted to the next level Analyst. 
The average annual salary of an Associate Analyst at Deloitte is ₹ 3 – 4 lakhs.*** 
Analyst
You will analyze the business workings and make a solution accordingly. The analyst is the most hired professional in India. You should work as an analyst for at least 2 years to get promoted. 
The average annual salary of an Analyst at Deloitte is ₹7 – 7.5 lakhs.***
Consultant / Specialist 
There are two types of consultants in Deloitte Accounting and Financial Consultant and Technical Consultant. Their job and responsibilities vary based on their type. 
The average annual salary of a Consultant at Deloitte is ₹12 lakhs. ***
Senior Consultant / Specialist Senior 
A Senior Consultant is a person who has wide and in-depth knowledge of the business or administration of the Organization. You should have a minimum of 6 years of experience to become a Senior Consultant at Deloitte 
The average annual salary of a Senior Consultant at Deloitte is ₹20 lakhs.***
Manager / Specialist master
It is a Managerial position offered mostly to Financial or business-related professionals. However, a technical person can also choose this stream. If he does then he will be promoted as a manager instead of a Senior consultant. 
The average annual salary of a Manager at Deloitte is ₹25 – 30 lakhs.***
Senior Manager / Specialist Lead 
It is a Senior managerial position which is also called a Specialist Lead among the technical professionals. You can become a Senior Manager after working for 10 years in Deloitte. 
The average annual salary of a Senior Manager at Deloitte is ₹40 – 45 lakhs.***
Managing Director 
There is no clear information about when a person can become a managing director or any other position above it. And this position is mostly seen at the head office or in major cities. 
The average annual salary of a Managing Director at Deloitte is ₹85 – 90 lakhs.***
Partner / Principal 
It is the last highest position and it is a purely managerial or administrative position; there is no need for technical knowledge however the technical people with business skills may be promoted to this position. 
If you have any more questions or thoughts about the article please share them in the comment section below. 
***The salary packages are only indicative and may vary as per the rise and low of the demand.***
Continue Reading:
Apple Inc.: Technical Hierarchy
Are you preparing for your next interview?
Please check our e-store for e-books on Interview Q&A on IT technologies. All the e-books are in easy to understand PDF Format, explained with relevant Diagrams (where required) for better ease of understanding.