Steps to Become A Blockchain Architect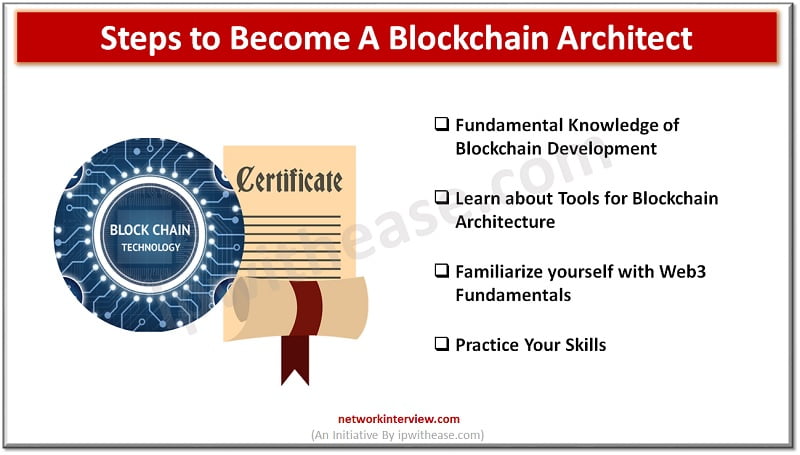 The blockchain ecosystem is growing at a stupendous pace with the ability to register a dominant impact across different industries. As a matter of fact, blockchain has transformed the banking and financial services industry with cryptocurrencies and decentralized finance use cases. The global blockchain market size could reach around $1400 billion by 2030, according to some predictions by experts. 
Therefore, the prospects for career development with blockchain enterprise use cases have gained significant momentum in recent times. Blockchain-related job listings have been growing by around 600%, which can lead to better career development opportunities. Which job role is one of the most appealing and relevant choices for entering the blockchain job market? Let us find the answer in the following discussion.
Why Should You Become a Blockchain Architect?
The obvious question in anyone's mind before they pursue opportunities to become blockchain architect would refer to the reasons. First of all, you can have the advantage of pursuing your career in a futuristic skill that would offer long-term career advantages. You can develop innovative solutions that can help transform the efficiency and performance of businesses in different sectors. The average annual salary of a blockchain architect is around $120,000 for entry-level roles. 
Most important of all, the efforts invested in learning blockchain architect skills can help you become an invaluable addition to the workforce of the future. Organizations that want to adopt blockchain technology would rely on blockchain architects for planning their blockchain transformation journey. 
Interestingly, a certified blockchain architect can find better career opportunities for their proven skills and knowledge of blockchain architecture. Certified architects would have a clear impression of the different components of blockchain architecture and how they are related to each other. Furthermore, employers are more likely to add certified professionals to their workforce as compared to candidates without certification. 
Steps for Becoming Blockchain Architects 
The advantages of pursuing a career as a blockchain architect reflect primarily on the flexibility for choosing different career options. You can find the answers to "How do I become a blockchain architect?" in relevant training courses and certifications. It is important to choose training courses and certifications which help in learning about blockchain architecture and related concepts. Here are some of the important skills you must learn to prove your expertise as a blockchain architect.
Fundamental Knowledge of Blockchain Development
The first requirement for becoming a blockchain architect would refer to developing fundamental knowledge regarding blockchain development. You must know about Ethereum development and Solidity programming basics to build the skills to create business solutions based on blockchain technology. 
The journey of becoming a blockchain architect starts with one blockchain tutorial on the fundamentals, and you can gradually move ahead toward advanced topics. For example, you can familiarize yourself with smart contract development and use cases of different blockchain solutions.
Learn about Tools for Blockchain Architecture
The basics of blockchain architecture would only help you get to a certain distance in addressing the needs for becoming a blockchain architect. You need to learn about the blockchain enterprise platforms such as Hyperledger Fabric, Corda, and Ethereum to give shape to the ideas formulated for blockchain solutions. 
A review of the working of these platforms and their features can help you choose the ideal alternatives for designing blockchain solution architectures. A detailed understanding of blockchain platforms for developing the architecture of enterprise solutions can enrich your practical expertise. 
Familiarize yourself with Web3 Fundamentals
The emerging demand for training in the blockchain landscape also requires an emphasis on another important highlight, i.e., web3. Blockchain technology can facilitate a new approach to transforming the web experiences of users. Therefore, blockchain solutions should also follow the principles of web3 architecture to deliver the desired functionalities. For example, blockchain architect skills must also include knowledge about web3. In addition, fluency in web3 can help in preparing blockchain solution architectures for the future. 
One of the essential aspects in answers to "How do I become a blockchain architect?" would revolve around practical expertise. Are you able to use the tools for blockchain architecture to create effective solutions? You can also learn about the best practices for security by specializing in methods for evaluating your code before implementation.
Final Words 
The guide to becoming a blockchain solutions architect provides an outline of simple steps required for building blockchain architectures. You need to find effective training resources which can help you familiarize yourself with concepts regarding blockchain solution architecture. The complex set of blockchain architect skills required for every professional presents challenges for aspiring professionals. 
However, the choice of structured approaches to pursue training in concepts regarding blockchain architecture. For example, career paths or learning paths for blockchain solution architects can offer viable support for designing new blockchain solutions. Learn more about the different alternatives for developing your skills as a blockchain architect now.         
Continue Reading:
What is Cryptography? Detailed Explanation